Are you curious about ChatGPT vs Jasper? Do you wonder about the difference between the two AI tools? Here, this post from MiniTool Partition Wizard introduces details of this topic. You can take a look if you hesitate about which one to choose.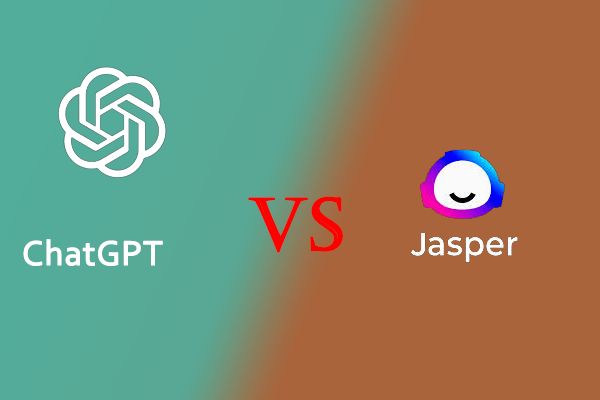 About ChatGPT
ChatGPT (Chat Generative Pre-trained Transformer) is an AI chatbot that was developed by OpenAI and launched in November 2022. It is built on top of OpenAI's GPT-3 family of large language models. Moreover, it was well-trained based on lots of man pages and information about Internet phenomena & programming languages. Therefore, you can have human-like conversations with ChatGPT.
After ChatGPT was released, it has been popular with millions of users around the world. Like other chatbot tools, it is mainly used to generate conversations. In addition, you can learn more features of ChatGPT below.
Writes and debugs computer programs
Composes music, teleplays, fairy tales, and student essays
Answers text questions
Writes poetry and lyrics
Emulates a Linux system
Simulates an entire chat room
Explains complex issues in simple-to-understand language
Plays games like tic-tac-toe
If you are interested in ChatGPT, you can try it out from the official website.
About Jasper AI
Jasper is one of the best AI content platforms that can automatically generate original and creative content using GPT-3.5 or other language models. It's easy to use and can save you a lot of time. You can view the main features of Jasper AI which are listed as follows:
Creates original content that ranks for SEO
Boosts ad conversions with a better copy
10X your content output
Keeps your team organized with folders for your clients and multiple projects
Writes and translates posts into 25 different languages
Improves the existing content with Content Improver
ChatGPT vs Jasper AI: Differences
Both ChatGPT and Jasper are popular AI chatbot tools with a wide range of features. From the above, you can get a brief knowledge of the two tools. However, when it comes to ChatGPT vs Jasper AI, you might be a little confused about their difference and which one is better.
In this section, we will discuss the difference between ChatGPT and Jasper AI from several aspects. If you are looking for the answer to ChatGPT vs Jasper, you can pay attention to the following content.
Price
You are able to use ChatGPT for free currently. However, there will be some changes in the future because OpenAI is planning to monetize this chatbot. Jasper is designed to be a paid service but provides you with a 5-day free trial.
According to the above, Jasper vs ChatGPT: ChatGPT is more affordable. If you don't want to pay anything, you can choose ChatGPT.
Ease of Use
ChatGPT vs Jasper AI: Which one is easier to use? Well, the answer is obviously Jasper AI. It is designed with a user-friendly interface. Even though you are a fresher, you can easily find the desired function in the main menu from the left side of the interface. ChatGPT has a clean interface but requires more technical expertise to take full use of.
Use Cases
Although ChatGPT can be used for coding, translation, and other actions, it is mainly focused on generating content. Jasper AI is built to help businessmen. It offers you more than 50 options to create content. For instance, you can generate social media posts, website content, marketing copy like ad copy for social media platforms and sales pages, product descriptions, and more. Furthermore, Jasper AI writes content more efficiently so that you can get what you want quickly.
Therefore, it is wiser to choose Jasper AI rather than ChatGPT for business and marketing.
ChatGPT: OpenAI's Services Are Not Available in Your Country
Jasper vs ChatGPT: This post introduces the two chatbot tools briefly and summarizes their differences. Hope you can determine which one to choose after reading this post. If you have any problems with ChatGPT vs Jasper, you can leave a message in the following comment part.
Are you a Windows PC user? Do you have difficulty managing your partitions and disks? If so, we highly recommend MiniTool Partition Wizard to you. It's a professional partition manager with a wide range of features. For instance, you can use this program to create/format/resize partitions, copy/wipe disks, migrate OS to SSD/HDD, etc. To learn more about it, you can visit its official website. If you are interested in MiniTool Partition Wizard, you can download and try it on your PC. 
MiniTool Partition Wizard FreeClick to Download100%Clean & Safe