Summary :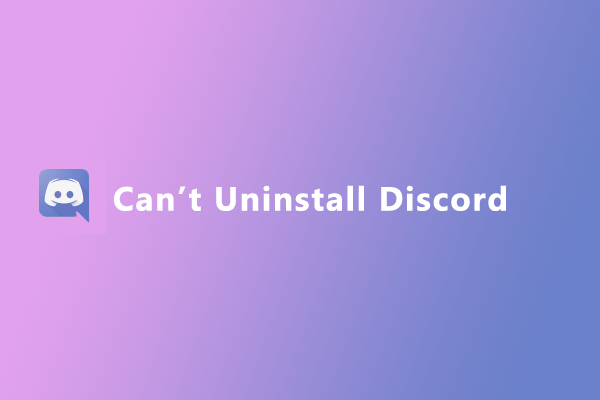 Some users report that they can't uninstall Discord completely. It's annoying but you don't need to worry. MiniTool Partition Wizard puts together some solutions and you can have a try.
Discord is a communicating Discord popular among game lovers. For personal reasons, users might decide to uninstall the program. However, some of them can't uninstall Discord completely. If you are bothered by the same issue, you can try the following solutions one by one to solve the problem.
Solution 1: Disable Discord from Running at Startup Before Uninstalling
When you install Discord, it would be set to run at startup automatically. If you can't uninstall Discord, it's recommended to disable it from running at startup and then try uninstalling it again.
Step 1: Press Ctrl + Shift + Esc to open Task Manager quickly.
Step 2: Go to the Startup tab. Then right-click Discord and select Disable.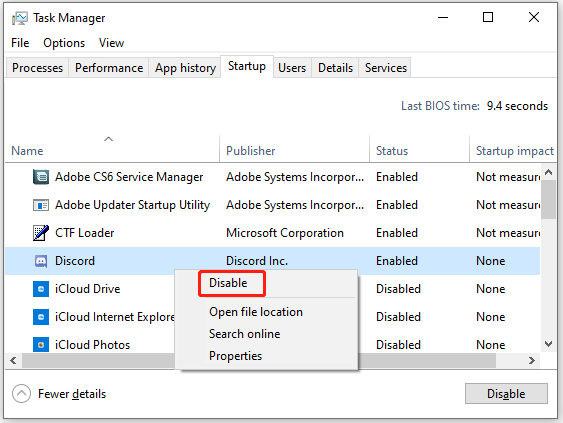 Step 3: Go to Control Panel or Apps & Features to uninstall Discord again.
Step 4: After uninstalling Discord, you might need to delete the remnants manually.
Press Win + E to open File Explorer.
Navigate to C:\Users\user_name\AppData\Roaming and delete the Discord
Go to C:\Users\user_name\AppData\Local and delete the Discord
Restart your computer and check if these files are removed successfully.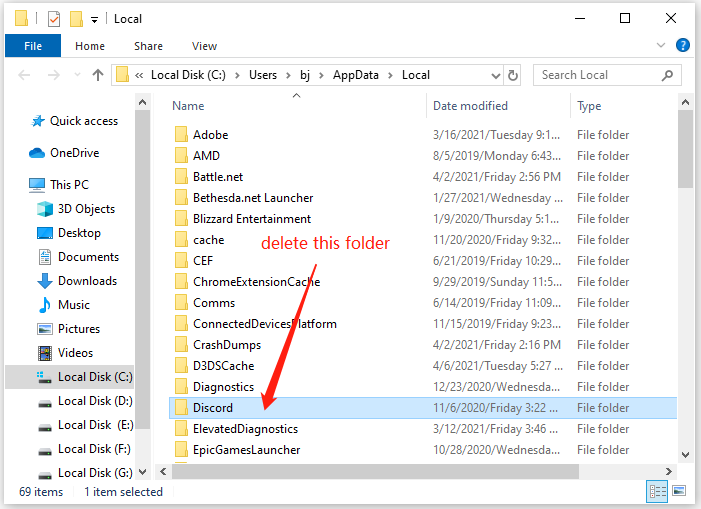 Step 5: Delete Discord from the Registry.
Press Win + R, type regedit, and click OK to open the Registry Editor.
Copy the following path and past it to the address bar: HKEY_CURRENT_USER\Software\Discord. Then press Enter.
Right-click the Discord folder and select Delete.
Restart your PC.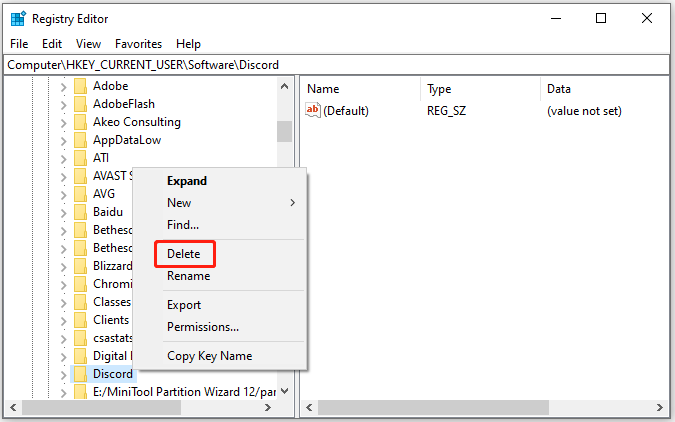 Solution 2: Check for Virus Attack
Some viruses or malware would prevent users from uninstalling programs. When you can't uninstall Discord, you'd better run an antivirus scan to troubleshoot the problem. You can use Windows Defender or a third-party antivirus program to achieve the goal.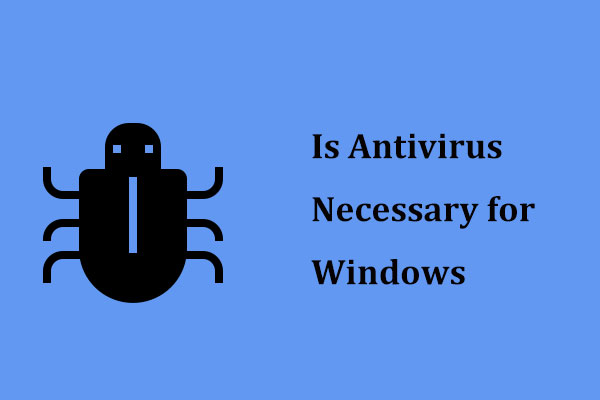 Is antivirus necessary for Windows 10/8/7 to keep your PC safe? Read this post to get the answer, and you can also know some ways to prevent malware.
Solution 3: Run SFC Scan
Corrupted or missing system files could also be a reason why you can't uninstall Discord on Windows 10. To check and repair the system files, you can run System File Checker (SFC), a built-in tool in Windows 10.
Step 1: Press Win + S to open Windows Search. Then search for Command Prompt, right-click the search result, and select Run as administrator.
Step 2: Input sfc /scannow and press Enter.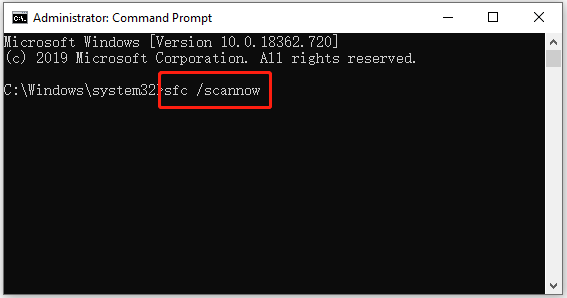 Wait patiently until the process is completed and restart your computer.
Solution 4: Uninstall Discord with a Third-Party Application
How to uninstall Discord quickly and completely? A professional and reliable third-party uninstaller are worth trying. There are many uninstallers on the market, such as Revo Uninstaller Freeware, IObit Uninstaller, Geek Uninstaller, Wise Program Uninstaller, Ashampoo Uninstaller, etc.
Here I take IObit Uninstaller as an example.
Step 1: Launch IObit Uninstaller.
Step 2: Select the App Programs in the left pane. In the right pane, scroll down and check Discord.
Step 3: Click the Uninstall button.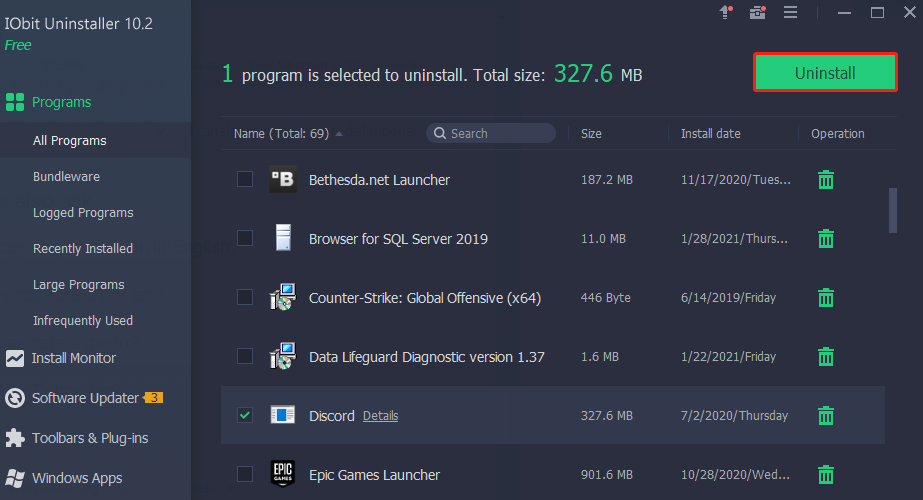 Step 4: In the pop-up window, check Automatically remove residual files and click Uninstall to start the uninstallation.
By uninstalling software with the uninstaller, you don't need to remove leftovers manually as the uninstaller will do it for you, all you need to do is to wait until the uninstallation is finished.