Summary :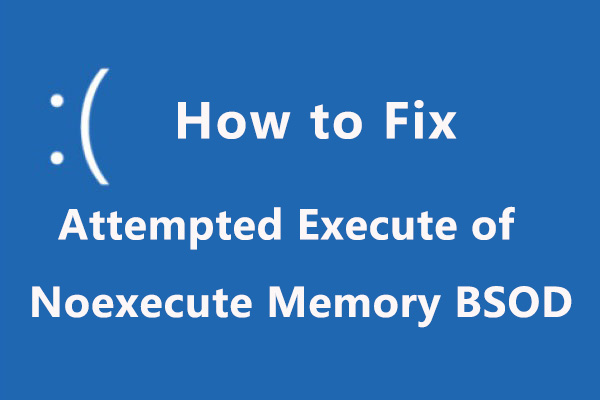 ATTEMPTED_EXECUTE_OF_NOEXECUTE_MEMORY may happen suddenly. Do you have any ideas about how to fix this problem?In this post, MiniTool Solution will analyze the reasons for this error and offer solutions.
Introduction
ATTEMPTED_EXECUTE_OF_NOEXECUTE_MEMORY is a Blue screen of death (BSOD) error you may see in computers. Usually, it might come with the error code 0x000000FC. It indicates that the system has made an attempt for the execution of non-executable memory.
Here are some reasons for this error:
Problematic RAM
Missing system files
Corrupt drivers
Low disk space
Huge accumulation of junk files
Outdated operating system
Once attempted execute of noexecute memory BSOD happens, your PC will restart automatically to reduce the damage. If your system is able to boot successfully after the progress bar reaches 100%, you can directly try the following solutions to fix the problem. If not, you need to start your computer in Safe Mode and then execute the solutions below.
You can follow the steps below to boot your Windows in Safe Mode.
Step 1:Turn off and on the PC 3 times to enter Windows Recovery Environment (WinRE).
Step 2: Go to Troubleshoot > Advanced options > Startup Settings > Restart.
Step 3: Press F5 to start Windows 10 in Safe Mode with Networking.
Solution 1: Clear Junk Files
Junk files could take up space in the storage. When they pile up in a big amount, the device may slow down.
Some users have reported that they removed attempted execute of noexecute memory error by deleting junk files.
You can also have a try.
Tip: Data in Recycle Bin will be deleted in the process. If there is something you need, you'd better restore it before you run Disk Cleanup.
Step 1: Press Win + R to access Run window. Then type cleanmgr in the box and click OK.
Step 2:In Disk Cleanup: Drive Selection, select C drive and click OK.
Tip: After you run the command, Disk Cleanup will calculate how much space you will be able to free on the disk. It may take a few minutes to complete. Please be patient.
Step 3: In Disk Cleanup for (C:), check all the items and then click OK to delete the junk files and free up the disk space.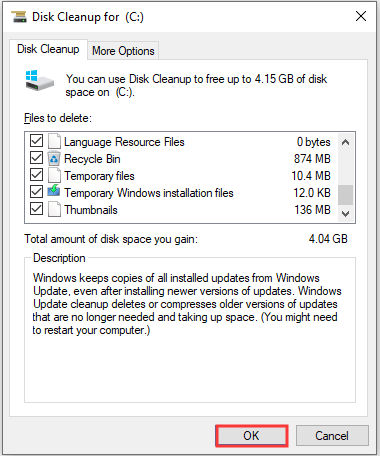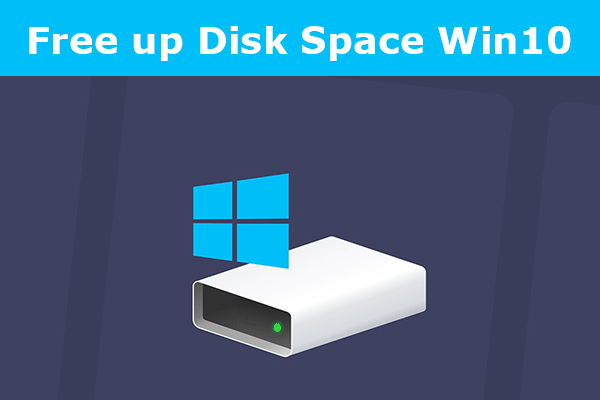 C drive keeps filling up with unknown files? Here we provide you 10 solutions (with detailed steps) to free up disk space in Windows 10.
Solution 2: Update Drivers
Windows 10 requires drivers in order to work with your hardware. If you have outdated or corrupted drivers, you may get ATTEMPTED_EXECUTE_OF_NOEXECUTE_MEMORY BSOD error and crashed system.
To fix the problem, you can update all the drivers, especially the Intel graphics and the Realtek audio drivers.
Step 1: Open Run window. Then input devmgmt.msc and hit Enter.
Step 2: In Device Manager, double-click Sound, video and game controllers to expand it.
Step 3: Right-click Realtek High Definition Audio driver and select Update driver.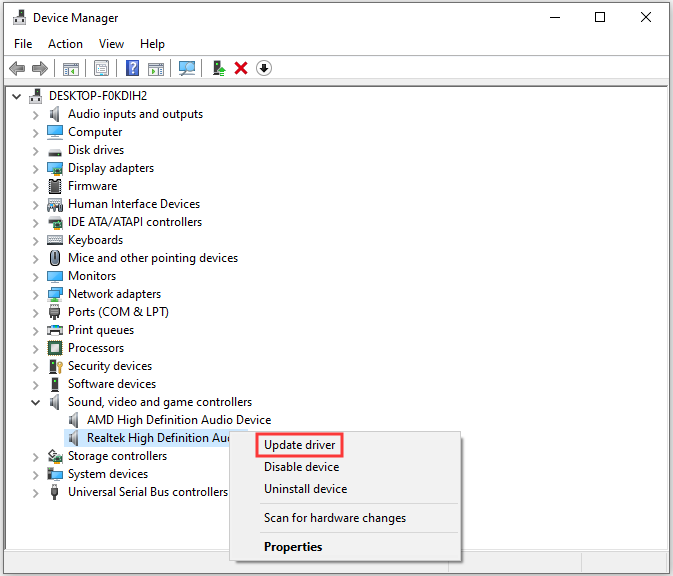 Tip: You can expand Display adapters to update your Intel graphics driver if you need.
Step 4: In the pop-up window, select Search automatically for updated driver software. Then let Windows search your computer and the Internet for the latest driver software.
Step 5: Restart your PC after the latest driver is installed.
Solution 3: Update Windows
Attempted execute of noexecute memory BSOD can appear if your OS version is out of date. You might be able to fix this error simply by installing the latest Windows updates, which are released by Microsoft to solve various problems.
Step 1: Press Win + I to go to Settings.
Step 2: Click Update & Security. Then in Windows Update, click Check for updates.
Then Windows will check for available updates and download them automatically in the background. Once they are downloaded, these updates will be installed as soon as you restart your computer. After that, you can check if the problem has been removed.
Solution 4: Disable Your Antivirus Software
Remove Third-party Antivirus Software
Some users reported that they had solved ATTEMPTED_EXECUTE_OF_NOEXECUTE_MEMORY in Windows 10 by uninstalling third-party antivirus software.
Step 1: Press Win + S to open Search. Then type control panel in the box and select Control Panel from the results.
Step 2: Find View by on the upper-right corner, and click the triangle to select Category.
Step 3: Under Programs, click Uninstall a Program.
Step 4: In the pop-up window, right-click your antivirus software and select Uninstall or Uninstall/Change.
Step 5: Follow the on-screen instructions to finish the process.
To fix attempted execute of noexecute memory error, you might need to uninstall all the antivirus software. Follow the steps above to remove them one by one.
Disable Windows Defender
If removing third-party antivirus software doesn't work, you can try disabling Windows Defender with Registry Editor to fix ATTEMPTED_EXECUTE_OF_NOEXECUTE_MEMORY in Windows 10.
Step 1: Open Run window. Then input regedit and click OK.
Step 2: In Registry Editor, navigate to HKEY_LOCAL_MACHINE\SOFTWARE\Microsoft\Windows Defender key.
Step 3: In the right pane, locate the DisableAntiSpyware DWORD and then double-click it to modify it.
Step 4: In Value data, input 1 and then click OK.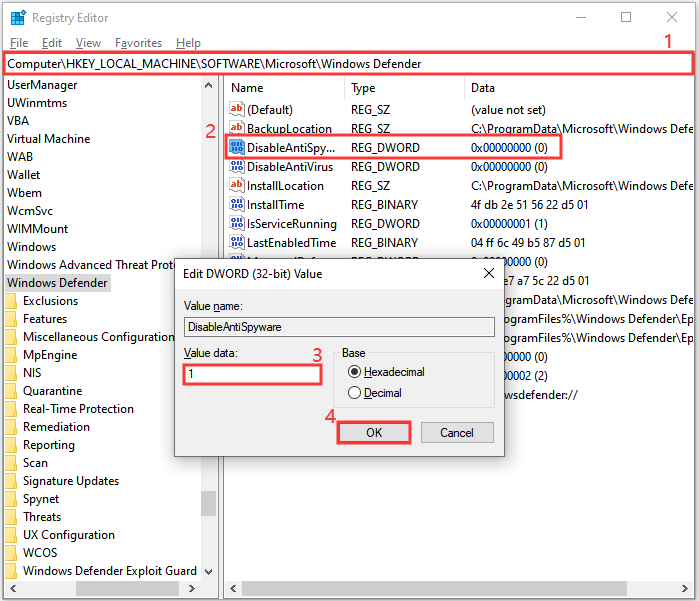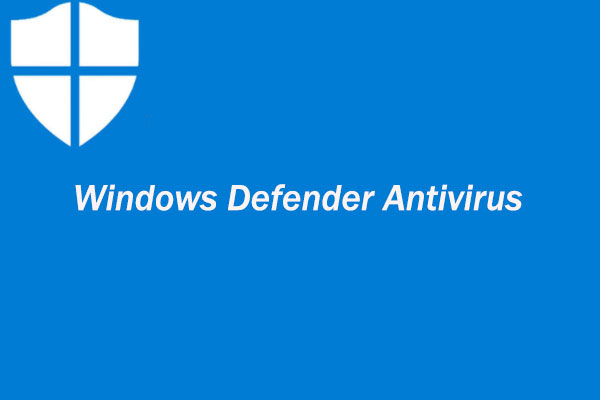 To schedule a scan in Windows Defender Antivirus, you need to use Task Scheduler. And you can find the step-by-step guide in this post.
Then you can restart your computer to see if attempted execute of noexecute memory BSOD has been solved.
If the error still exists after removing prblematic applications, you can try the next solution.
Solution 5: Rectify Defective Image Files
Defective Windows image files could also be a reason for ATTEMPTED_EXECUTE_OF_NOEXECUTE_MEMORY in Windows 10. To fix these files, you can perform a DISM scan with Command Prompt.
You just need to run Command Prompt. Then type DISM.exe /Online /Cleanup-Image /RestoreHealth and hit Enter to execute the command.
Tip: The scan process can take up 10-20 minutes. Please don't interrupt it and wait patiently.
Once it is finished, restart the system and check whether the error has been removed.
Solution 6: Check RAM
One of the reasons for attempted execute of noexecute memory error is a loosely connected or damaged RAM bar.
If the issue happens after you insert a new RAM or when you are building a new computer, you'd better check your RAM for any issues.
To do this, you can use Windows Memory Diagnostic tool.
Step 1: Access Run. Then input mdsched and press Enter.
Step 2: Select Restart now and check for problems (recommended).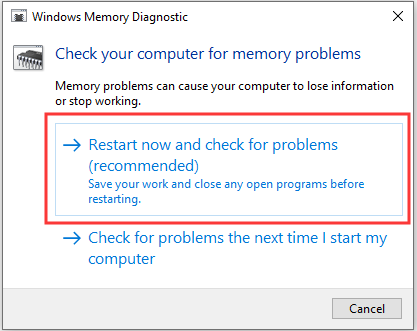 Then the test for RAM will begin on the restart. Windows will check everything automatically and you just need to wait. This test will give you an idea about the situation of your computer's memory. If the results are not good, you may need to replace your RAM bar.
You can read the following article to know about some symptoms of bad RAM: How to Tell If RAM Is Bad? 8 Bad RAM Symptoms Are for You!
If there is no problem for your RAM, you can try the next solution to solve ATTEMPTED_EXECUTE_OF_NOEXECUTE_MEMORY error.
Solution 7: Run SFC Scan
The error ATTEMPTED_EXECUTE_OF_NOEXECUTE_MEMORY could also be raised due to missing or corrupted DLL files. To solve the issue, System File Checker (SFC) is a great option.
Step 1: Press Win + S to open Search.
Step 2: Input cmd in the search box. Then right-click Command Prompt from the results and select Run as administrator.
Step 3: Type sfc /scannow and press Enter to run the command.
Then the utility will detect and fix all the missing DLL files and corrupted Windows components. It may take a long time so please wait patiently until it is completed.
After the process, restart your device and see if the problem still exits.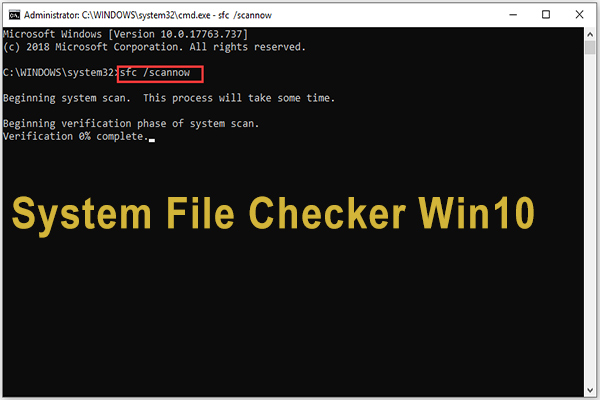 Do you know what system file Checker Windows 10 is and how to use it? This post will introduce the sfc /scannow command and other useful tips to you.
Solution 8: Fix Bad Sectors on Hard Drive
There may be bad areas on your hard drive due to overuse, which can also lead to attempted execute of noexecute memory BSOD.
To find and fix the bad sectors, there are two ways for you.
Option 1: Using CHKDSK
Windows has a built-in CHKDSK utility which is able to examine hard drives for errors and repair them.
Follow the steps below to solve it.
Step 1: Right-click Start menu and select Disk Management.
Step 2: In Disk Management, right-click partition C: and choose Property.
Step 3: In the pop-up window, go to Tools tab and click Check from Error checking section.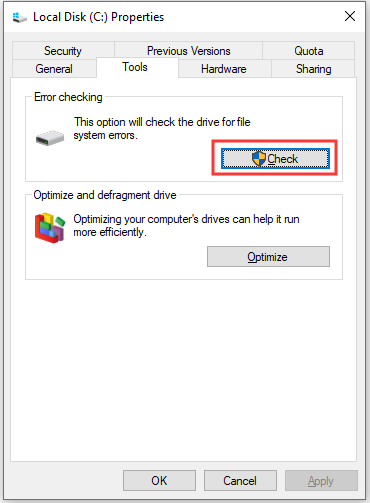 Step 4: Follow the on-screen instructions to finish the process. If any errors are found on the drive, Windows will ask for a restart to repair them.
Option 2: Using Check File System
You can also use third-party software to check and repair errors on your hard drive. MiniTool Partition Wizard is a good choice. It's free and easy to operate.
Step 1: Download and install MiniTool Partition Wizard by clicking the following button.
Step 2: Launch it and select the target partition. Then choose Check File System from the action panel.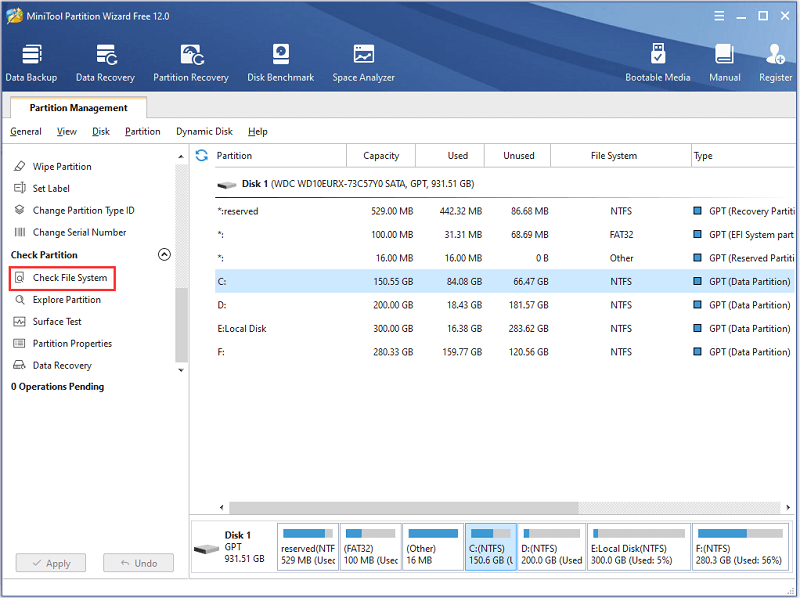 Step 3: In the pop-up window, choose one option and click Start.
Check only: The software will scan and check the disk for any errors.
Check & fix detected errors: You can recover mistakes during the checking process.
Step 4: Follow the on-screen instructions to finish the process.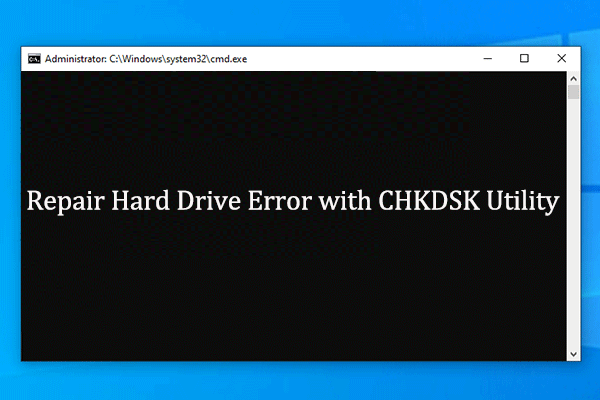 Windows built-in disk repair tool CHKDSK can check and fix hard drive errors it detected. Check this post to see how to use it to repair hard drive Windows 10.
Solution 9: Run System Restore
If you have tried all the solutions above but the error ATTEMPTED_EXECUTE_OF_NOEXECUTE_MEMORY still exits, you can try running System Restore if you have created a restore point. It may help your PC go back to the earlier state and get out of this error.
Tip: System Restore does not affect any of your documents, pictures or other personal data. So you don't worry about your personal files. But recently installed programs and drivers might be uninstalled.
Step 1: Type restore in the Search box and then select Create a restore point.
Step 2: In the pop-up window, click System Restore.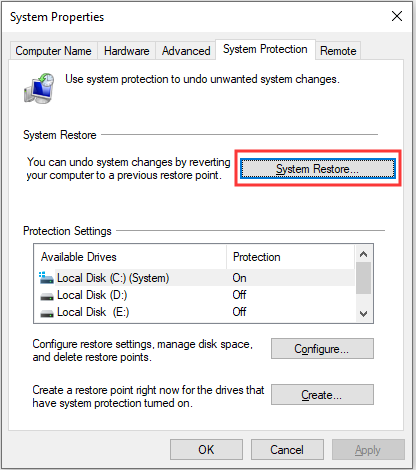 Step 3: There will be a System Restore wizard, and you just need to click Next to continue.
Step 4: Click Show more restore points and then choose one you want to restore. Then click Next.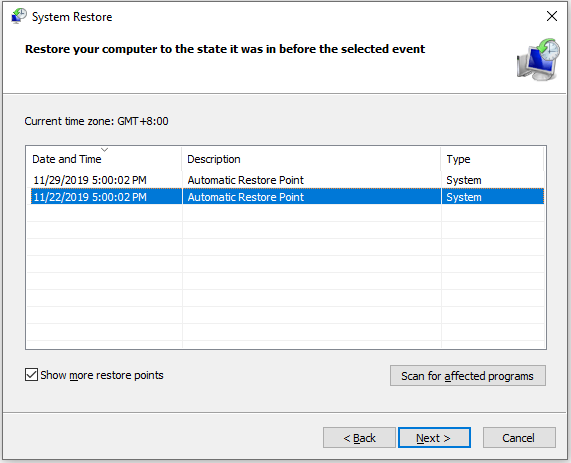 Step 5: Follow the on-screen instructions to finish the process.
Warning: The restore process can't be interrupted once it starts.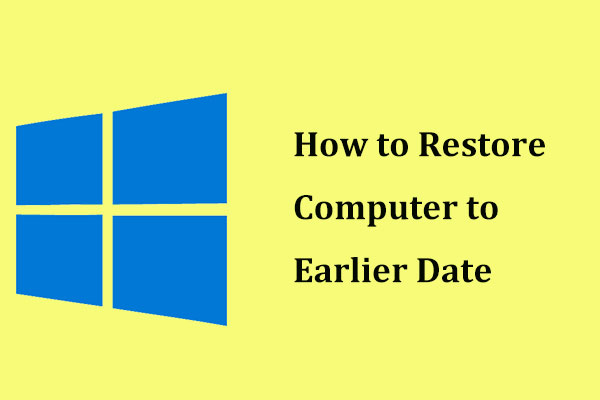 How to restore computer to earlier date in Windows 10? Here are 2 useful ways to easily do system restore to let PC return to its previous state.
Here are some solutions to "attempted execute of noexecute memory BSOD" in Windows 10. You can have a try if you are facing the same problem.Click to tweet
Bottom Line
Don't panic when you encounter ATTEMPTED_EXECUTE_OF_NOEXECUTE_MEMORY in Windows 10. Although the reasons for this problem could be various, you can fix it easily by yourself. In this post, you can learn 10 solutions to this issue.
Contact us via [email protected] if you have some questions when using MiniTool Partition Wizard. Besides, a comment zone is provided to you in the following section, and you are welcome to post any suggestions or ideas about attempted execute of noexecute memory BSOD.