What is Akamai NetSession? Is it safe to remove the Akamai NetSession client? If you are still trying to figure them out, then you come to the right place. This post of MiniTool discusses these questions in detail.
What Is Akamai NetSession
The Akamai NetSession Interface is a pre-installed or bundled client that's used by certain programs, media publishers, and even sites. When you are trying to download a program or access a site that is large from the Internet, the Akamai NetSession client can improve the speed, reliability, and efficiency of the download process and give you an overall better downloading experience.
This tool often comes with the size of 35.34 MB and the legit installation folder is located in C:\Documents and Settings\user\Application Data\Akamai if you haven't changed that. However, the Akamai Net Session client is often invisible and unknowingly installed in most cases because it comes bundled with software like Adobe. In addition, some apps and software even restrict you to download if you haven't installed the Akamai client on your computer.
Is Akamai NetSession Safe
Many people find that the Akamai NetSession client is bundled with some software. So, some questions like "Is Akamai NetSession safe? or should I delete Akamai NetSession from my PC?" are posted in forums and communities. Here is a true example:
Is Akamai NetSession safe?
I just downloaded the photoshop elements 12 bundles and when downloading it gave me the choice of using Akamai NetSession Client or other, so I used Akamai. After installation of photoshop elements, no problem. After the installation of premiere elements, a notice came up from Window Security Alert advising a firewall has blocked features of the program. Is Akamai NetSession safe?

https://community.adobe.com/t5/photoshop-elements-discussions/is-akamai-netsession-client-safe/td-p/5997813
Of course, yes! The Akamai NetSession Interface is safe that doesn't include any viruses, adware, or spyware if you download the software from a trusted source. Moreover, this tool doesn't collect or send personal information either according to its developers. If you still suspect that it is not safe, you can perform a virus scan.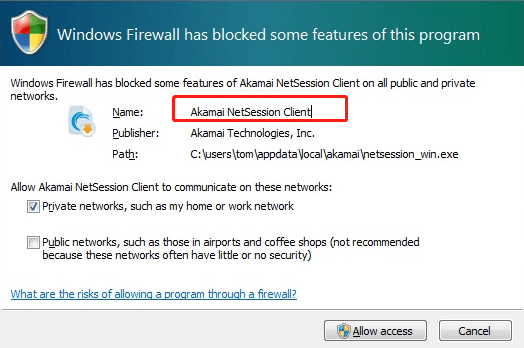 Is It Safe to Remove Akamai NetSession
Some people are also confused if it is safe to uninstall the Akamai Net Session client. The answer depends on your actual demands. As mentioned above, this client is mainly used by curtained apps to speed up the download process. That is to say, the downloading speed might be affected if you remove the client.
The developers of the NetSession client also say that it only uses your computer when utilizing the minimal network resources. It can constantly monitor your network usage and send information to Akami. If you still want to uninstall it from your PC, here we provide some ways.
How to Uninstall Akamai NetSession Client
Method 1. Uninstall from Programs and Features
Step 1. Type control in the search box and select the Control Panel app from the context menu.
Step 2. Change the View by type to Large icons, and then click on Programs and Features.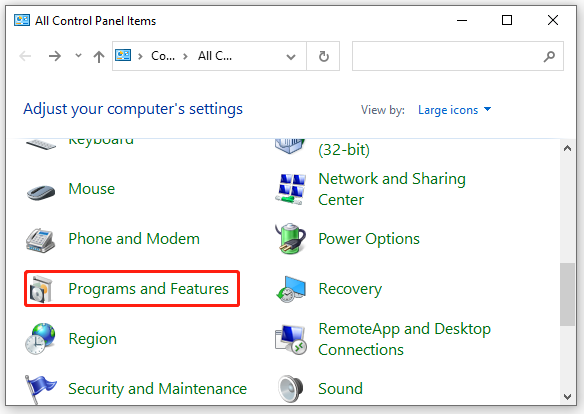 Step 3. Navigate to the Akamai NetSession Interface from the list of installed programs, and then right-click it and select Uninstall. Click on Yes to confirm this uninstallation and follow the on-screen prompts to complete this operation.
Method 2. Uninstall from Command Prompt
If the above method doesn't help, you can open the Command Prompt and run some commands to force uninstall the Akamai client.
Step 1. Press Win + R keys to open the Run dialog box, and then type cmd in it and press Enter.
Step 2. In the pop-up window, type the following commands and hit Enter after each one. Here you need to replace the user name with your actual user name.
cd Users<user name>AppDataLocalAkamai
admintool.exe uninstall -force
Now, the Akamai NetSession Interface program should be removed successfully.