Many users complain about the "accountlive.com to fix the problem Xbox" issue. Are you also troubled by it? Now, you come to the right place. This post of MiniTool summarizes several effective ways to fix it at account.live.com.
When trying to sign in to the Xbox Live account, many users receive an error message saying "There's a problem with your account. Fix it at account.live.com, then come back to sign in". The issue is often related to your Microsoft account. In addition, the abnormal Xbox status and temporary glitch can trigger the accountlive.com to fix the problem Xbox.
I currently am having trouble signing into my Xbox Live account. The box that comes up when I click on my account name associated with my Xbox Live account says, "Fix this on the web. There's a problem with your account. Fix it at account.live.com, then come back to sign in".

https://answers.microsoft.com/en-us/xbox/forum/all/fix-it-at-accountlivecom
Fix 1. Check the Xbox Status
There is no doubt that you won't be able to sign in to your Xbox account if the Xbox Live services status is down. So, the first step is to check what happens on the Xbox Live status. Here you can see if the service is down and other services' status, including your account, Xbox Music, Video, apps, etc.
To do so, click here to open the Xbox status page. If you find any service with alerts, expand it, and scroll down to the Notifications section to view details, and sometimes you may need to wait for the service to run again.
Fix 2. Verify Your Microsoft Account Information
Sometimes you need to verify some security information before you enter the Xbox account. If this situation applies to you, you can verify the information on the Xbox live account. Here's how:
Tip: If you changed the security information within the last 30 days, you have to wait until the 30-day period is over before you can change that again. It is a security measure that can prevent potential threats by hackers.
Step 1. Sign in to your Microsoft account with the correct email address and password.
Step 2. Navigate to the Security settings and check all account information, including all phone numbers, alternate email addresses, as well as security questions and answers. If any of this information is outdated or incorrect, make sure you update the incorrect security information.
Note: Don't delete the incorrect information. Otherwise, you will be locked out of your account.
Step 3. Make sure that you have at least two pieces of security protection on the account such as a phone number or an email address.
Fix 3. Remove and Re-add Your Microsoft Account
Some users report that they get rid of the "accountlive com to fix the problem" error by removing and re-adding the Microsoft account. Let's have a try.
Step 1. Press the Xbox button on your controller to access the Home menu and navigate to Settings.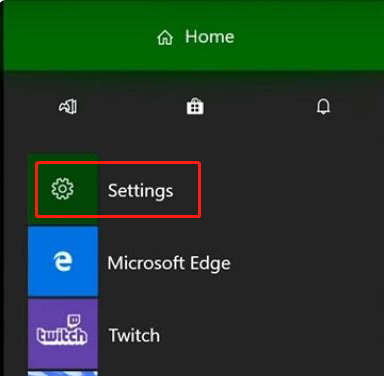 Step 2. In the Settings window, select Account from the left vertical bar and click on Remove accounts from the right pane. Then select the affected account and confirm this removal.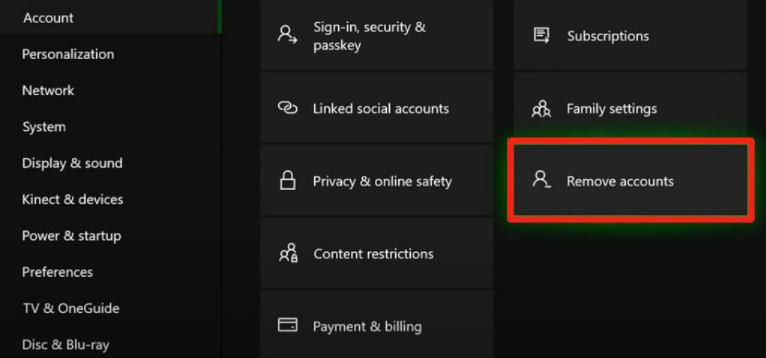 --image from answermicrosoft forum
Step 3. Once removed, open the Home menu again and go to Sign in, and select Add new.
Step 4. Type your email address and password of the Microsoft account and sign in. After that, you will be promoted to customize the security information.
Fix 4. Restart Your Xbox
In addition to the above methods, the simplest and fastest way could potentially fix the account.live Xbox account error is to restart your Xbox. To do so, you just need to turn off your Xbox completely, and then turn it back on after a couple of seconds and sign in to your account again.