The Xbox code 0x80072EFE always occurs when you try to install or update a game or an app on the Xbox One console. This error may come out due to multiple reasons, such as small glitches, interrupted network connection, Xbox server outages, and so on.
Do you know how to fix this annoying error? Well, we summarize some effective solutions in this post. If you have no clue, you can try the following solutions.
Method 1: Check the Xbox Status
If there are some outages with Xbox services, you may run into the Xbox error 0x80072EFE. Therefore, when you face this error, the first thing you need to do is to visit the official Xbox Support Twitter or the Xbox Live page to check the Xbox server status.
If any problems with the Xbox status are reported, you have nothing to do but wait until the developers to repair them. If every service is running properly, you should go on with other solutions.
Method 2: Restart Your Xbox Console
In most cases, a simple restart can fix lots of issues caused by temporary bugs and glitches. Hence, after the Xbox 0x80072EFE error shows up, you can try to fix it by restarting your console. To do this, follow the steps below.
Step 1: Press the Xbox button on your controller to open the guide.
Step 2: Navigate to Profile & system > Settings > General > Power mode & startup.
Step 3: Select Restart now to restart the Xbox console.
If the error persists after a restart, you can also try performing a power cycle with the following steps.
Step 1: Press and hold the Xbox button on your console for about 10 seconds to turn off your console completely.
Step 2: Disconnect the power cable from your console and then wait for at least 1 minute.
Step 3: Reconnect the power cable to the console. Then press the Xbox button to turn on your console.
Method 3: Check Your Internet Connection
If your Internet connection is poor and unstable, you may meet the Xbox code 0x80072EFE as well. So, it's also essential to check your Internet connection. And to make sure your Internet connection is working perfectly, you can try restarting your router and modem.
Method 4: Test Your Connection to Xbox Live
When you face the Xbox error 0x80072EFE, you should also check your detailed network statistics to see if there is something wrong.
Step 1: Open the guide by pressing the Xbox button on your controller.
Step 2: Go to Profile & system > Settings > General > Network settings.
Step 3: On the next screen, select Test network speed & statistics.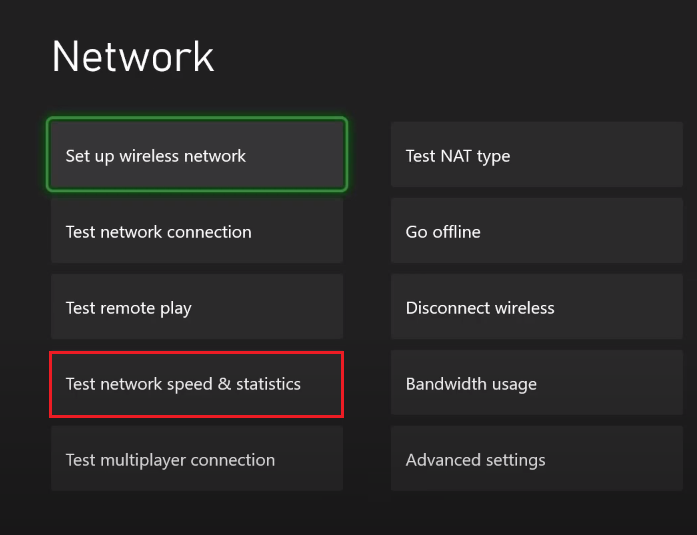 Step 4: After the test is finished, you can view the detailed network statics. If any errors exist, click here to fix them according to your situations.
Method 5: Reset Your Xbox Console
You might be able to fix the Xbox error code 0x80072EFE by resetting your Xbox console as well. Here are the detailed steps for you.
Step 1: Open the guide on the Xbox console and then go to Profile & system > Settings > System > Console info.
Step 2: Select Reset console and then select Reset and keep my games & apps. This option will reset the operating system and delete possible corrupted data but keep the games or apps on your console.
Once done, the error might be removed.
All the methods mentioned in this post are available. You can try them one by one until you fix the Xbox 0x80072EFE error. If you have any other good solutions to this error, please share them in our comment zone.
MiniTool Partition Wizard is a comprehensive app that can help you manage your partitions and disks better with various features. If you are interested in this tool, you can visit its official website to attain more information.