What is
MpCmdRun.exe
? How to fix MpCmdRun.exe high CPU usage? To get the answers, you can focus on this post. Here,
MiniTool Partition Wizard
introduces MpCmdRun.exe in detail and summarizes several effective methods to solve its high CPU usage issue.
What Is MpCmdRun.exe
What is MpCmdRun.exe Windows 10? MpCmdRun.exe, standing for Microsoft Malware Protection Command Line Utility, is a process belonging to Microsoft Windows Defender Antispyware and an essential part of Microsoft's Windows operating system. It allows you to perform various functions in Microsoft Defender Antivirus, protecting your computer from suffering threats and malware on the Internet.
In addition, MpCmdRun.exe Windows 10 is also a safe and reliable utility that enables you to automate Microsoft Defender Antivirus tasks. Generally, to find this tool, you should navigate to this path: %ProgramFiles%\Windows Defender\MpCmdRun.exe.
Note:
If your system is attacked by any viruses, you may run into data loss. To get your data back, you should use professional
data recovery software
like MiniTool Partition Wizard. Its
Data Recovery
feature allows you to scan the target drive for deleted/lost files and then restore them to a different directory.
MiniTool Partition Wizard DemoClick to Download100%Clean & Safe
How to Use MpCmdRun.exe
In some cases, you may consider running the MpCmdRun exe commands to protect your PC. How can you use MpCmdRun.exe? To help you, there is a step-by-step guide available.
Step 1: Right-click the Start icon and select Run.
Step 2: Type cmd in the Run dialog box and then press Ctrl + Shift + Enter to open Command Prompt with administrative privileges.
Step 3: In the elevated Command Prompt, type cd C:\Program Files\Windows Defender and press Enter.
Step 4: Type mpcmdrun.exe and press Enter.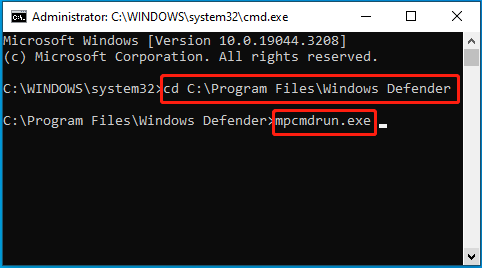 Step 5: After that, all the functions and corresponding commands of this utility will be listed below. Then you can execute the needed command. For example, you can run MpCmdRun.exe -Scan -ScanType 2 to perform a full system scan to detect viruses or malware.
How to Fix MpCmdRun.exe High CPU Usage
You are likely to run into a high CPU usage issue of MpCmdRun.exe from time to time. What can you do when this issue happens? Here're several ways how to fix MpCmdRun.exe high CPU usage issue. You can have a try.
Way 1: Restart Your Computer
When facing the MpCmdRun exe high CPU usage, you should first try restarting your PC. It's the simplest and quickest way to get rid of temporary glitches and bugs. If this issue persists after a restart, you need to go on with the following methods.
Way 2: End MpCmdRun.exe in Task Manager
Ending the MpCmdRun.exe program in Task Manager is another solution to MpCmdRun.exe's high CPU usage. To do this, follow the steps below.
Step 1: Right-click the Start icon and select Task Manager.
Step 2: Under the Processes tab, right-click Microsoft Malware Protection Command Line Utility and select End task.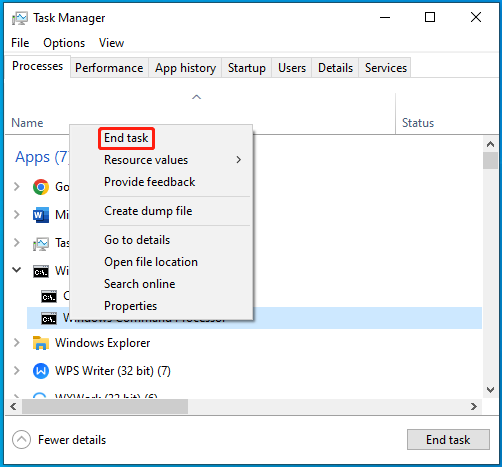 Way 3: Scan Your PC for Viruses
Viruses or malware may lead to the MpCmdRun.exe's high CPU usage as well. Therefore, it's also recommended that you scan your system to check if any viruses exist. You can run the scan by following this guide: How to Run Windows Defender Full/Quick/Custom/Offline Scan.
Way 4: Run the SFC Scan
Corrupted or missing system files may result in this high CPU usage issue too. In this case, you can run SFC (System File Checker) to scan and restore the problematic system files, which may help you solve this issue. You need to run Command Prompt as an administrator and then run the sfc /scannow command.
Way 5: Update Your Windows
If the above methods are not working, the last way you can try is to update your Windows. A new Windows update will always release new features or fix the bugs in the previous version. So, simply update your PC to the latest version to see if the MpCmdRun.exe high CPU usage issue is solved.
After reading this post, you can learn what MpCmdRun.exe is and how to fix MpCmdRun.exe high CPU usage. If you have any problems with this utility, you can leave a message in our comment part.