Some people encounter DISM Error 998 when they use DISM commands on their PC to scan and fix corrupted system files. Do you also encounter the same error? Luckily, this post from MiniTool Partition Wizard provides a full guide to this error.
What Is DISM Error 998?
Deployment Image Servicing and Management (DISM) is a command-line tool that is used to find and fix any issue with Windows images. It is built into Windows and is available through the command line or Windows PowerShell.
DISM Error 998 is an error that occurs when the user runs DISM commands to fix the Windows update error 0x800703e6. Meanwhile, DISM Error 998 always comes with SFC scanning failure.
When this error occurs, you can see an error message on your PC screen: "Error: 998 Invalid access to memory location." Just like the below picture.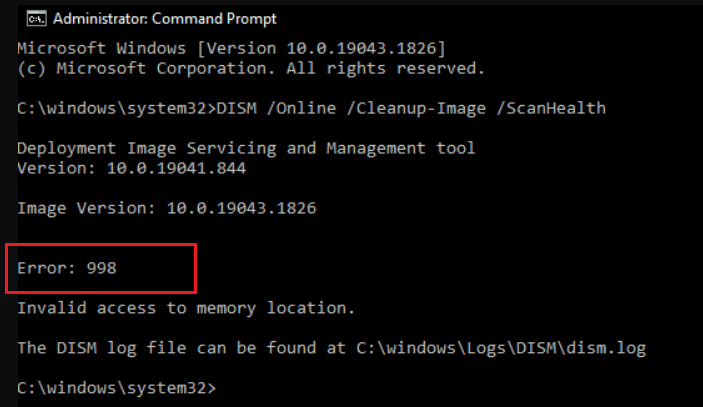 If you also encounter the same error and want to know how to fix DISM Error 998 on your PC, you don't need to worry. This post shows 3 helpful solutions to help you get rid of it.
Read More: How to Fix the Windows Update Error 0x800703e6?
Way 1. Reset Windows Update Components
Resetting Windows update components can fix corrupted update components. As DISM Error 998 always occurs after the Windows update error 0x800703e6, you can try fixing this error by resetting Windows update components. Here are the detailed steps:
Step1. Press the Windows and S keys simultaneously to open the Search window, and then input "cmd" on the search box.
Step2. Click Run as administrator on the right of the window.
Step3. Type the following commands one after another and press Enter.
net stop bits
net stop wuauserv
net stop appidsvc
net stop cryptsvc
Del "%ALLUSERSPROFILE%\Application Data\Microsoft\Network\Downloader\*.*"
rmdir %systemroot%\SoftwareDistribution /S /Q
rmdir %systemroot%\system32\catroot2 /S /Q
regsvr32.exe /s atl.dll
regsvr32.exe /s urlmon.dll
regsvr32.exe /s mshtml.dll
netsh winsock reset
netsh winsock reset proxy
net start bits
net start wuauserv
net start appidsvc
net start cryptsvc
Step4. Restart your computer and check if the error has been resolved after you apply all the commands above.
Way 2. Do an In-place Upgrade
If you can't fix the DISM Error 998 by resetting Windows update components, you can try doing an in-place upgrade. This method can upgrade Windows to the latest version and fix all the errors on your PC. Here's a full guide on how to do a Windows 10 in-place upgrade:
Step 1. Go to the Windows 10 download page to download the Windows Media Creation Tool.
Step 2. After the downloading process ends completely, you need to click the tool to run it.
Step 3. In the new window, click Accept. Wait until the Getting Ready screen disappears.
Step 4. Select the Upgrade this PC Now option and click Next.
Step 5. Choose to keep your personal files or start fresh according to your needs.
Step 6. Then, the screen will remind you that Your computer will restart several times. This might take a while. Please be patient.
Step 7. When the restart process ends, you will go back to the login screen.
Step 8. Next, you need to log into Windows 10 and make the needed settings.
Step 9. Once done, the Windows 10 in-place upgrade is finished, and your OS will be the latest version. Then the Windows update error and DISM error 998 can already be fixed successfully.
If you want to know more information about Windows 10 in-place upgrade, you can refer to this post: Windows 10 In-Place Upgrade: a Step-by-Step Guide. If your PC OS is Windows 11 and want to know how to do Windows 11 in-place upgrade, you can follow the guide in this post: How to Perform a Windows 11 In-Place Upgrade?
Way 3. Perform a Custom Windows Installation
According to the discussion of DISM Error 998 on the Microsoft Community forum, performing a Custom Windows Installation is also a working method for DISM Error 998. To do that, you just need to follow the steps below:
Use the Windows 10 Media Creation Tool to create an ISO file and save it on the desktop.
Right-click it and then click Mount.
Then follow the steps from Number 4 to the last from this link.
Bottom Line
How to fix DISM Error 998? Now, I believe that you already have known the answer. If you have better solutions to the problem, please share them with us in the following comment zone.
In addition, MiniTool Partition Wizard is a trustworthy and multi-featured disk manager that can help format partitions, clone the system, manage disks better, recover data, etc. If you have any of these needs, you can download it and have a try.
MiniTool Partition Wizard FreeClick to Download100%Clean & Safe