When trying to update your Windows, you are likely to experience the error code
800F020B
. How to fix it? Here, this post from
MiniTool Partition Wizard
introduces a couple of effective solutions to this annoying error. You can try them to solve your problem.
The error 800F020B is a common Windows error code that often occurs while installing Windows updates. To fix this error and update your Windows successfully, you can try the following troubleshooting fixes.
Fix 1: Insert Your Pocket Media Drive
Some users report that they get rid of the Windows update error 800F020B and install Windows updates normally after connecting the pocket media drive to the PC. Therefore, when you are bothered by this error, you can try this way to see if it works. If the error persists, then you need to continue with other methods.
Fix 2: Hide the Windows Update
In some cases, the error code 800F020B may show up if the update you are trying to install does not necessarily apply to your system. As for this, it's recommended that you hide the particular update to see if the error is solved. To do this, follow the steps below.
Step 1: Download the Show or hide updates troubleshooter on your PC.
Step 2: Once the download finishes, find the wushowhide file in File Explorer and then double-click it.
Step 3: In the pop-up Show or hide updates window, click Next to continue.
Step 4: In the next window, click Hide updates. Then your system will detect and list the available updates.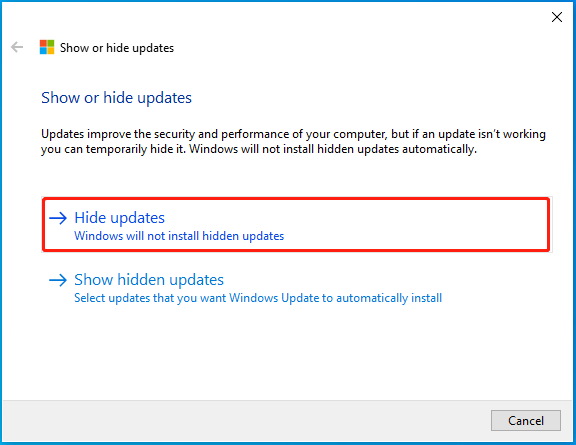 Step 5: Check the update you don't want to install and then click Next.
Step 6: Finally, close the troubleshooter and restart your computer.
Fix 3: Run the Windows Update Troubleshooter
The Windows Update troubleshooter is a Windows built-in utility that helps repair a great number of issues related to Windows Update. Therefore, when the Windows update error 800F020B occurs, you can try to fix it by running this troubleshooter as well.
Step 1: Press Windows + I to open Windows Settings. Then select Update & Security.
Step 2: Go to Troubleshoot and then click Additional troubleshooters from the right side.
Step 3: In the next window, click Windows Update and then click Run the troubleshooter.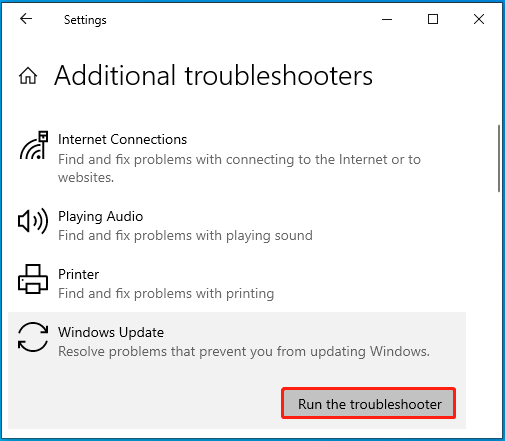 Step 4: After that, this troubleshooter will begin detecting problems associated with Windows updates. If any are found, follow the on-screen instructions to repair them.
Step 5: Once done, restart your computer and go to check if this error is solved.
Fix 4: Perform a System Restore
If you have created a system restore point before the error code 800F020B comes out, then you can try retrieving your system to a previous state to see if the error disappears. Here's how to do this.
Step 1: Press Windows + R to open the Run dialog.
Step 2: Type rstrui in the text box and press Enter.
Step 3: After you enter the System Restore window, click Next.
Step 4: Select a system restore point created without the Windows update error and click Next.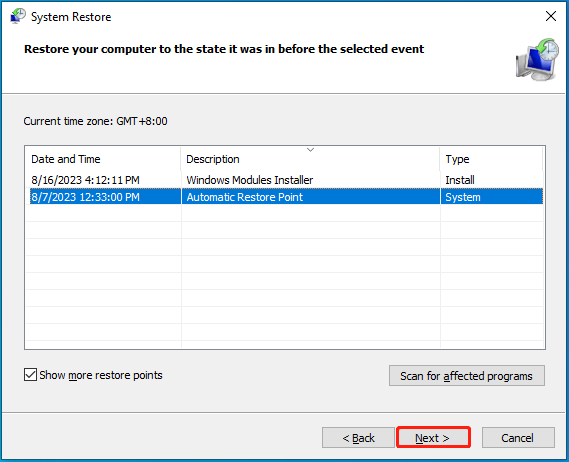 Step 5: Click Finish to execute this operation.
Further reading:
Sometimes you may suffer data loss due to System Restore. How to recover files after System Restore? Here, we recommend you make use of a third-party data recovery tool like MiniTool Partition Wizard. It's powerful and professional data recovery software that enables you to recover deleted or lost data from various storage devices.
MiniTool Partition Wizard DemoClick to Download100%Clean & Safe
All the methods mentioned above are available. When you run into the Windows update error 800F020B, you can try to fix it with these methods. If you have any other great solutions to this error, you can share them with us in our comment part below.