What's the difference between 2.4 GHz and 5 GHz? Does your PC support 2.4 GHz or 5 GHz? This post from
MiniTool Partition Wizard
explains
2.4 GHz vs 5 GHz
and shows you how to switch to 5 GHz.
2.4 GHz vs 5 GHz WiFi
Wi-Fi is a family of wireless network protocols that are commonly used for local area networking of devices and Internet access, allowing nearby digital devices to exchange data by radio waves.
Different versions of Wi-Fi have different radio technologies determining radio bands, maximum ranges, and speeds that may be achieved. Wi-Fi most commonly uses the 2.4 gigahertz (120 mm) UHF and 5 gigahertz (60 mm) SHF radio bands.
How about 2.4 vs 5 GHz WiFi? The difference between 2.4 and 5 GHz is as follows:
2.4 GHz WiFi has a longer wave and a longer range while 5 GHz WiFi can transmit more data over shorter distances.
The 2.4 GHz Wi-Fi spectrum is 70 MHz wide while the 5 GHz Wi-Fi spectrum is approximately 500 MHz wide. As a result, the 5 GHz Wi-Fi has more channels to ensure a smoother data exchange.
2.4 GHz can deliver a typical over-the-air max speed of up to 100 megabits per second (Mbps), while 5 GHz can deliver up to 1 gigabit per second (Gbps).
5 GHz WiFi is more suitable for gaming, home theater, and home office applications that depend on a lot of voice and video calls. 2.4 GHz WiFi is ideal for sending small amounts of data over longer distances.
Is Your WiFi 2.4 GHz or 5 GHz?
After knowing the difference between 2.4 and 5 GHz, you may want to use 5 GHz WiFi at home. Is your WiFi 2.4 GHz or 5 GHz? You can check your WiFi version by following this guide:
Connect to the WiFi network.
Open your networks panel from your taskbar (click the WiFi icon in the bottom right).
Click on Properties of your WiFi network.
In the new window, scroll down to Properties.
Network Band will either say 2.4 GHz or 5 GHz.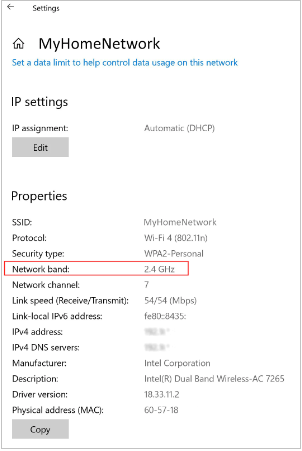 Does Your PC Support 5 GHz?
In terms of 2.4 GHz vs 5 GHz, 5 GHz is better. If your current WiFi is 2.4 GHz. You may want to switch it to 5 GHz. But whether your PC support 5 GHz? You can check that by following this guide:
Run Command Prompt as administrator.
In the Command Prompt window, type "netsh wlan show drivers" and press Enter.
You need to check the Radio types supported.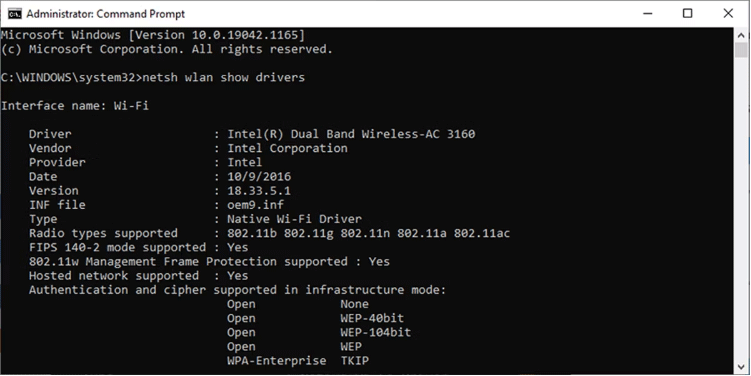 Alt= check WiFi drivers
The common radio types are as follows:
802.11, 802.11b, and 802.11g only support 2.4 GHz.
802.11a and 802.11ac only support 5 GHz.
802.11n and 802.11ax support both 2.4 GHz and 5 GHz.
How to Switch to 5 GHz
Tips:
To get 5 GHz WiFi, you need a wireless router that supports 5 GHz WiFi (WiFi 4/5/6).
If you decide to switch to 5 GHz after knowing 2.4 vs 5 GHz WiFi, you can follow the guide below:
Press Windows + X and then select Device Manager from the menu.
On Device Manager, click View > Show hidden devices to make sure all drivers are listed.
Expand the Network adapters list.
Right-click the Wi-Fi adapter > Properties. You can identify the WiFi adapter by the word like WiFi or Wireless.
Open the Advanced tab.
Set Property to Band or Preferred band. This option can have a different name depending on the adapter producer.
Use the drop-down menu below Value and select 5 GHz.
Click OK to save the new changes.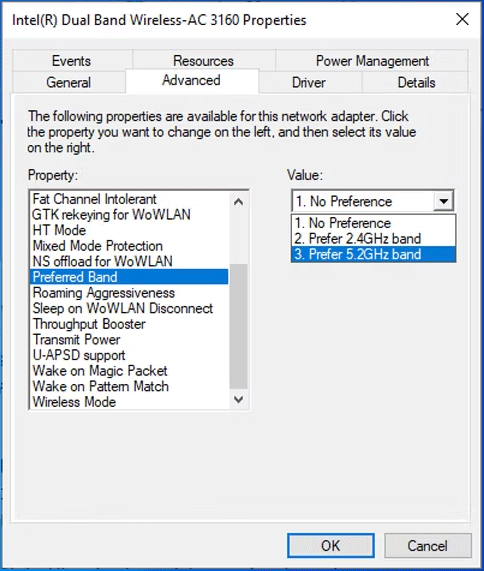 MiniTool Partition Wizard is an all-in-one disk management tool. It can clone a hard drive, migrate OS, and recover data. If you have this need, you can try it.
MiniTool Partition Wizard DemoClick to Download100%Clean & Safe