When attempting to upgrade your PC to the latest version of Windows 10, you may sometimes run into the error code 0x800707E7 - 0x3000D. In this post, MiniTool Partition Wizard provides a couple of methods that may help you fix this issue. You can take a look at it.
The error 0x800707E7 – 0x3000D is a Windows installation error that prevents you from upgrading your system to the latest version. It can be caused by various reasons. Here, we collect the main causes for the error code 0x800707E7-0x3000D.
Conflicts Between Third-party programs
Corrupted system files
Faulty Windows Update components
Outdated drivers
Low disk space
…
To get rid of the error 0x800707E7 – 0x3000D, you can try the methods listed below.
Method 1: Make Sure Your PC Meets the System Requirements
When the error code 0x800707E7 – 0x3000D comes out, you should check your PC specs first to see if it fulfills the Windows 10 requirements.
Processor: 1GHz or faster
RAM: 1GB for 32-bit or 2GB for 64-bit
HDD Storage: 32GB at least
Graphics Card: Compatible with DirectX 9 or later with WDDM 1.0 driver
Display: 800 x 600
Tips:
To get sufficient storage for the Windows upgrade, you can try
freeing up disk space
. If there are lots of useless and space-consuming files, you can use the
Space Analyzer
feature of MiniTool Partition Wizard to find and delete them.
MiniTool Partition Wizard FreeClick to Download100%Clean & Safe
If your PC meets the Windows 10 minimum requirements but the error persists, you should go on with the following solutions.
Method 2: Update Your Drivers
The outdated drivers on your PC may lead to the error code 0x800707E7 0x3000D. If it's the culprit, you'd better update your drivers to the newest version to see if the error disappears. To execute this operation, you can follow this guide: How to Update Device Drivers Windows 10 (2 Ways).
Method 3: Delete the Useless User Profiles
GeForce will sometimes release updates for the NVIDIA drivers and certain hidden user accounts are often created to deal with these update-related tasks. In some cases, these wrong user profiles may cause the error 0x800707E7-0x3000D as well. Therefore, if you want to successfully install Windows updates, you should try deleting the wrong profiles.
Step 1: Uninstall NVIDIA drivers on your PC.
Step 2: Press Windows + E to open File Explorer.
Step 3: Right-click This PC and then select Properties.
Step 4: In the prompted window, click the Advanced system settings link from the right side.
Step 5: After that, click Settings in the User Profiles section.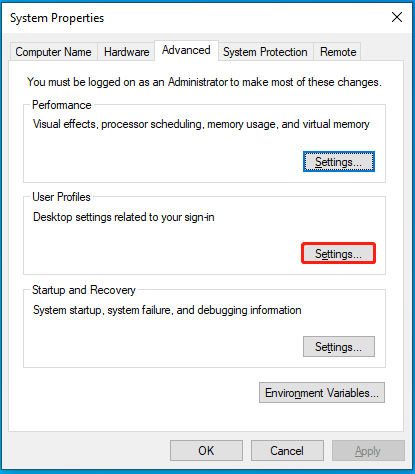 Step 6: Highlight the wrongly created user profile and then click Delete.
Step 7: Go to the C:\Users\ path in File Explorer to delete the same profiles you deleted in the previous step.
Step 8: Open the Run dialog by pressing Windows + R. Then type regedit in the text box and click OK to open Registry Editor.
Step 9: Navigate to the following path. Then right-click the user profiles you deleted before in File Explorer and select Delete.
HKEY_LOCAL_MACHINE\SOFTWARE\Microsoft\Windows NT\CurrentVersion\ProfileList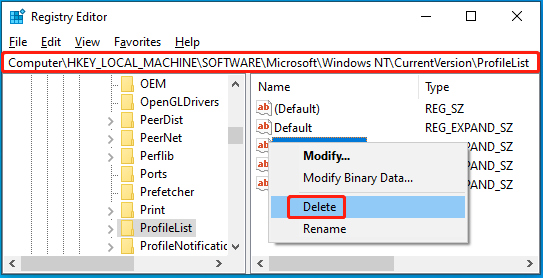 Step 10: Once done, restart your PC and try the Windows update again to check if the error is solved.
Method 4: Uninstall the Problematic Software
As mentioned earlier, third-party software may cause conflicts, resulting in the Windows error 0x800707E7 – 0x3000D. To bypass this error, it's recommended that you uninstall any third-party programs on your PC. Here's how to do this.
Step 1: Type appwiz.cpl in the Run dialog box and press Enter to open the Uninstall or change a program window.
Step 2: After that, right-click the programs to delete and select Uninstall.
Step 3: Follow the on-screen instructions to finish the program uninstallation.
Method 5: Clean Install Windows 10
Clean installing Windows 10 may also help you solve the error 0x800707E7 – 0x3000D. You can complete the clean installation with this post: [Illustrated Guide] How to Clean Install Windows 10 21H2 on PC? The steps are similar even if you plan to upgrade the system to different versions.
When stuck in the Windows 10 error 0x800707E7 – 0x3000D, you can try the above methods to fix it. If you have any other great solutions to this error, you can share them with us in the comment part below. We'll appreciate that very much.