What to do if your Twitter account is suspended? Well, MiniTool would offer you troubleshooting methods in this post and discuss some FAQs related to Twitter bans like how to unsuspend Twitter account, how long do Twitter suspensions last, etc.
Twitter Account Suspended Cases
According to Twitter, you will receive some notices because of your account settings. Then you need to make adjustments to meet its rules. Your account level will be restricted if you break the rules severely or repeatedly after receiving notifications. The restriction varies depending on the specific condition.
Twitter account is temporarily unavailable: This means that the account is not compliant with Twitter's policies. You can click Learn more to find the exact policy your profile or media content has violated. To get rid of the restriction, you should edit the media or information to comply with the rules of Twitter.
Caution: This account is temporarily restricted: This informs you to verify your identity with a phone number or email address. This ensures that users don't abuse the anonymity feature and harass others on Twitter. Additionally, it can help the official find who are operating multiple accounts for abusive purposes and then take action on these accounts.
This account doesn't exist: After you deactivate your Twitter account, the page will be rendered as unavailable.
Account suspended: This is the most severe enforcement of Twitter. The account owner will receive the notification that he has been suspended for violating which policy or content.
Why Is My Twitter Account Suspended
There are multiple reasons for a suspended Twitter account. Spam is responsible for most suspended Twitter accounts. It means that a lot of accounts are suspended because they are spammy, plain fake, or have potential danger for the platform or users on it.
If a Twitter account is hacked or compromised, it will be suspended until it is secured or restored to the account owner. By doing so, potentially malicious activity caused by the compromise can be reduced. After the account violates Twitter rules or engages in abusive behavior, it may be suspended temporarily or permanently.
Tips:
After the Twitter account is suspended, you may be unable to log in it, make comments, or retweets.
How Long Do Twitter Suspensions Last
The time of Twitter suspension varies according to the types of suspension and specific violations. On average, Twitter bans won't last more than 7 days. The shortest time is 12 hours. As for minor violations of any Twitter policies, Twitter suspends the account for 48 hours or so.
If you get involved in a serious violation of Twitter's rules, you might receive a permanent ban. You can't unsuspend the account forever.
How to Unsuspend Twitter Account
After your Twitter account is suspended by the platform, you can unsuspend it by taking some actions. The method varies depending on different cases.
Method 1: Verify Your Identity
If you get a Twitter account suspended due to minor violations, you can unsuspend it by verification. For doing that, you should log into your account and check for prompts asking you to verify your phone number or email address.
After entering the required information, you can get your Twitter account back. The whole process usually takes you 10 to 20 minutes. This is the simplest and quickest way to recover a suspended Twitter account.
Method 2: Fill an Appeal
If you believe that the platform suspends your Twitter account mistakenly, you can file an appeal to unsuspend it. Here are steps for doing that.
Step 1: Likewise, log in to Twitter. If you can't log in, click here and fill out the form on the prompted page.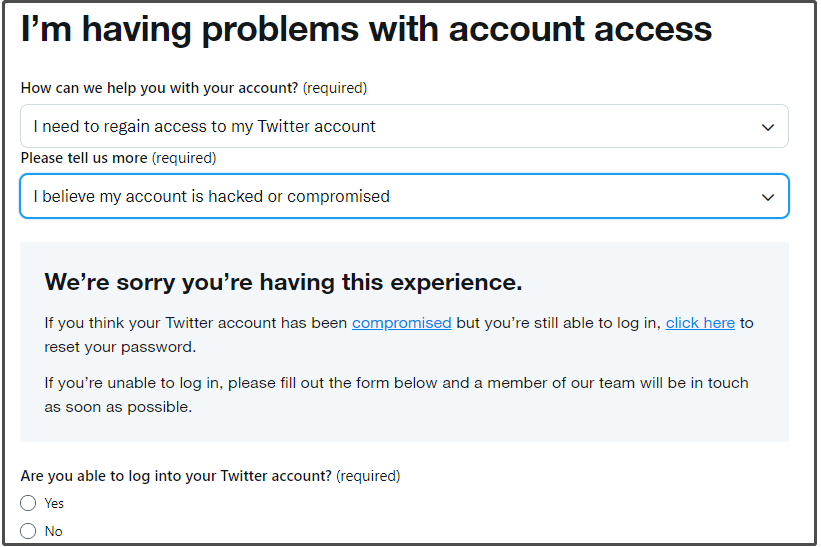 Step 2: After you input the required information, scroll down the page and click on the Submit button.

Step 3: Then you just need to wait for the response of Twitter.
Bonus Tip
With this guide, you can unsuspend a suspended Twitter account. If you get a Twitter account suspended accidentally, use the instructions to recover it. For deleted or lost data or partitions, you can get it back by using MiniTool Partition Wizard. It allows you to recover multiple file types.