How much does data recovery cost? And why data recovery service is so expensive? This article will analyze these problems for you. Besides, this article will also give you advice on the affordable data recovery. Data is lost? Don't be panic and read this post for suitable solutions.
How Much Does Data Recovery Cost?
As we all know, disk is used to store a huge number of files and data. Nowadays, many people get used to store their personal files and commercial files into the computer disk. However, what if some disks have some problems and the files are lost?
When the disks fail, users can't access to their files. People may get into panic to this situation because they might lose files which store their precious experience and value commercial data. But fortunately, there is possibility of retrieving lost data.
How much does data recovery cost? When users search data recovery service online, they may be surprised to the high price of data recovery service and wonder why the data recovery is so expensive.
Actually, the data recovery price varies based on specific data loss situation. Generally speaking, there are two major data loss situations: hardware failure and logical fault. The data recovery price differs extremely in the two situations.
Hardware Failure Data Recovery Cost
Hardware failure is usually caused by scratches, fracture, water soaking and so on. When users send the disk to professional data recovery companies for hard drive recovery, they may find that the cost of hard drive recovery also differs from one specific damage situation to another.
For example, the hard drive cost is very high if the data recovery work has more difficulties. As the same, the price is lower if the work has fewer difficulties.
In general, if the data can be retrieved under the condition that the disk is not opened, the price will be lower. This condition includes the accidents of external circuit failure (circuit board is burnt), firmware corruption, disk bad track, unstable motor speed and unstable hard disk heads, etc.
However, when the disk needs to be opened for data recovery, the data recovery price goes up. The disk opening data recovery includes the following situations: severe firmware corruption, hard disk abnormal sound, magnetic head aging, unturnable motor, etc.
The hardware failure data recovery price is usually very high because the data recovery is commonly completed in a dust free environment, which cost a lot of money to maintain. Besides, the professional equipment and professionals are also expensive.
When users want to find a reliable data recovery company, please pay attention to the following factors.
Not Charging by Per GB: Generally speaking, reliable data recovery companies will not charge "per GB recovered". If a data recovery company charges like that, beware of fraud.
No Additional Fees: Reliable data recovery companies usually do not charge users for addition fees, such as diagnostic and attempts fees.
Refund Guarantee: Reliable data recovery companies usually give users a promise that users can get the money back if they can't recover data.
Logical Fault Data Recovery Cost
If the data loss is caused by disk logical fault, the data recovery is much easier and cheaper. The disk logical fault includes partition deletion, file deletion, file system damage, disk formatting, MBR corruption, virus attack, etc.
If users send the disk to data recovery companies for logical fault data recovery, the data recovery price is higher than recovering data by themselves since there will be charges on lab cost, labor cost and confidential fee. Hence, users could consider downloading data recovery software and retrieving data by themselves.
Besides, it's also a good way for users to try data recovery software first to decide whether the disk should be sent to data recovery companies or not.
Affordable Data Recovery Recommendation
When users experience data loss, they want to retrieve data for free or just by paying a little money. Then, there are two solutions recommended to you for low cost.
Rescue Data Recovery Service
This service is seemingly offered by Seagate. When people buy a hard drive from Amazon, they may notice the following little checkboxes where hard drive buyers can add as a protection plan.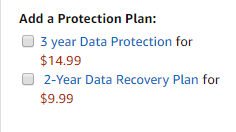 Or, when they add hard drives to cart, the following window will pop up.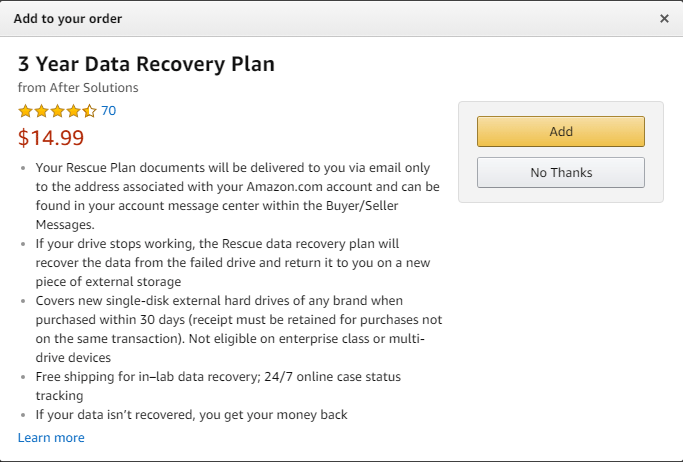 This protection plan says it covers any brand of external hard drive. Seagate can help users restore their data and, if necessary, will replace the failed hard drive at no additional charge. Besides, Seagate also guarantees that it will give buyers refund for the purchase price they paid for the plan if Seagate can't recover data for some reason.
In addition, Seagate usually provides data recovery services for hard drive resulting from drive failure, virus infections, software issues, etc. They offer free shipping to and from the lab as well.
It sounds good. And there were some people who did recover data through this service. So, at first, I think users can try this service to recover data especially when the drive has hardware failure so as to save money up to thousand dollars. However, the service provider also wants to avoid such things.
In the Warranty, the rescue data recovery service states the covered data recovery services. It will not provide service for multi-drive storage and SAN storage. It doesn't provide service for the device whose data loss is caused by mechanical, electrical, or operational breakdown, and collision with another object, etc.
So, it seems impossible to guarantee that this service will help users retrieve data form hardware failure. Moreover, there is comment left below the service.
They call themselves a security firm that provides emergency back up services, yet registration is over a completely unsecured website, no lock http instead of encryption lock https. Total amateurs that required all my disk drive information, email, order form, disk drive id and address information during registration over their unsecured website. I doubt they provide security services, but are just opportunistic middlemen that let some foreign company do all the work for pennies. Trusting my disk drive info to a foreign company that does it for pennies? … If you already bought it and your disk drive crashes, use a reputable company for recovery instead. — by kernelcorny
Although there are some defects in this service, I still think users can contact them first if the hard drive has hardware failure. However, if the data loss is caused by logical fault, it's a better choice for users to retrieve data by themselves through data recovery software. Thus, they don't have to worry about data privacy problem and there is no additional time wasted in hard drive shipping.
Affordable Data Recovery Software
If the data loss is caused by logical fault, it's unnecessary to afford hundreds of dollars to retrieve them. In this situation, retrieving data by oneself is the best choice.
MiniTool Partition Wizard is such an affordable data recovery software. Users can retrieve data for free or just by spending little money. This software is free if the to-be-retrieved data doesn't exceed 1 GB. Surely, if it exceeds 1 GB, this software will charge a fee.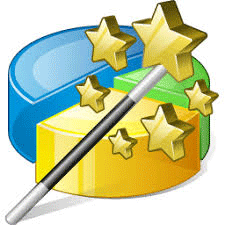 Here is a data recovery tutorial of MiniTool Partition Wizard.
Step 1: Buy MiniTool Partition Wizard and launch it to get its main interface. Click Data Recovery on the toolbar.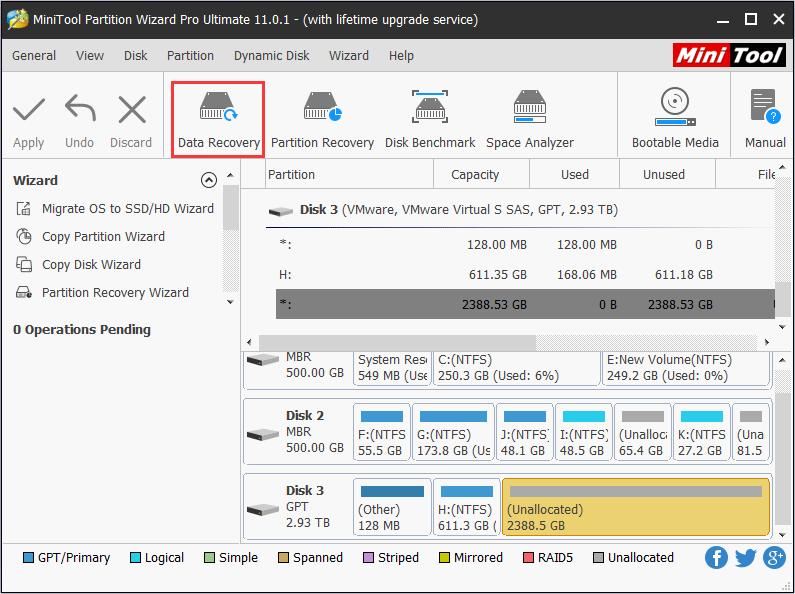 Step 2: Select a partition or a hard disk containing lost files and click Scan.
Computer users can retrieve data in logical drives, lost partitions, unallocated space, and the whole hard disk.
To retrieve data easily, if users know the file system and file types of the lost files, they could click Settings to limit the file types of scanning data.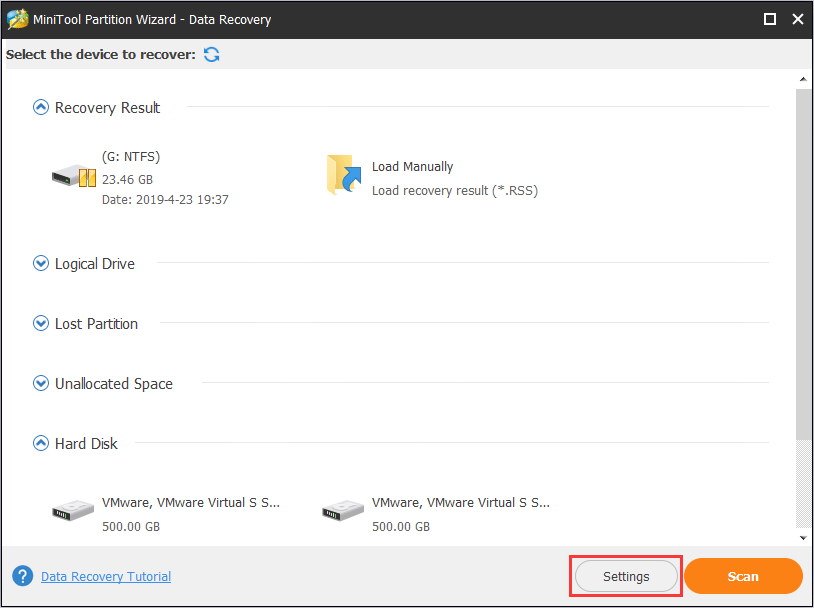 The following picture is the Settings interface.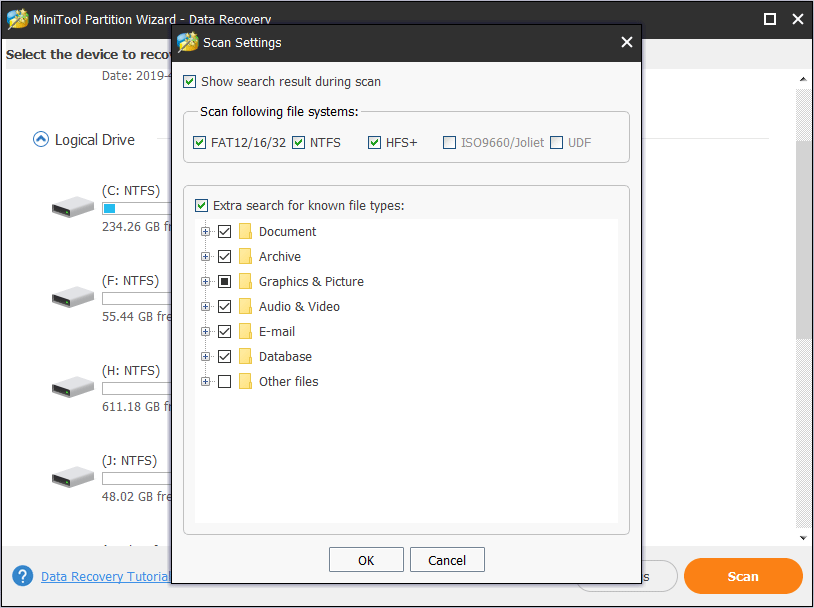 Step 3: Use tools to find out the lost files.
Path: In this page, files are listed according to their paths. But please note that the searched partitions may have been lost. And if users can't find the lost files in these partitions, they can click Show More Partitions to load more partitions.
Type: In this page, the files are displayed according to their file types.
Show Lost Files: In this page, only the lost files are listed.
Find: If users know a continuous part of the file name, they can use this feature to help them find out the lost files.
Filter: Users can use this feature to limit the files range according to filename/extension, file size, creation/modification date, deleted files, lost files, and normal files.
Preview: Before the data is saved, users can use this feature to preview the file. It supports users in previewing 70 file types, but note that the file can't exceed 100 MB.
Step 4: Select the files and click Save.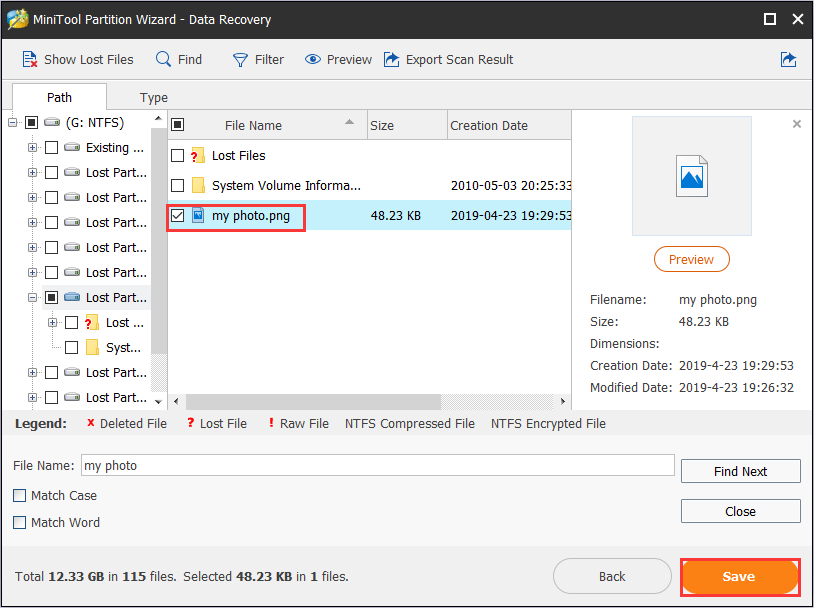 If computer users delete a partition mistakenly, and they want to get the whole partition back, they can try Partition Recovery feature.
Here is the tutorial.
Step 1: Click Partition Recovery on the toolbar.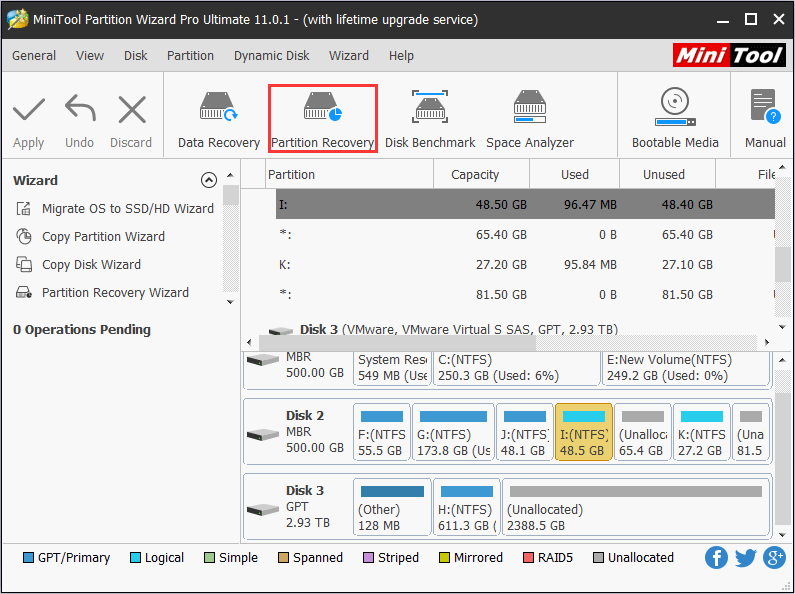 Step 2: Click Next and select a disk for partition recovery and click Next again.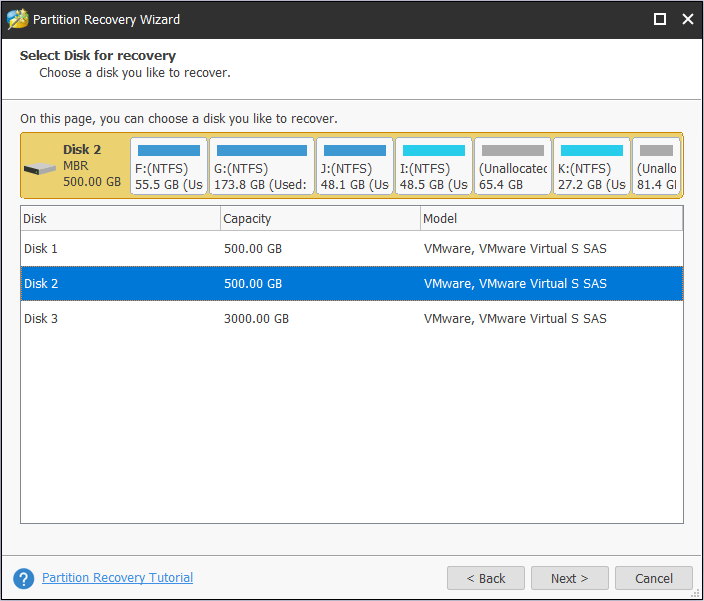 Step 3: Set the scanning range and click Next.
The scanning range has three modes: Full Disk, Unallocated Space, and Specified Range. Users can select one according to the actual situation.
Specified Range can let users select a specific partition block or an unallocated block in the disk map to recover partitions. Besides, users can also recover partitions in a range limited by starting LBA and ending LBA.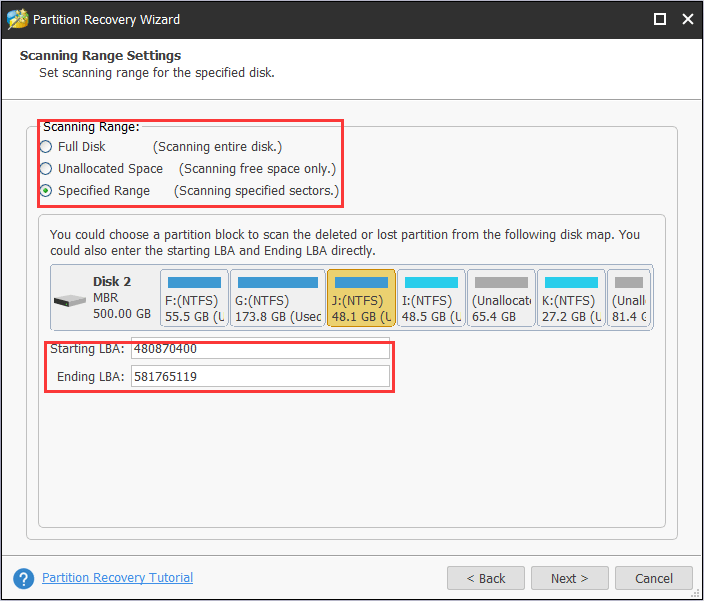 Step 4: Set scanning method and click Next.
Quick Scan: User can select this mode if the partition was deleted not for a long time.
Full Scan: Users can select this method if the partition was deleted for a long time and it's difficult to recover the partition.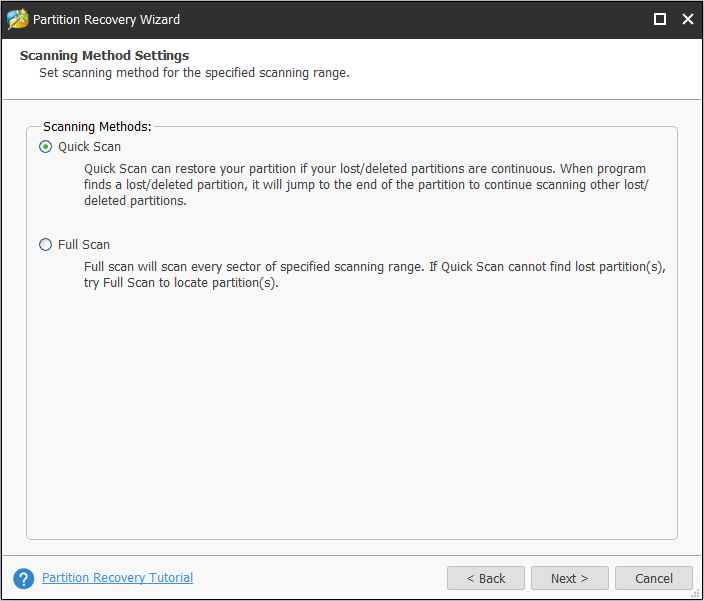 Step 5: Choose the needed partitions and click Finish.
Both lost partitions and existing partitions need to be checked. If the existing partitions are not selected, they will be lost after the partition recovery operation.
If the lost partitions are overlapped with one of the existing partition, users can select the lost partition only if the existing partition is unchecked. Hence, please transfer important files into another drive in advance.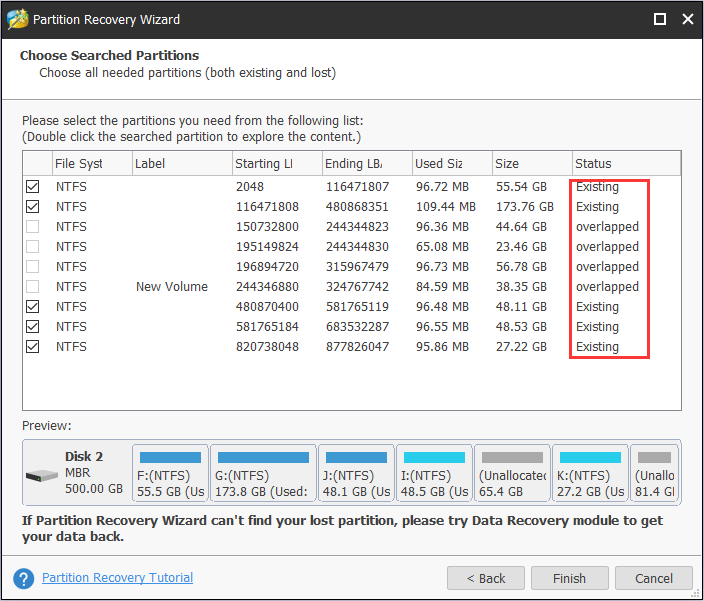 Step 6: Please preview the disk map and, if OK, click Apply button.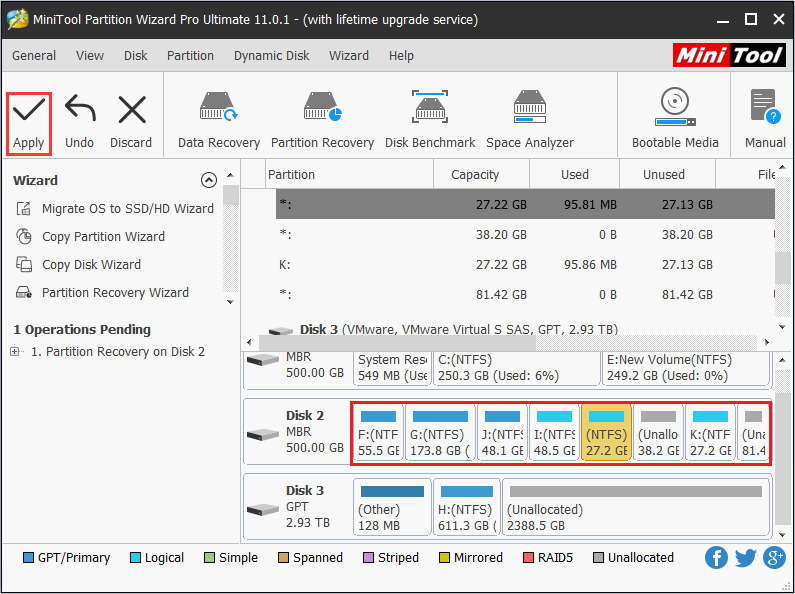 MiniTool Partition Wizard is not just a software for data recovery. It is also versed in partition management. In all, it's worth of purchase.
When users choose data recovery software, they usually take both cost and company reputation as consideration. MiniTool Partition Wizard satisfies the two conditions. Thus, it is the best choice for you.
Here are the affordable data recovery recommendations. Hope those could help you.Click to Tweet
Conclusion
Can this article help you make a data recovery decision? Or, you have better idea about data recovery. Please leave a comment below for sharing. Surely, if you have problems in data recovery, please leave a comment or email to [email protected] for help. We really need your advice!
Affordable Data Recovery FAQ
How much does data recovery cost?
The data recovery price varies based on specific data loss situation. If the data is lost because of hardware failure caused by scratches, fracture, water soaking and so on, the cost of hard drive recovery is usually more expensive than that of data recovery from disk logical fault.
In addition, if the data can be retrieved under the condition that the disk is not opened, the price will be lower. When the disk needs to be opened for data recovery, the data recovery price goes up.
Can a damaged hard drive be recovered?
If the disk is not severely damaged, data can be recovered. But for specific situations, you should consult a professional first.