Sometimes, you may need to sign in to iCloud on a Windows 10 PC. However, a lot of people can't sign into iCloud. How to deal with this issue? In this post, MiniTool will explore the troubleshooting methods together with you.
iCloud provides a great cloud storage service for Apple devices, macOS, and iOS users. Sometimes, many users need to sign into iCloud on Windows. However, most of them can't sign into iCloud. To let you sign into iCloud on Windows smoothly, we explore several effective methods.
Before performing the following steps, make sure that you have a stable internet connection and disable your antivirus program temporarily.
Solution 1. Meet the iCloud System Requirements for Windows PC
If you want to run iCloud on Windows smoothly, it is necessary to meet the basic iCloud system requirements for a Windows PC. We list them as follows:
Tip:
Click
here
to check your Windows 10 system information.
Microsoft Windows 10
iCloud for Windows 11 or later
iTunes 12.7
Outlook 2010 – Outlook 2016
Firefox 45 or later version, Google Chrome 54 or later (desktop mode only), Microsoft Edge, or Opera
If your PC meets these requirements but still can't sign into iCloud, you can move next to the following solutions.
Solution 2. Update iCloud for Windows Version
In addition, you need to install the latest iCloud for Windows version. If your iCloud for Windows can't update to the latest, follow the steps below:
Step 1. Type control in the search box and then select the Control Panel app from the Best match.
Step 2. Change the View by type to Category and click on the Network and Internet section.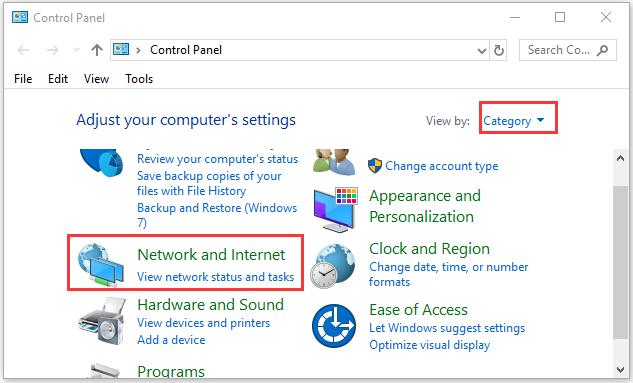 Step 3. Click on Internet Options from the pop-up window.
Step 4. Go to the Advanced tab in the Internet Properties window, scroll down the page to the Security section, and then uncheck the box next to Do not save encrypted pages to disk.
Step 5. Click on OK to save the changes. After that, you can try updating iCloud for Windows again and check if the issue "cant sign into iCloud" still persists.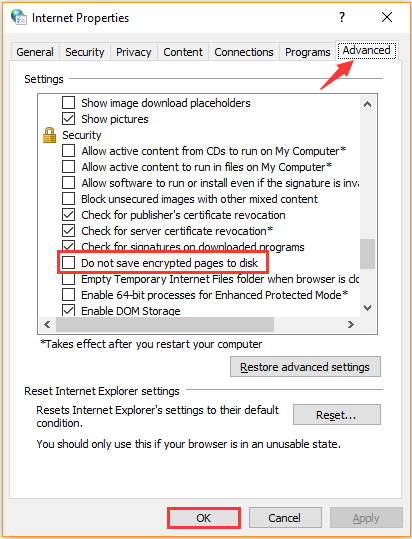 Solution 3. Reset WinSock
If there are any issues with accessing network services, you may encounter some issues like IPv6 no network access, cannot sign into iCloud, and so forth. To fix this issue, you need to reset Winsock. Follow the steps below to reset WinSock.
Step 1. Type cmd in the search box, and then right-click Command Prompt and select Run as administrator option from the submenu.
Step 2. In the elevated command prompt, type netsh winsock reset command and hit Enter.

Now, reset your computer and check if can't log into iCloud for Windows 10 version. If not, move on to the following solutions.
Solution 4. Restart Bonjour Service
Some users reported that they fix the issue "can't login to iCloud" by restarting the Bonjour service. Here's how to do that:
Step 1. Press Win + R keys to open the Run dialog box, and then type services.msc and hit Enter.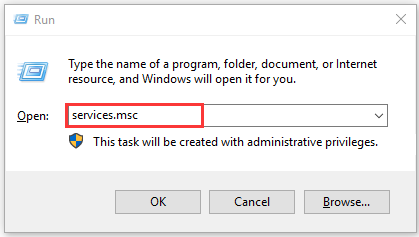 Step 2. Scroll down the list of services, and then right-click the Bonjour service and select Restart from the context menu.
Now, check if the issue "can't sign into iCloud" has been fixed or not.
Solution 5. Use an Alternative to iCloud
If you still can't sign into iCloud on Windows 10, you may consider using an alternative tool to iCloud. MiniTool ShadowMaker is a trusted alternative that can be used to back up/sync files, folders, games, disk, and even operating systems on Windows. You can refer to this post to sync files using this tool.