What is Wondershare Helper Compact? Is Wondershare Helper Compact a virus? Can I remove Wondershare Helper Compact from my computer and how? In this article from MiniTool Partition Wizard, you will get the answers.
About Wondershare Helper Compact
What is Wondershare Helper Compact?
Wondershare Helper Compact is a part of the video converter package from the Wondershare DVD creator bundle. It is a legal program that develops or creates popups (or windows) when you are making a DVD or trying to convert your files to help you complete the process.
Wondershare Helper Compact.exe, the executable of the program, is not a common file for users. So, some users may regard it as a virus and worry about potential threats. In theory, the executable won't affect your system, but some malicious files may pretend as Wondershare Helper Compact.exe and trigger some problems on your computer.
You may ask: how to tell if Wondershare Helper Compact.exe is a virus?
Well, you can figure out whether a file is a legitimate Windows process or a virus through its location. By default, the Wondershare Helper Compact.exe file is located in the path of C:\Program Files\Wondershare\DVD Creator\DVDCreator.exe. If the file is not another place, it might be a virus.
See also: Is Recoverit Safe? Any Alternatives to Recoverit?
To check the path of the process quickly, you can follow the steps below:
Step 1: Right-click the Start button and choose Task Manager to open it.
Step 2: Switch to the Details tab, right-click any column, and choose Select columns.
Step 3: In the pop-up window, scroll down to find the Image path name and check the box next to it. Then, click OK to add a path column.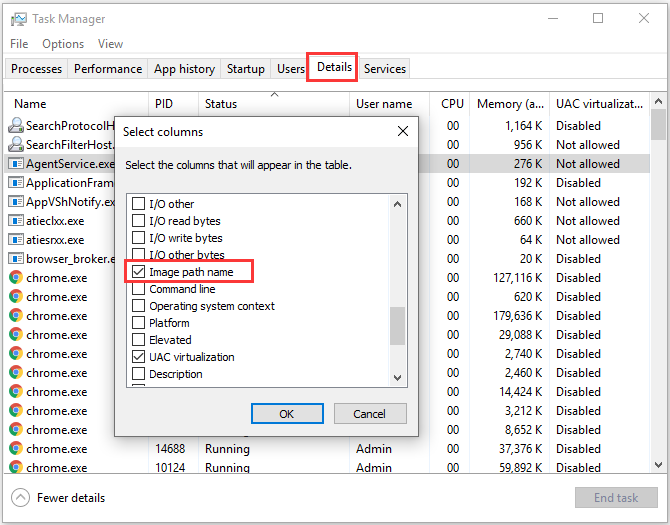 Now, you can check if the running Wondershare Helper Compact.exe is in the right place. If not, you can delete it to protect your computer from potential virus attacks. By the way, even if the file is legal, you may also encounter some problems and some related issues are listed below. To fix these problems, you can perform an SFC scan or execute the DISM command.
Wondershare Helper Compact.exe Application Error.
Wondershare Helper Compact.exe has encountered a problem and needs to close. We are sorry for the inconvenience.
Faulting Application Path: Wondershare Helper Compact.exe.
Wondershare Helper Compact.exe not found.
How to Remove Wondershare Helper Compact
Wondershare Helper Compact is more or less adware, and some users can be much annoyed with its constant popups which may waste the system resources and slow down the computer. Can you uninstall the problem without affecting the system? Yes, of course. However, there are some reports that the application cannot be removed.
To successfully remove the program, here's a guide for you.
Step 1: Uninstall Wondershare Helper Compact
At first, you can uninstall Wondershare Helper Compact from Control Panel. You just need to:
Type control panel in the Search box and click the search result to open it.
Navigate to Programs > Programs and Features.
Select the Wondershare product from the list and click Uninstall.
Follow the given instructions to complete the uninstallation.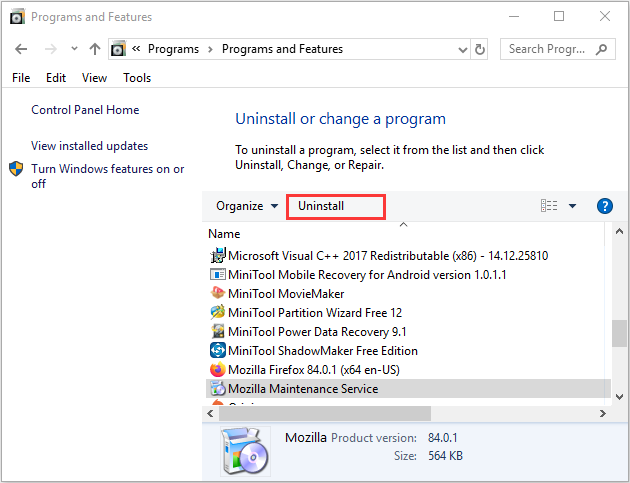 Step 2: Delete Leftovers
Uninstalling the program doesn't remove all the data related to it. Now, you need to delete the leftover files of Wondershare.
Press Windows + R to open the Run
Input %programfiles% and press Enter. Find the folder related to the Wondershare product and delete it.
Type %appdata% in the Run box and press Enter. Here, delete the Wondershare-related folder as well.
Step 3: Remove Registry Entries
Commonly, the software registry keys won't be deleted automatically after the uninstallation. So, you might need to manually remove these keys. Just invoke the Run window, input regedit, and click OK to open Registry Editor. Then, delete the keys related to Wondershare in the following paths:
Computer\HKEY_LOCAL_MACHINE\SOFTWARE
Computer\HKEY_CURRENT_USER\Software
Computer\HKEY_USERS\.DEFAULT\Software