Have you encountered the error that Windows Defender scanning process fails after just a few seconds?
MiniTool
offers detailed information about this error and gives you a resolution.
Incomplete Scanning of Windows Defender
Starting this afternoon, inexplicably, whether I use "quick scan" or "full scan", Windows Defender will only scan 4 files, and the scanning process only lasts for a few seconds. May I ask how this is going? How to solve? — answers.microsoft.com
Over the past few days, this issue has been widely reported on the Microsoft tech support forums, Reddit, and other tech support sites.
This error is expressed as follows: after running a Quick or Full scan for just a few seconds, Windows Defender stops and shows that it just goes through a handful of files. Apparently, this result is incomplete and superficial, because a normal scan is usually known to take tens of minutes, and even hours.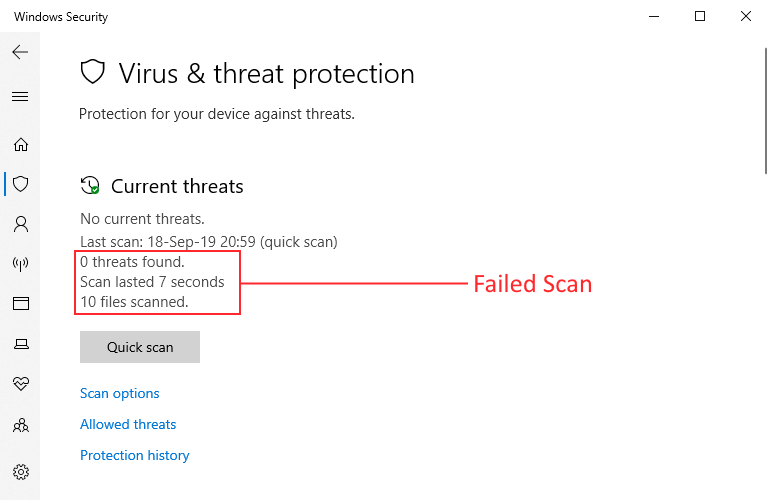 This bug is related to Windows Defender, the free antivirus software built in Windows, and impacts Windows Defender version 4.18.1908.7 and later, released on September 13, 2019.
The Windows Defender scanning problem impacts Windows Defender on Windows 10, and all other Windows versions where Windows Defender ships, such as Windows 8 and 8.1. It also impacts Security Essentials, Windows Defender's precursor on older Windows versions like 7, Vista, and XP.
I updated Microsoft Security Essentials this morning and immediately performed a Quick Scan, but it only took a matter of seconds and reported that it had scanned just 19 items… The latest definitions that I have are: 1.301.1622.0 and I've made no other changes to my computer. — answers.microsoft.com
Cause
This bug was introduced while Microsoft tried to fix another bug introduced with the July 2019 Patch Tuesday.
Since July 2019, all Windows versions were affected by a problem caused by Defender when executing the command sfc /scannow, which can check the system for corrupted files. In general, if the command finds corrupted files, the System File Checker (SFC) should be able to repair them. However, it happens again and again that this repair isn't successful.
Due to that File system checker SFC bug, it is no longer possible to run a system file check for corrupted files. However, the fact is that the SFC incorrectly flags Windows Defender PowerShell module files as corrupted, resulting in incorrect error messages that fooled admins into believing there was something wrong with their Windows Defender installation, and its updates.
Microsoft announced a fix for the System File Checker bug in August, but the actual patch was postponed to September (Windows Defender version 4.18.1908.7). While this patch fixed the SFC error, it caused the mentioned problems to Windows Defender.
Resolution
In an email to ZDNet, Microsoft confirmed the bug and said the company was working on a fix. The company also said that only manual or scheduled scans were impacted, and that Windows Defender's real-time scanning protection was not impacted, which means that it will still detect malware once it reaches a system.
In addition, if you need to perform daily scans of sensitive systems, there's a way to solve this bug, that is, Custom scan. Instead of relying on a Quick or Full scan, you can use the Windows Defender "Custom scan" feature and select the drives or folders you'd like scanned, manually, one by one.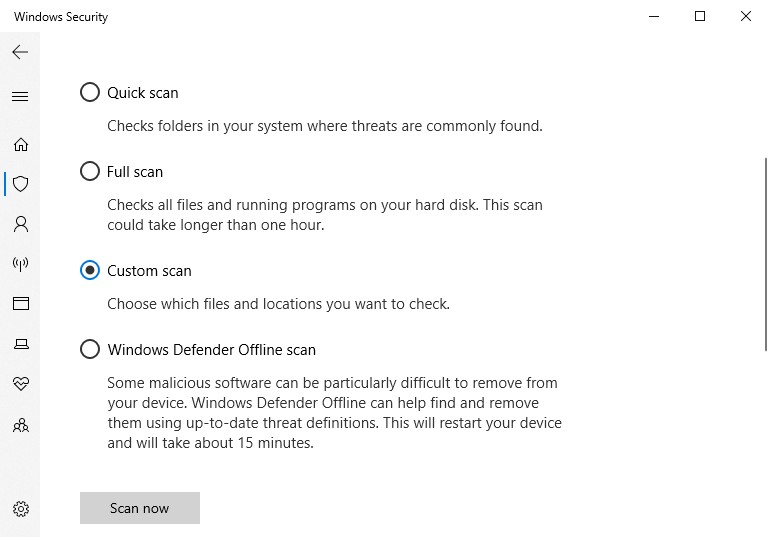 Later on, Microsoft fixed the issue in an update (KB2267602) on September 19. If you are having the same problem, update now!