Do you know the differences between Windows 10 Enterprise vs Pro? If you don't know, you should read this post, in which MiniTool introduces some features that are only available in Enterprise edition and gives you advice on which one to choose.
When it's time to move to Windows 10, you have three choices: Windows 10 Home, Windows 10 Professional, or Windows 10 Enterprise. The three Windows 10 versions are nearly identical in terms of visual layout, but they differ on the features they each offer.
On the whole, Windows 10 Home Edition offers the most basic features; the Windows 10 Pro Edition offers features more than Windows 10 Home; and Windows 10 Enterprise offers features more than Windows 10 Pro.
In this post, I will mainly focus on Windows 10 Enterprise vs Pro, instead of Windows 10 Home vs Windows 10 Pro. (You should read this post if you want to learn about the features of Windows 10 Pro version that are not available in the Home version.)
Features Only Available in Windows 10 Enterprise
In terms of Windows 10 Pro vs Enterprise, Windows 10 Enterprise has some features not available in Pro version. In this part, I will introduce them to you.
1. Applocker
It allows you to create AppLocker rules in the Local Security Policy editor, setting up a whitelist and blacklist for programs as needed. Thus, you can determine which user accounts can run which programs, ensuring a user account on your computer can only run a handful of safe applications.
This would be a great way to secure a Windows computer used by your kids, relatives, or employees. You just need to give them access to the applications they need and block everything else.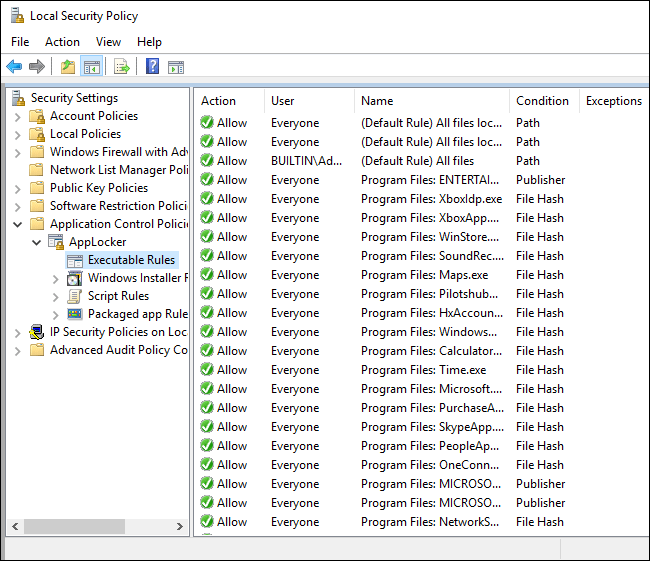 2. DirectAccess
It is a VPN-like component. Traditional VPN connections have to be initiated manually by the user, while the DirectAccess allows automatic connections every time a user connects directly to the network, increasing security via an encrypted session.
3. Application Virtualization (App-V)
It allows system administrators to create virtual instances of applications in a container and then Windows 10 can run those applications in a self-contained virtual environment without a normal installation process. In addition, it also allows apps to be casted to a Windows client PC from a server.
This feature is useful to larger organizations because it has security benefits and can make organizations better manage access to specific applications.
4. User Experience Virtualization (UE-V)
It allows users to save their application settings and Windows operating system settings as they move from one PC to another so that the system state can follow users as they move between different PCs. This feature is also useful to organizations that want to centrally manage their infrastructure.
5. Windows To Go
It allows you to install Windows onto a USB flash drive or external hard drive. As long as you have the drive on which Windows is installed, you can plug it into any computer and boot the computer from the drive to run Windows. In addition, any changes you make in this copy of Windows will be saved back to that drive.
In the other word, Windows To Go can make you own a portable operating system, which allows you to work or play anywhere. For those users who rely on Linux live USB environments, this is a great feature.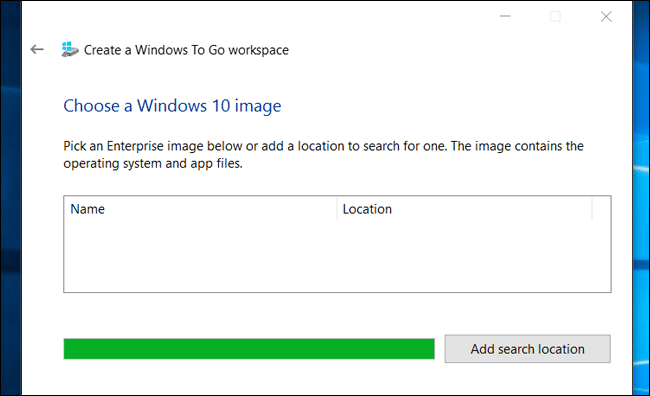 Which One to Choose?
Although Windows 10 Enterprise Edition has so many useful features, it may not be suitable for everyone or all organizations. After all, price is also an important factor that you should take into consideration.
If you are a small business owner or solo contractor with general security needs and little interest in hands-on security management, you can buy Windows 10 Pro, which has basic features that are required for running a business, such as management of group policies, mobile device management, device encryption, BitLocker, and Trusted Boot.
If you own a midsize or large business with in-house tech support, you may opt for Windows 10 Enterprise.