Summary :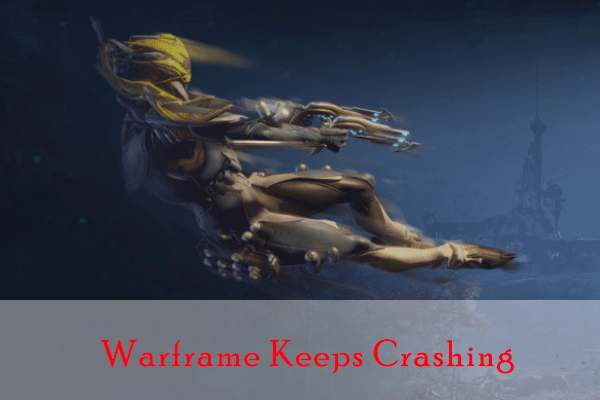 Warframe, an online game, has attracted a lot of game lovers. Some of them report that their Warframe keeps crashing when they try to play it. To solve the problem, MiniTool Partition Wizard puts together some possible solutions in this post and you can have a try when you are bothered by Warframe crashing.
Warframe is a free-to-play action role-playing third-person shooter multiplayer online game which is available on various platforms, including Microsoft Windows, PlayStation 4, Xbox One, Nintendo Switch, PlayStation 5, and Xbox Series X/S. It is developed and published by Digital Extremes.
Since released, the game has attracted a huge number of players. Unfortunately, some Windows users report that they encounter Warframe crashing issue and they cannot play the game as wish on Windows PC. Reasons for this issue are various and you might need to try more than one solution in order to solve it.
Don't worry. The possible solutions are listed below and you can try them one by one to troubleshoot Warframe crashing issue.
Solution 1: Verify Game Files and Modify In-game Settings
If your game files or cache files are corrupted or missing, Warframe will load incorrect data, which leads to Warframe crashing issue eventually. Therefore, you should verify the game files with its built-in tool at first. Besides, you should also modify your in-game settings to the proper ones so that the game could run better.
To verify the game files, you can launch Warframe and click the Settings (gear) icon at the top-right corner of the window. In Settings, click the Verify button under Download cache section. Then you just need to wait until the process is finished. After that, you can click the Optimize button and wait for a while.
Tip: You are recommended to uncheck Full-Screen in the Settings.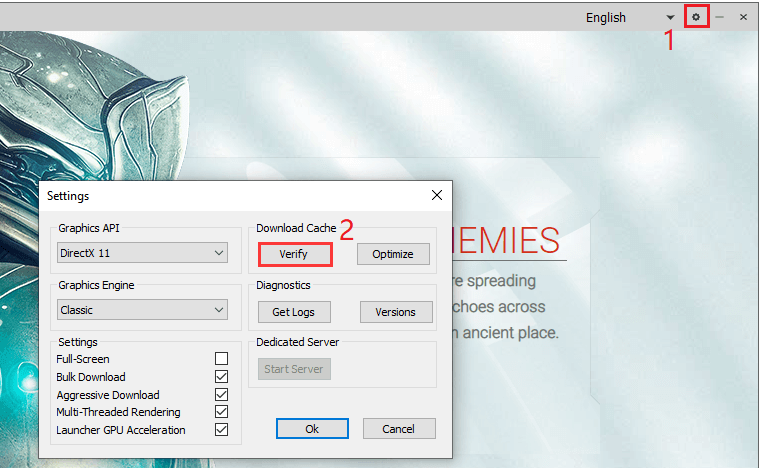 Then restart your PC and check if Warframe crashing issue has been fixed.
If it your Warframe keeps crashing again, you should change the in-game settings. In Warframe, press Esc and click OPTIONS. Then:
Under DISPLAY tab, set Display Mode to Windowed, reduce the graphics settings, and change the Preset Graphics Quality to Low.
Under AUDIO tab, turn off the unnecessary features like Reverb.
Solution 2: Update Your Device Drivers
A corrupted or outdated device driver could also cause the problem that Warframe keeps crashing on PC, such as the graphics card driver, audio driver, etc. You should always keep your drivers up-to-date.
You can download and install the latest drivers from the official websites of their manufacturers. Alternatively, you can update the drivers via Device Manager, a built-in tool in Windows. Here is how to use Device Manger to update your graphics card driver and you can refer to these steps to update other drivers, too, as the steps are quite similar.
Step 1: Press Win + X to open Start menu. Then select Device Manager.
Step 2: Double-click Display adapter to view your installed graphics card. Then right-click your graphics card and select Update driver.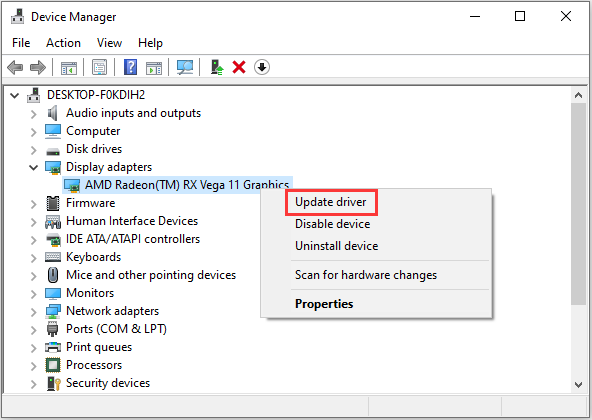 Step 4: In the pop-up window, select Search automatically for updated driver software and follow the onscreen instructions to finish the operation.
After installing the latest driver, you will be required to perform a restart. Then you can check if your Warframe works properly.
Solution 3: Disable or Remove Conflicted Software
Some programs and services might be incompatible with Warframe. If you have them running in the background while playing the game, you might encounter Warframe not working or crashing issue. Some of the involved applications are listed below and you can check if you have installed any one:
Razer Synapse Programs
MSI Afterburner OSD
Raptr overlay
Lucid VirtuWatt Software
Baidu IME
Rivatuner Statistics Server
Third-party Antivirus Programs
If you are running one or more of the above applications, you should close them completely while playing Warframe or uninstall them. If you haven't install any one of them, you might need to perform a clean boot to check if there are other software that has conflicts with your game.