Summary :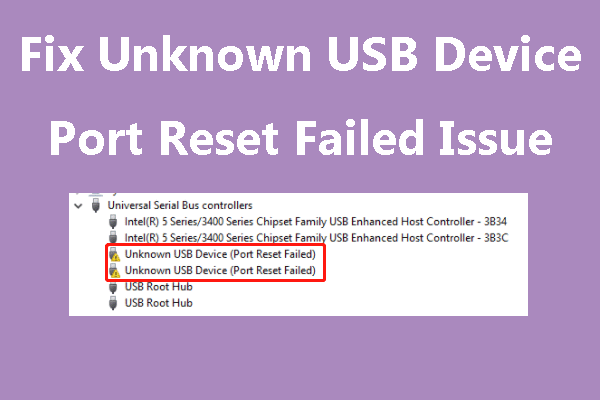 Have you encountered unknown USB device port reset failed warning? This warning shows in Windows Device Manager and makes USB devices unusable. In this post, MiniTool Partition Wizard offers you 3 ways to fix this issue.
Unknown USB Device Port Reset Failed
Today, I opened my laptop to transfer some files from a USB device. But my Sony Vaio laptop did not detect the USB from any ports (I have 2 ports). I tried it on another pc and the USB worked fine. I opened the device manager and found this error: Unknown USB Device (Port Reset Failed)

-- superuser.com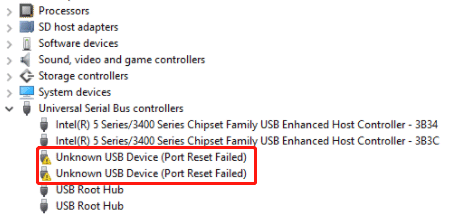 The unknown USB device port reset failed error may occur in various PCs and when it occurs, the USB device (like printer, USB drive, USB hub or dock station, etc.) connecting to the USB port will become unusable.
The possible reasons of this issue include corrupt or outdated drivers, power shortage, etc. To fix this issue, you can try the following methods.
Tip: The unknown USB device port reset failed issue is usually related to the USB port. Therefore, you don't need to check whether the USB cable and the USB device are damaged.
[Solved!] - How to Fix Unknown USB Device Set Address Failed?
Fix 1. Reset or Update the USB Controller
If the unknown USB device port reset failed issue is caused by corrupt drivers, this method will help solve the issue. Here is the guide:
Press Windows key + X key and then choose Device Manager from the shortcut menu to open this tool. In Windows 7 or previous versions, you should click the Start icon and search this tool in the Windows search box.
In the Device Manager window, expand Universal Serial Bus controllers, right-click the Unknown USB Device (Port Reset Failed) item, and choose Uninstall device.
Restart the PC and the PC will reinstall the USB controller automatically.
If the problem persists after resetting the USB controller, you can try updating it. You just need to right-click the driver in Device Manager and then choose Update Driver.
In addition, Microsoft recommends you to also reset the driver of the USB device. For example, if you have a USB drive connected, you can find this device under Disk drives. Right-click this device and choose Uninstall. Unplug the USB device and its cable. Wait for 1min and then re-plug them.

Tip: If the USB device is printer or other kinds of device, you can try expanding other directories to find this device.
Unknown USB Device (Device Descriptor Request Failed) – [Solved]
Fix 2. Change Power Plan
Press Win+Rto open Run.
Type "cpl" and press Enterto directly open Power Options.
Click theChange plan settings link behind the current power plan you are using.
Click Change advanced power settings.
In the pop-up window, expand USB settings > USB selective suspend setting.
There may be 2 options: On Batteryand Plugged in. Please set them to disabled.
Click OK to apply the change.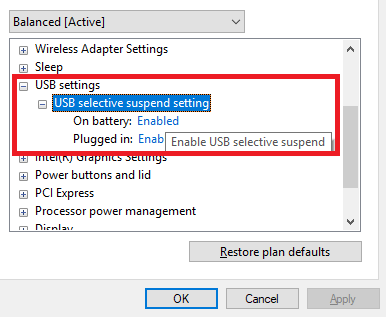 Fix 3. Update Windows and BIOS
If the above methods don't work for you, you can try this method. Windows update and BIOS update will fix some bugs sometimes and this may help you solve the unknown USB device port reset failed issue.
To update Windows 10, you just need to press Windows key + I, go to Update & Security > Windows Update, and then select Check for updates. The PC will download and install Windows update automatically.
To update BIOS, please refer to this post: How to Update BIOS Windows 10 | How to Check BIOS Version.