How to download and use Sticky Notes on Windows? What is the best Sticky Notes app for Windows? This post from MiniTool Partition Wizard will show all. You can try these Sticky Notes apps.
Sticky Notes Windows 10
Sticky Notes is a desktop notes application included in Windows 7/8/10/11. The app loads quickly and enables users to quickly take notes using post-it notes–like windows on their desktop. You can open the Windows Search bar to search for this app.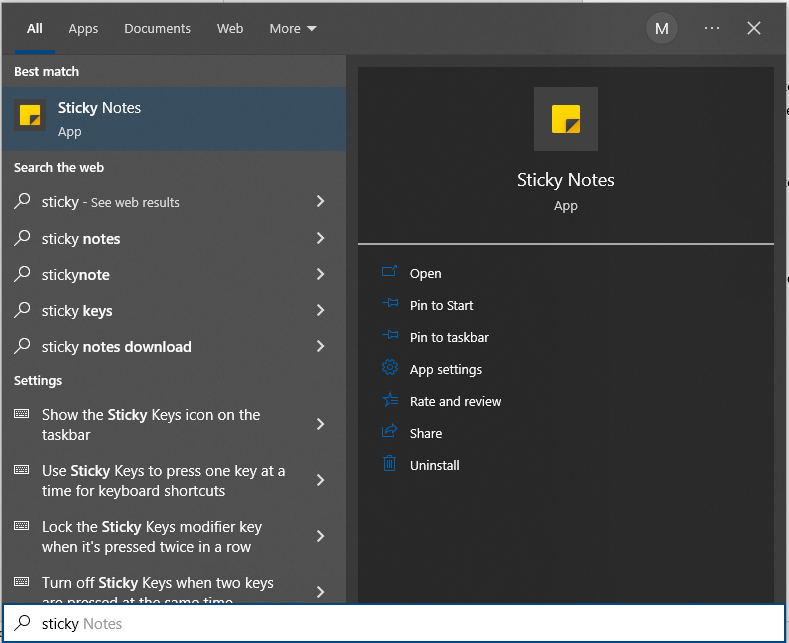 If you don't see this app there, you can get the Sticky Notes download from Microsoft Store. After you download Sticky Notes for Windows 10, you can then use it. Here is the guide:
Open Sticky Notes via the Windows Search bar.
Click Get Started to sign in with your current Microsoft account. Of course, you can also use another account.
You'll now see a blank window with a search bar and the Sticky Notes title at the top. Click the plus icon in the top left corner to create a new Sticky Note.
You can now add whatever content you wish to the note, either with a keyboard or a touchscreen and pen. You can change the background color of the note, add images, and add word formats.
The note you created will display in a list on the main panel for easy access.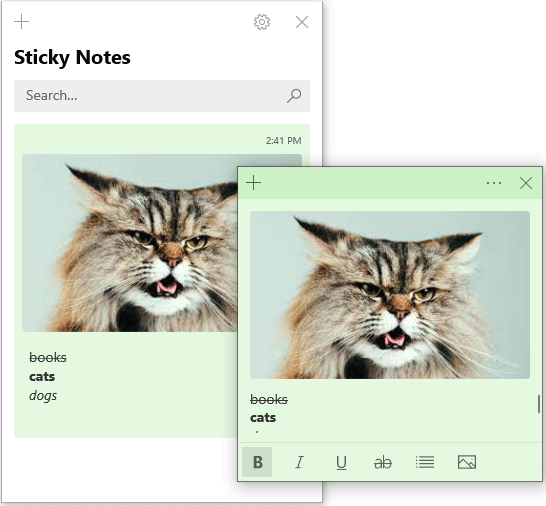 Some people may want to know how to add Sticky Notes to desktop. The way is very simple. Search for the Sticky Notes app in the Windows Search bar and click Pin to taskbar. If you want to create its shortcut to the desktop, you can pin it to Start first, find it in the Start menu, and then drag it to Desktop.
5 Sticky Notes Apps for Windows
If you don't like the Windows Sticky Notes app, you can try other Sticky Notes apps for Windows. Here are some options:
Stickies: It comes with an always-on-top feature and the ability to create new sticky notes with a simple keyboard shortcut. You can even customize the hotkeys according to your preference. In addition, it has an alarm feature that will notify you about upcoming tasks.
Notezilla: This app is similar to Sticky Notes in its design but it has a cloud connectivity feature, allowing you to access your notes right from your phone as well.
7 Sticky Notes: This app offers plenty of options for formatting your notes and the text within them. For example, each note has a title and text body, you can change the color of the note, the font, font size, font color, etc., and you can set alarms.
Hott Notes: This app's layout is similar to 7 Sticky Notes but it has a small editing box that appears next to each note when you want to customize it. It also allows you to edit notes' font and color and set an alarm.
Simple Sticky Notes: This app also offers the option to keep your tasks appearing on top of all windows, and allows you to edit the title, change colors, adjust opacity, share notes via email, and more. However, it does not support images.
If you want to find the best Sticky Notes app for Windows, you can try the above items.
The Way to Sync Sticky Notes Across Devices in Windows 10
Bottom Line
MiniTool Partition Wizard can help you clone the system, manage disks better, and recover data. If you have this need, you can download it from the official website.