Summary :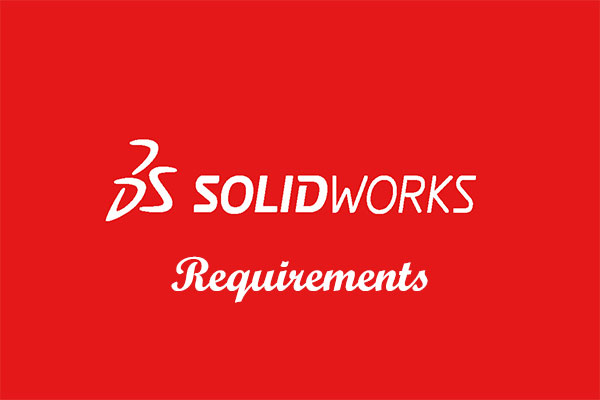 SolidWorks is one the most popular CAD software on Windows platforms. If you want to use this software, you should make sure your PC meets the SolidWorks requirements. In this post, MiniTool Partition Wizard lists the system requirements for SolidWorks 2017-2021.
Quick Navigation :
About SolidWorks
SolidWorks is a solid modeling computer-aided design (CAD) and computer-aided engineering (CAE) computer program that is published by Dassault Systèmes and runs primarily on Microsoft Windows.
CAD: It is the use of computers (or workstations) to aid in the creation, modification, analysis, or optimization of a design. It is extensively used in many fields, including automotive, shipbuilding, and aerospace industries, industrial and architectural design, prosthetics, special effects in movies, and many more.
CDE: It primarily uses CAD software, which are sometimes called CAE tools. CAE encompasses simulation, validation, and optimisation of products and manufacturing tools. CAE tools are being used, for example, to analyse the robustness and performance of components and assemblies.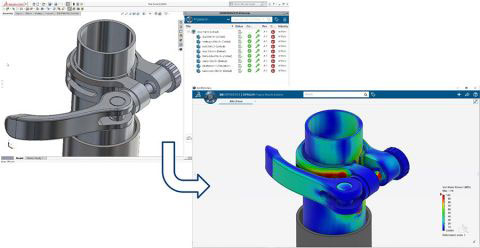 So far, from SolidWorks 95 to SolidWorks 2020, there are 28 versions of SolidWorks together. In addition, the beta version of SolidWorks 2021 has been released. Apparently, the higher the version, the more features it has.
At present, there are mainly 3 kinds of commercial SolidWorks versions: SOLIDWORKS Standard, SOLIDWORKS Professional, and SOLIDWORKS Premium.
SOLIDWORKS Standard: It includes tools like 3D modeling, engineering drawings, assembly drawings, sheet metal, welding, and other functions. These tools can meet the needs of most companies.
SOLIDWORKS Professional: It includes all the functions of the standard version, plus Design Checker, eDrawings Professional, FeatureWorks, ScanTo3D (Utility for converting scanned data into solid models), PDMWorks Workgroup, Task Scheduler, Toolbox, Utilities (Additional tools for selecting features and comparing features and geometry), and 3D Instant Website.
SOLIDWORKS Premium: It includes all the functions of the professional version, plus some functions of SOLIDWORKS Simulation that used to analyze stress, strain and displacement for parts and assemblies, Routing (Piping, Tubing, plus Wiring and Harness layout), TolAnalyst (GD&T Tolerance analyse tool), CircuitWorks, and Sustainability.
In addition, SolidWorks has 3 main education versions: SolidWorks Student Design Kit (an edu SolidWorks with limited functionality), SolidWorks Education Edition (a licensed edu SolidWorks used to teach students), and SolidWorks Student Edition (a version for students to use outside the classroom).
SolidWorks Requirements
To use SolidWorks, apparently, you should make sure your PC meets the SolidWorks requirements. The approximate requirements for SolidWorks are as follows:
CPU:3 GHz or higher
RAM: 16 GB or more (PDM Contributor/Viewer or Electrical Schematic: 8 GB or more; ECC RAM is recommended)
Drives: SSD drives recommended for optimal performance (PDM Contributor or Viewer or SOLIDWORKS Manage: 10 GB or higher; PDM Web client or Web server: 5 GB or more; PDM archive server or database server: 50 GB or more)
GPU: Certified cards and drivers (click to get the list of GPUs certified by SolidWorks)
How to Check PC Full Specs Windows 10 in 5 Ways
As for the supported Windows OS versions, they vary depending on the different SolidWorks versions.
If you plan to use SolidWorks EDU versions, you should note that:
SOLIDWORKS 2017 and 2018 support Windows 7 SP1 64-bit, Windows 8.1 64-bit, Windows 10 64-bit;
SOLIDWORKS 2019 and 2020 end the support for Windows 8.1 64-bit;
SOLIDWORKS 2021 ends the support for Windows 7 SP1 64-bit further.
If you plan to SolidWorks commercial versions, you should note that:
SOLIDWORKS 2017 supports Windows Server 2016, Windows Server 2012 R2, Windows Server 2012, Windows Server 2008 R2 and SP1;
SOLIDWORKS 2018 ends the support for Windows Server 2008 R2 and SP1;
SOLIDWORKS 2019 ends the support for Windows Server 2012 further but provides additional support for Windows Server 2019;
SOLIDWORKS 2020 and 2021 only support Windows Server 2019 and 2016.
Note: Windows Home Editions and Windows To Go are not supported. SOLIDWORKS 2018 on Windows 8.1 and Windows Server 2012 R2 requires the Microsoft April 2014 update.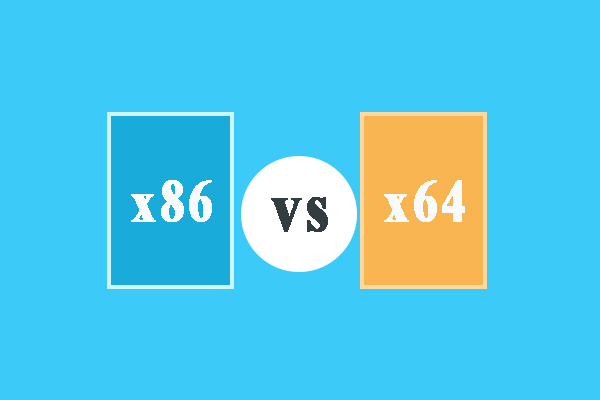 Do you know what difference between 32 bit and 64 bit? What does x86 and x64 mean? In today's article, you will get detailed information about x64 vs x86.