To enjoy a more efficient or comfortable web experience, you can set the homepage in web browsers. As one of the most well-known web browsers, Firefox also provides this feature to you. MiniTool Partition Wizard tells you the details.
About Homepage in Firefox
The homepage is the first page you will see when you open your web browser. In other words, you can consider the homepage as the start page or home screen of a web browser.
Like many other web browsers, Firefox also has a homepage. The homepage by default on Firefox is the same as that of the New Tab page. You can set your personal homepage in Firefox to load a specific website, a blank page, or some Firefox widgets which show your most-visited sites.
Tip: This feature works similarly on desktop and mobile phones. There is only a slight difference in design and menu layout between them.
Also read: How to Set/Change Start Page in Chrome? Solutions Are Here
How to Set Homepage in Firefox?
Well, you could customize your homepage to fit your needs. Here are two ways to set homepage in Firefox.
Solution 1: Set the Homepage through Home Button
Step 1: Open your Mozilla Firefox and find your target website.
Step 2: Here, take the website of Facebook for example. Now, you should drag and drop the Facebook tab onto the Home button on your toolbar.
Tip:
The Home button is not shown by default. You can add the Home button by customizing the toolbar. If you don't know how to find the home button, you might click
here
 to have a look.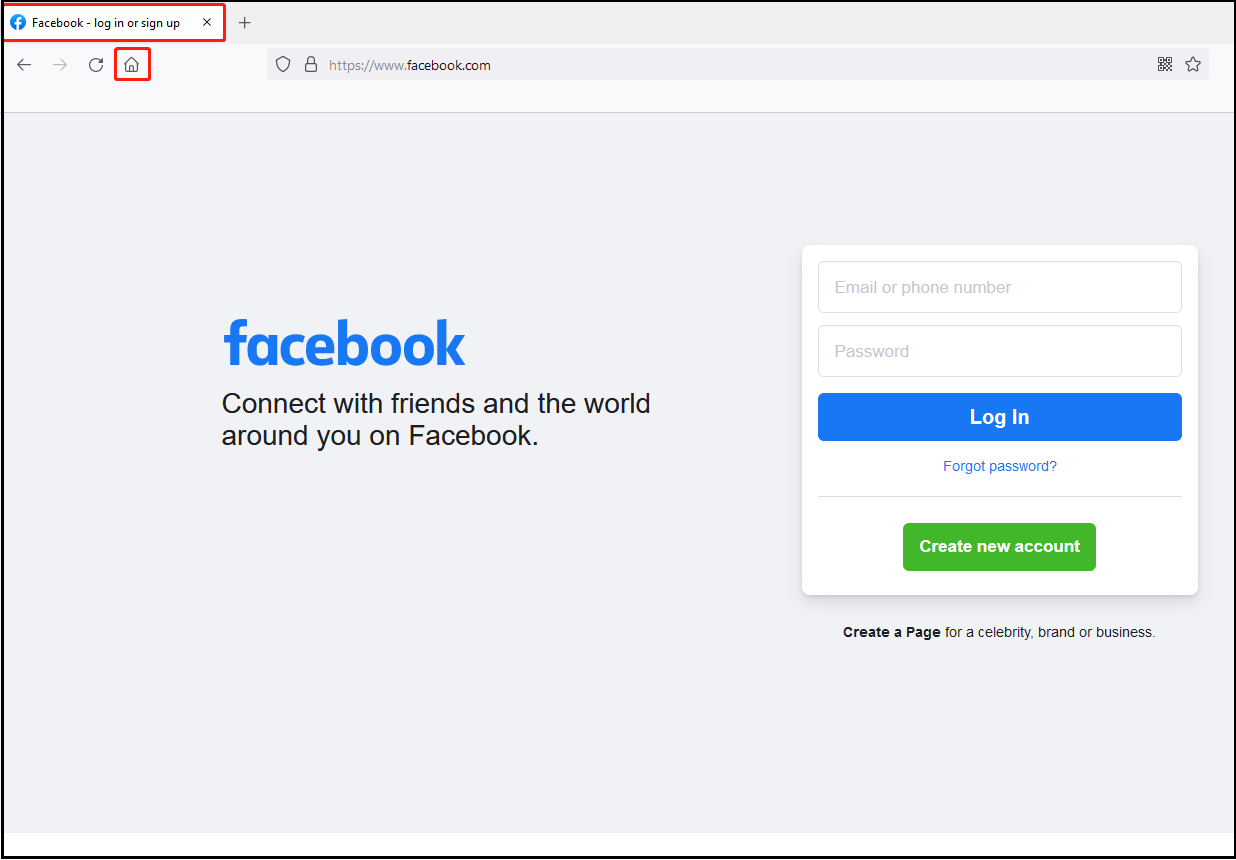 Step 3: Hit the option of Yes in the popup window to save the operations.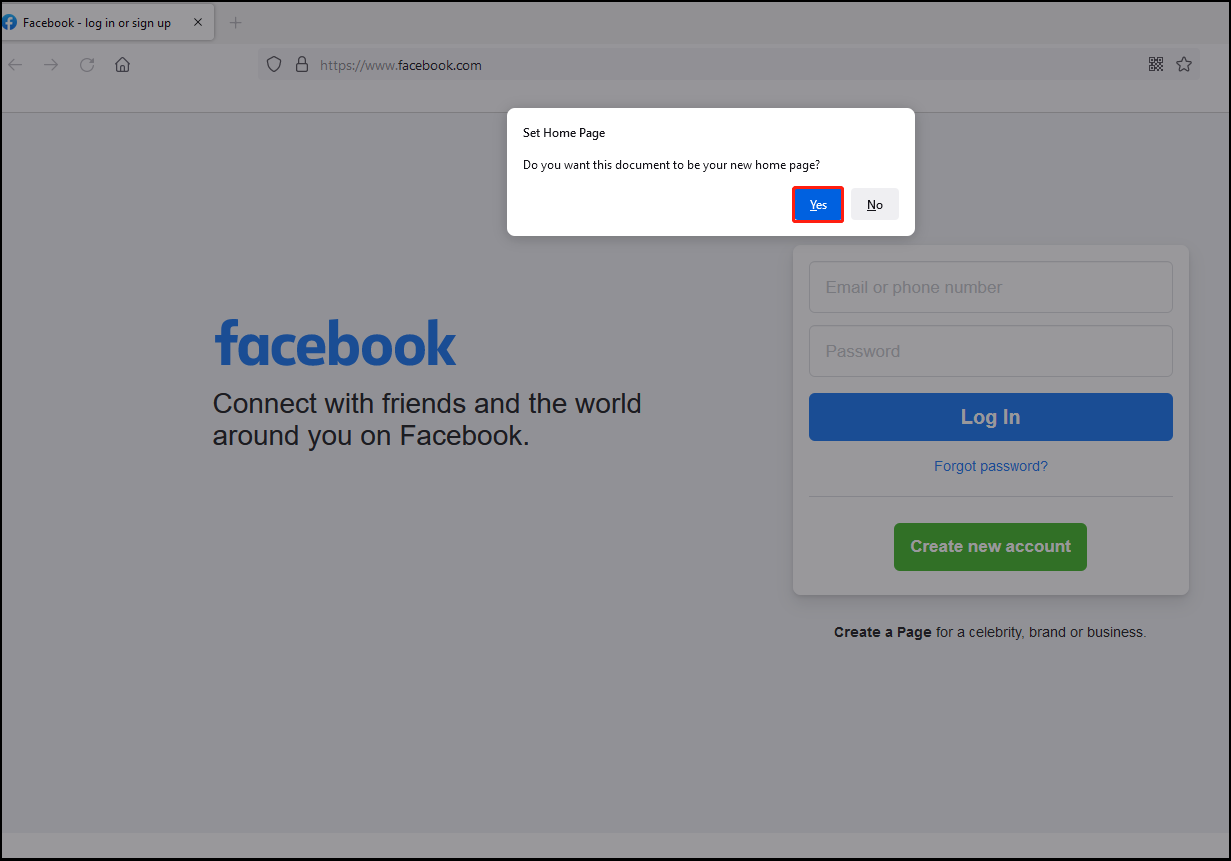 Solution 2: Set Homepage through Firefox Settings
Here's another way to set homepage in Firefox.
Step 1: Open the Firefox web browser and find your target site.
Step 2: Copy the URL of your target site from the circled place.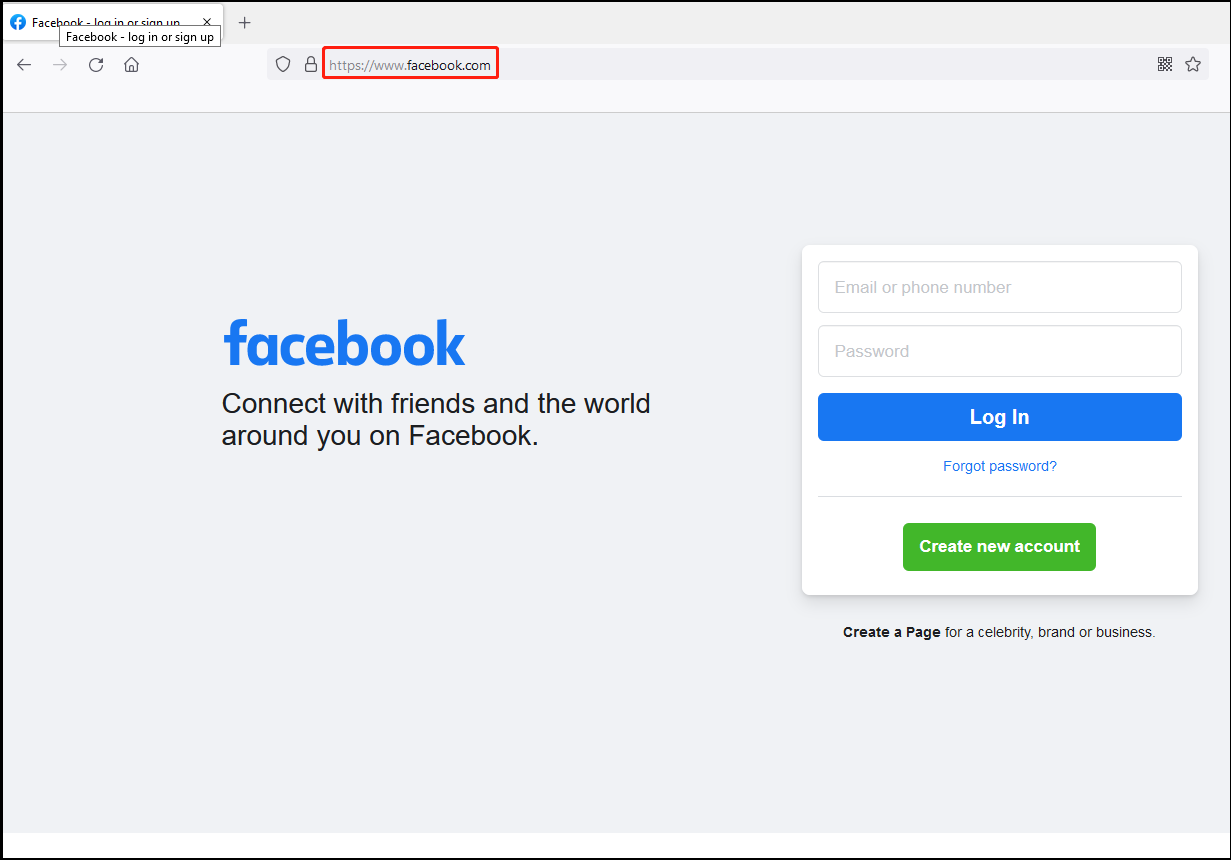 Step 3: You are supposed to move your mouse to the far right of the interface. Click the Menu button, and scroll down your mouse to hit the option of Settings.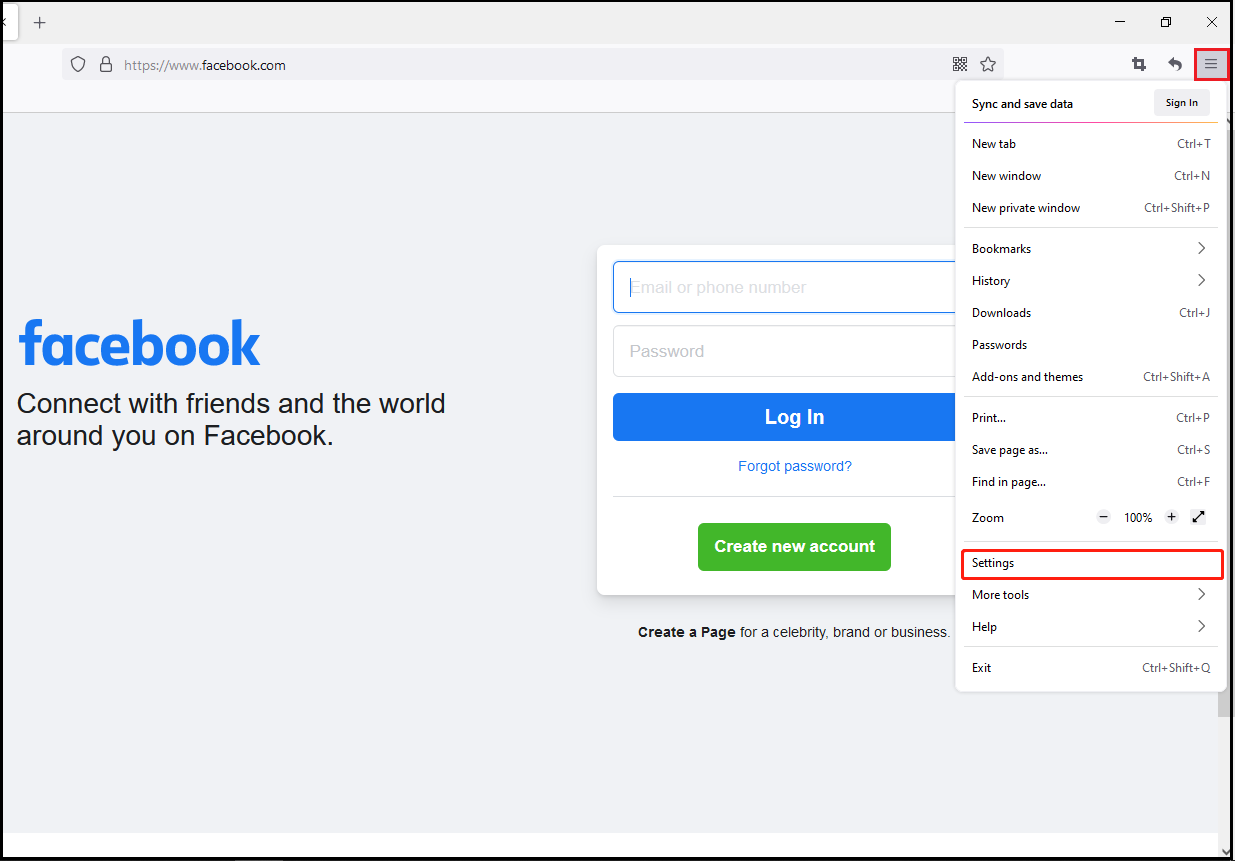 Step 4: Now, please pay attention to the new interface. You need to scroll down your mouse to click the selection of Home.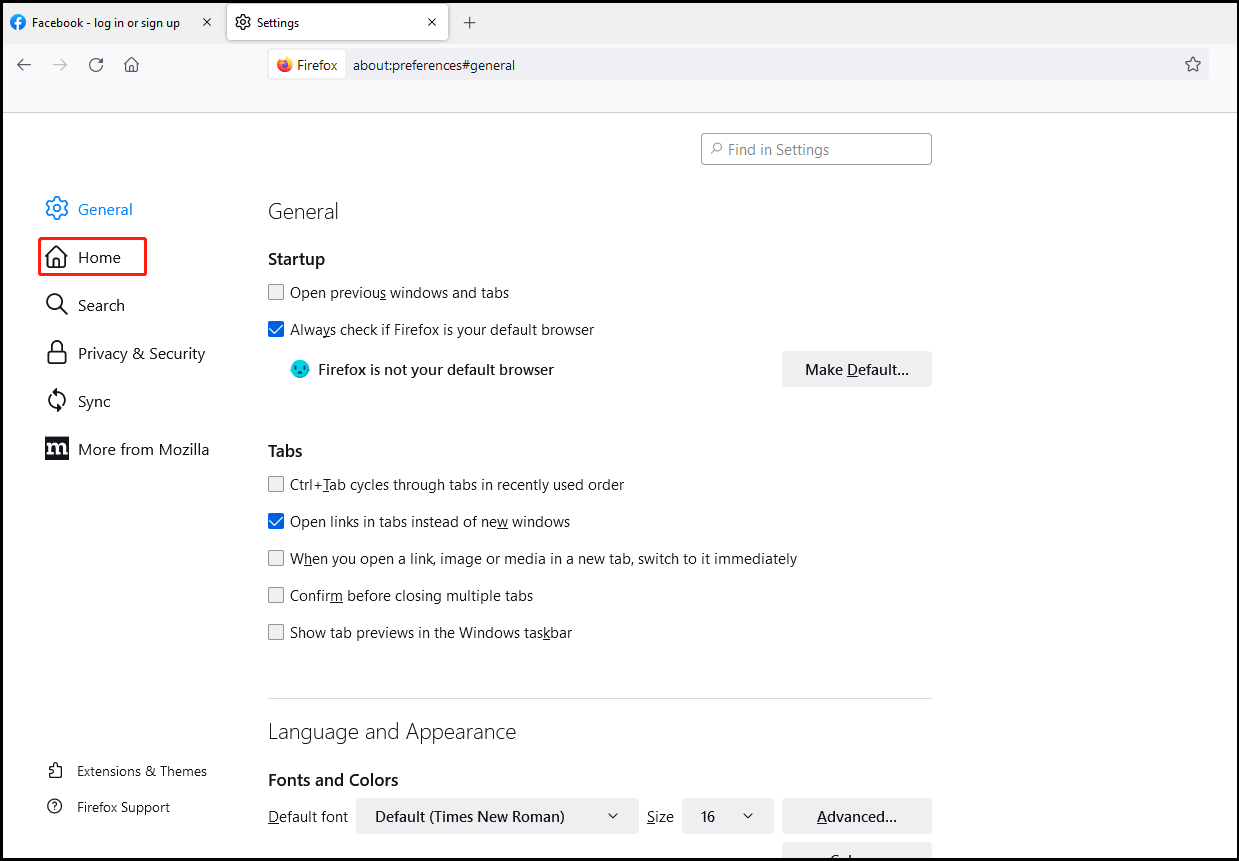 Step 5: From this interface, you can see the three selections. Here, if you want to set your target site to be the homepage, you should hit Custom URLs….
Tip: If you want to set the Firefox Home as the homepage, which means entering the interface of Firefox Home firstly when you open Firefox, you need to hit Firefox Home (Default). If you want a clean interface when you open Firefox, you could select Blank Page.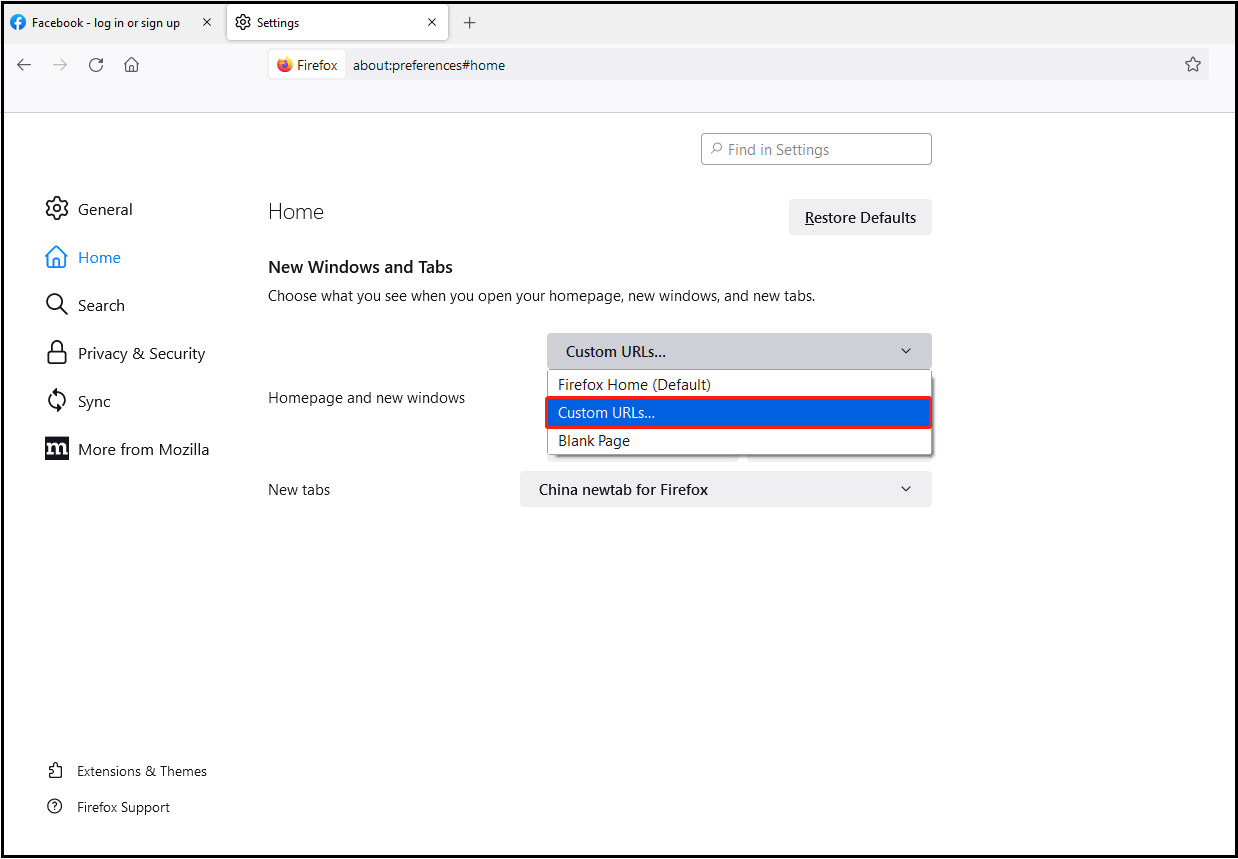 Step 6: After hitting the option, you are supposed to paste the URL of your target sites in the circled blank.
In this step, you can also change homepage on Firefox. Just replace the site you do not need with your target site.
Tip: If the website opened just now is your target site, you can directly hit the option of Use Current Page to set it as the homepage in Firefox.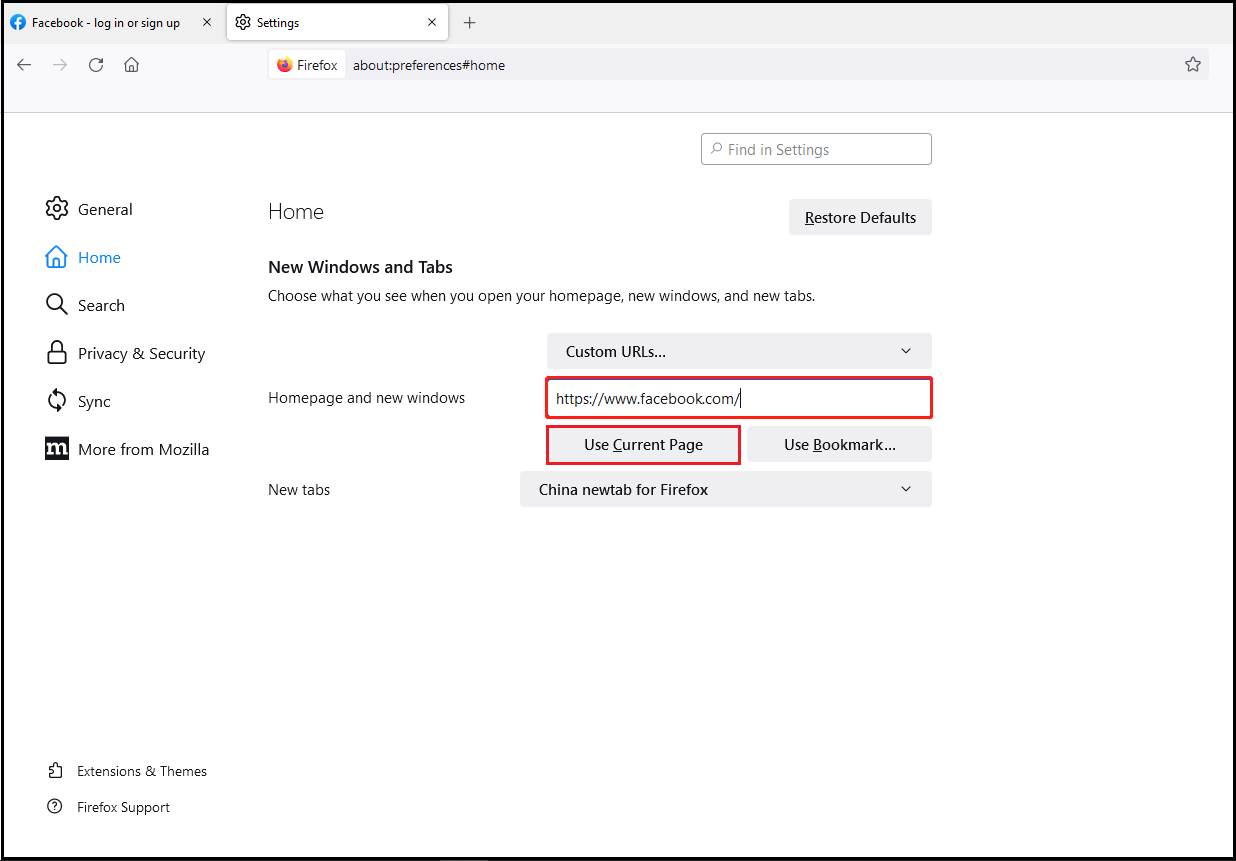 Also read: How to Change Profile Name & Image in Chrome, Edge, Firefox
Bottom Line
This post tells you how to set homepage in Firefox by using two solutions. Do you have any simpler way? Share your ideas about this topic with us! If you have any problems after reading, you can also contact us.