Summary :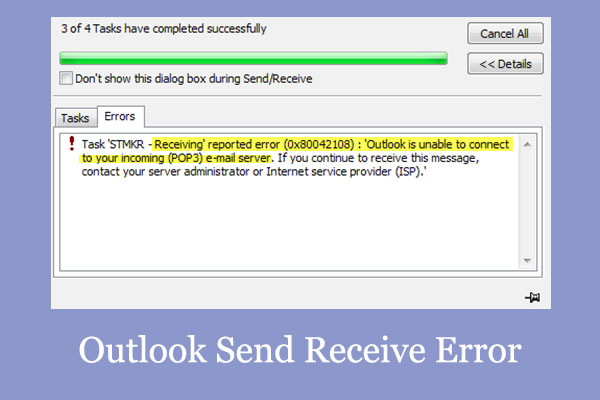 When you use Outlook to send and receive emails, various errors may pop up to prevent you sending and receiving emails. How to fix these Outlook send receive errors? In this post, MiniTool Partition Wizard offers you 7 solutions.
What Is Outlook Send Receive Error?
When you receive or send an email message in Outlook or Outlook Express, you may encounter various error codes or error messages to prevent you from sending or receiving emails, which are called Outlook send receive error.
The Outlook send receive error including the following error codes and error messages:
Error codes: 0x800ccc15; 0x80042108; 0x800ccc0e; 0x800ccc0b; 0x800ccc79; 0x800ccc67; 0x80040900; 0x800ccc81; 0x80040119; 0x80040600, 0x8004210b.
0x8007000e: Sending and Receiving reported error. Out of memory or system resources.
0x800C013b: An unknown error has occurred.
0x800ccc19: A time-out occurred while communicating with the server.
0x8004210a: The operation timed out waiting for a response from the receiving (POP) server.
0x80042109: Task 'SMTP server name - Sending and Receiving' reported error. Outlook is unable to connect to your outgoing (SMTP) e-mail server.
0x800ccc0f: Your server has unexpectedly terminated the connection. Possible causes of this include server problems, network problems, or a long period of inactivity. 2. Task 'server name - Sending and Receiving' reported error. The connection to the server was interrupted.
0x800ccc0d: The server could not be found.
No connection could be made because the target machine actively refused it.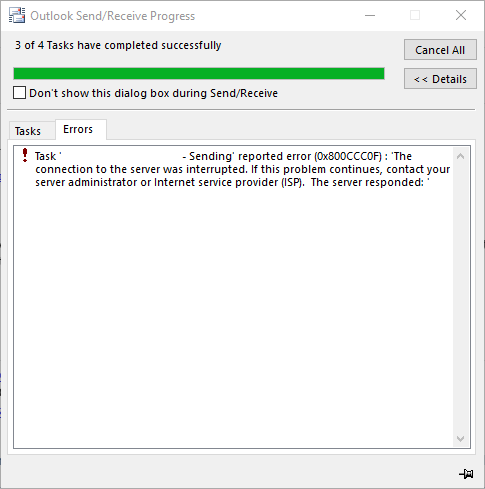 How to Fix Outlook Send Receive Error
To solve the Outlook send receive error, you can use the following solutions. But before proceeding these solutions, please make sure your device is connected to a well-running Internet.
Fix 1. Delete Suspicious Emails from Your Mailbox
Suspicious email messages may block your receiving error message in Outlook. If you have any suspicious email message, deleting them may solve the Outlook send receive error.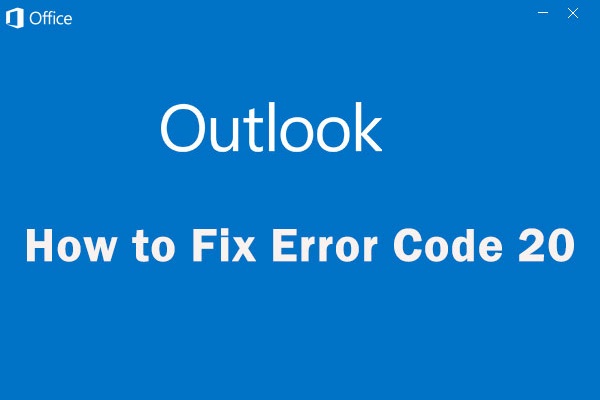 What can you do if you encounter "Outlook is unable to connect to the proxy server (error code 20)"? You can follow this tutorial to solve the problem.
Fix 2. Correct the Outlook Email Settings
Incorrect Outlook settings may also prevent you from sending or receiving emails. You can correct its settings through the following steps:
Open Outlook and Click on File.
Click on Account Settings > Account Settings.
Under Account Settings window click on Change.
Now click on More Settingsand select Outgoing Server.
Click the checkbox next to My outgoing server (SMTP) requires authentication.
Also, select the checkbox next to Log on to incoming server before sending mail.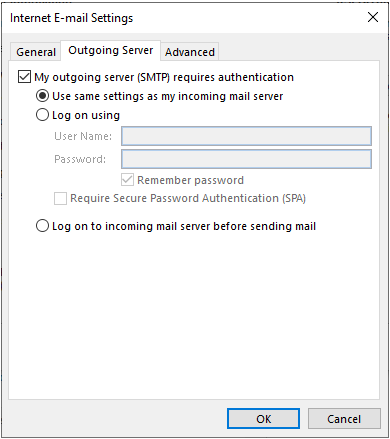 Fix 3. Disable Windows Firewall and Antivirus Program
Windows Firewall and any other third party Antivirus program can affect the sending and receiving of emails on Outlook. To solve the Outlook send receive error, you can consider disabling Windows Firewall and antivirus program temporarily.
In addition, some third-party programs like Marketscore (Netsetter) Internet Accelerator, Net Nanny, and Panicware Pop-Up Stopper may also cause this error. You can disable or shut down them temporarily, too.
Fix 4. Repair Outlook and Outlook Express
Right-click the Startbutton, and select Apps and Features on the pop-up menu.
Select the Microsoft Office product you want to repair, and select Modify.
Depending if your copy of Office is Click-to-run or MSI-based install, you're offered different options to proceed with the repair. Follow the steps for your installation type.
Follow the instructions on the screen to complete the repair.
Fix 5. Run Outlook in Safe Mode
This method is very simple, you just need to search Outlook.exe /safe and press Enter to run it.
Fix 6. Repair PST File
A .pst file is a personal-folders file that stores your email messages, contacts, notes, calendar items, and other data. If the .pst file is corrupted, you may not be able to send or receive email messages in Outlook.
To repair the .pst file, here is the guide:
Start the Inbox Repair tool (Scanpst.exe). Then select Openor Run in the File Download dialog box, and follow the steps in the easy fix wizard.
In the Inbox Repair tool, type the path and the file name of your personal folders (.pst) file or select Browseto locate the file by using the Windows file system, and then select Start.
After you run the Inbox Repair tool, you can start Outlook and recover repaired items or recover additional repaired items from the backup personal folder.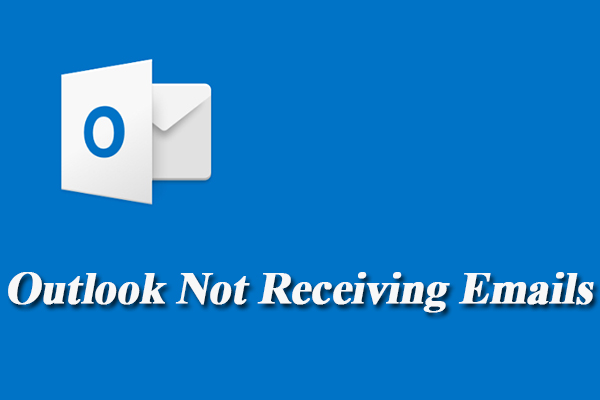 Have you come across the Outlook not receiving emails issue? How to fix Outlook not receiving emails? This post shares you with several methods to fix it.
Fix 7. Clear Outbox and Change Server Time-out
The server time-out duration is 1 min by default in Outlook. When you try to send emails with attachments of large size, the default server timeout will be insufficient which leaves your mails stuck in outbox.
To solve the problem, you can clear outbox and increase the Server timeout duration. Here is the guide on how to change Outlook server timeout:
Start Outlook and click on File.
Follow this path: File > Account Settings > Account Settings > Change > More Settings > Advanced.
Under Advanced you can increase the Server timeout.