Netflix is one of the best streaming services and is used world-widely. With it, you can watch your desired TV shows, movies, and other videos. It always offers you a great user experience.
However, sometimes, you are likely to be annoyed by the Netflix error NW-6-503 which means that the Netflix app is unable to connect with its servers. It may trouble you a lot.
What can you do to fix the Netflix error code NW-6-503? First of all, you can try repairing the issue by restarting the Netflix app and your streaming device. If it doesn't work, then you should go on with the following several methods.
Method 1: Check the server status of Netflix
The Netflix error code NW 6 503 probably shows up when there is an outage for Netflix services. Therefore, it's recommended to visit the Netflix Help Center page to check if the Netflix server is down when you receive the error.
If there are any problems reported on this page, you have nothing to do but wait until the developers fix these issues. If every Netflix service is working properly, you should try other solutions.
Method 2: Check Your Internet Connection
A poor Internet connection may lead to the Netflix error NW-6-503 as well. Therefore, once you run into the error, it's important to check your Internet connection.
To improve your network, you can try to reboot your router and modem. Moreover, you can just switch to another Internet connection that you know clearly is running perfectly.
If the Internet connection is stable but the error persists, you need to move on to the next solution.
Method 3: Run the Windows Store Apps Troubleshooter
The Windows Store Apps troubleshooter is a Windows built-in utility that can help you to repair lots of issues related to the apps on your computer. So, if you want to get rid of the Netflix error code NW-6-503, you can run this troubleshooter for a try.
Step 1: Press the Windows and I keys together to open Settings. Then select Update & Security.
Step 2: Go to Troubleshoot and then click Additional troubleshooters from the right panel.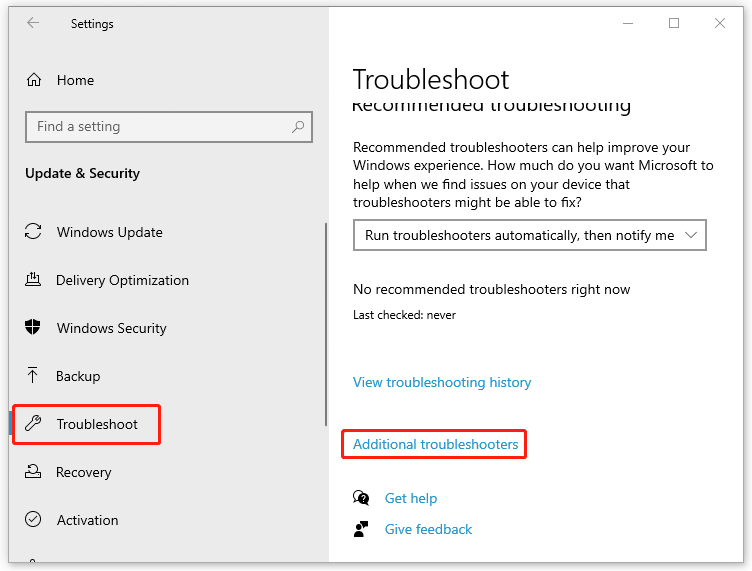 Step 3: In the next window, scroll down to find and click Windows Store App. Then click Run the troubleshooter.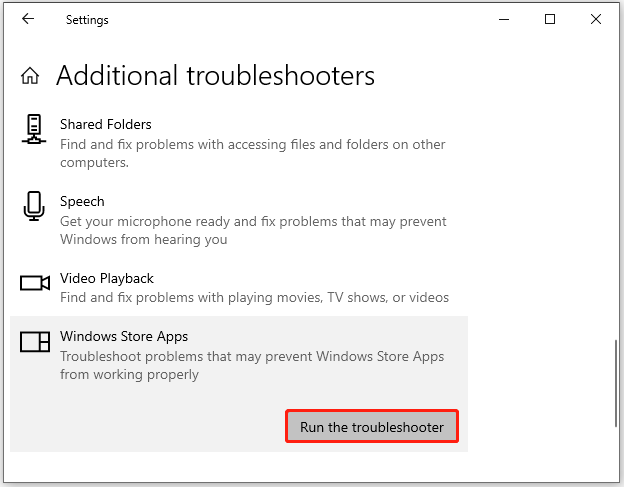 Step 4: The troubleshooter will detect problems automatically. If any are found, just follow the on-screen instructions to repair them.
After the process finishes, restart Netflix to see if the Netflix error code NW 6 503 disappears.
Method 4: Update the Netflix App
If the Netflix app you are using to stream is outdated, the Netflix error NW-6-503 may occur. In this case, you ought to update your Netflix app to the latest version. To do this, follow the steps below.
Step 1: Launch Microsoft Store on your computer to enter its main interface. Then click the Library icon.
Step 2: In the Updates & downloads section, find Netflix and click the Update button next to it.
Once you update Netflix successfully, restart the app and the error might be resolved.
In addition, you can also try uninstalling Netflix and then installing it back to fix the Netflix error NW-6-503.
All these methods mentioned in this post are available. You can try them one by one until you solve the Netflix error NW-6-503. If you have any other great solutions to this error, please leave a message in our comment part to share with us.