If you come across Just Cause 4 crashing while launching or playing the game, don't worry, as you are not the only one who encounters the problem. Some affected players have found some methods that can fix the issue effectively. In this tutorial, MiniTool Partition Wizard puts the recommended solutions together and provides detailed instructions.
About Just Cause 4
Just Cause 4, an action-adventure game, was developed by Avalanche Studios and published by Square Enix's European subsidiary. Released on December 4, 2018, this game is available for multiple platforms, including Microsoft Windows, PlayStation 4, and Xbox One.
To play the game on your computer, you need to make sure Just Cause 4 PC requirements are met. Both the minimum and recommended requirements of the game are displayed below. You can check your PC specs and make a comparison to see if the requirements are satisfied. If not, certain hardware upgrades might be needed.
Minimum Requirements
CPU: Intel Core i5-2400 @ 3.1 GHz | AMD FX-6300 @ 3.5 GHz or better
RAM: 8 GB
OS: Windows 7 SP1 with Platform Update for Windows 7 (64-bit versions only)
Video Card: NVIDIA GeForce GTX 760 (2GB VRAM or better) | AMD R9 270 (2GB VRAM or better)
Free Disk Space: 59 GB
Dedicated Video RAM: 2 GB
Recommended Requirements
CPU: Intel Core i7-4770 @ 3.4 GHz | AMD Ryzen 5 1600 @ 3.2 GHz or equivalent
RAM: 16 GB
OS: Windows 10 (64-bit versions only)
Video Card: NVIDIA GeForce GTX 1070 (6GB VRAM or better) | AMD Vega 56 (6GB VRAM or better)
Free Disk Space: 59 GB
Dedicated Video RAM: 6 GB
Just Cause 4 is not a perfect game and many users are complaining about crashing issues with the game. If you are attracted by its gameplay and still want to play the game, this article won't let you down. Make sure Just Cause 4 PC system requirements are met and then try the following solutions one by one.
Solution 1. Launch Just Cause 4 As Administrator
Just Cause 4 requires administrator permissions to access certain critical data for proper functioning. So, you can try launching the game with administrator privileges first.
Tip: If you are playing the game on Steam, you should also grant administrator rights to Steam as well.
Step 1: Right-click the desktop icon or the executable file of Just Cause 4 and choose Properties.
Step 2: Click the Compatibility tab and check Run this program as an administrator.
Step 3: Click Apply and OK to save the changed settings.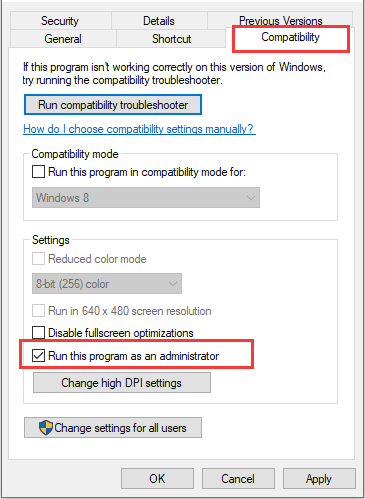 Solution 2. Kill Unnecessary Processes
As you know, programs running in the background take up system resources as well. If there are too many processes running while you are playing Just Cause 4, the resources allocated to the game might be not enough to support good gameplay. So, if Just Cause 4 crashes, closing other unnecessary processes might help it run properly again.
You just need to press Ctrl, Shift, and Esc keyboard keys at the same time to open Task Manager quickly. Under the Processes tab, select the item you want to close and click the End task button.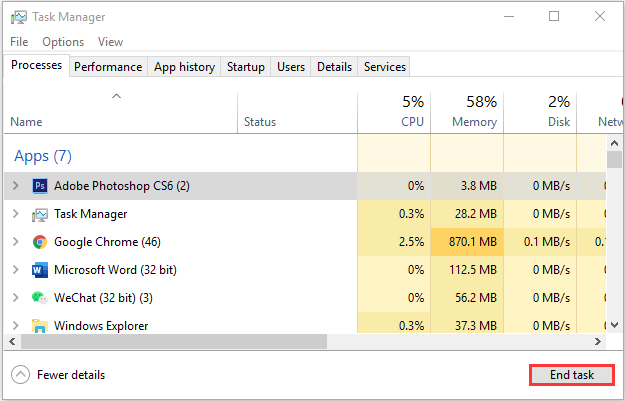 Solution 3. Change the Priority of Just Cause 4
Alternatively, you can set the priority of Just Cause 4 to a higher level to make it get more CPU resources. When you don't want to close other processes or there're too many items to close, changing the priority settings should be your way to go. Some users have solved the Just Cause 4 crashing issue, and you can also have a try.
Step 1: Open Task Manager.
Step 2: Switch to the Details tab and find Just Cause 4 from the list.
Step 3: Right-click it and choose Set priority > High.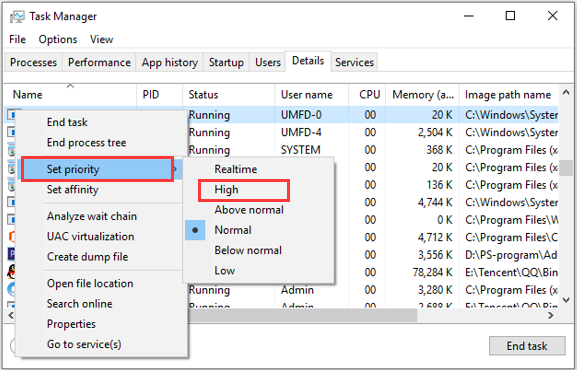 Solution 4. Verify Integrity of Game Files
Of course, corrupted game data is also a common factor for Just Cause 4 crashing or not playable. If you are using Steam, you can follow the steps below to verify the integrity of Just Cause 4's game files.
Step 1: Open your Steam client and click LIBRARY.
Step 2: Right-click Just Cause 4 and choose Properties.
Step 3: Navigate to the LOCAL FILES section and click VERIFY INTEGRITY OF GAME FILES.
After the verification process is completed, you can restart the game and check if the problem has been resolved.
Solution 5. Update Graphics Card Driver
Even if your graphics card driver meets the requirement of the game, you might also encounter crashing issues during the gameplay due to the outdated driver. So, if you haven't updated your graphics card driver for a long time, it is time to do so.
Step 1: Right-click the Start button and choose Device Manager.
Step 2: Expand the Display adapters category, right-click your graphics card driver, and choose Update driver.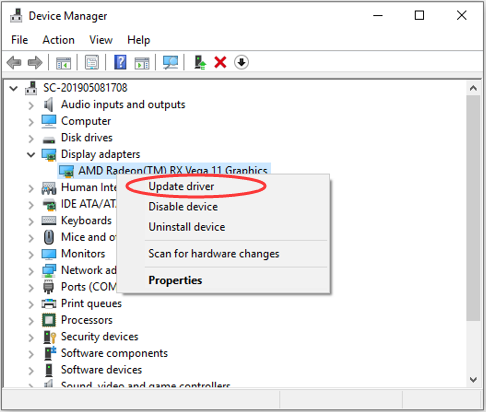 Step 3: Choose Search automatically for updated driver software to continue.
Then, your Windows will search your computer and the Internet for the latest driver software for your device. You just need to follow the on-screen instructions to complete the process. To learn about more ways to update drivers, you can refer to this guide.
Hopefully, you can enjoy Just Cause 4 smoothly without any problems after using the above solutions.