Apple released the iPad Pro and the choice between iPad Pro and MacBook Air is much harder. The iPad Pro M1 and MacBook Air M1 are powered by the same chip, but they're different in every other way, so which one should you buy? Here, MiniTool Partition Wizard tells you the iPad Pro vs MacBook Air from several aspects.
iPad Pro vs MacBook Air: Price
The first thing that you should consider is the price of the MacBook Air vs iPad Pro. The M1 MacBook Air has a starting price of $999, and you can also spend more money getting more storage or RAM on the MacBook Air. However, the starting price of the 11-inch M1 iPad Pro is $799, and that of the 12.9-inch version is $1,099.
It seems that you need to pay a little more for a new MacBook than a new iPad Pro (11-inch version). But do you know that the MacBook Air has an inbuilt keyboard, while an iPad Pro doesn't have that? If you buy a new iPad, you should also buy a keyboard.
The best option is Apple's Magic Keyboard for iPad Pro. The Magic Keyboard includes a keyboard and trackpad, but it costs $299 for the 11-inch version or $349 for the 12.9-inch version. It means that to purchase an iPad Pro plus keyboard, you should pay about $1,500.
iPad Pro vs MacBook Air: Design
Although the MacBook Air and iPad Pro are designed with portability, both versions of the iPad Pro are thinner and lighter in your hands than a MacBook Air. The MacBook Air is 2.8 pounds, making it one of the lightest laptops around, while the iPad Pro (12.9-inch version) weighs just 1.5 pounds.
Besides, the weight of the 12.9-inch iPad Pro only refers to the tablet itself without the keyboard. Apple didn't say how much the Magic Keyboard for the 12.9-inch iPad Pro weighs, but a customer weighed the keyboard. The Magic Keyboard weighs 1.57 pounds, so an iPad Pro combined with the Magic Keyboard is over 3 pounds.
iPad Pro vs MacBook Air: Performance
Both iPad Pro and MacBook Air have many advantages in terms of performance. They both use Apple's M1 processor and come with 8GB of memory (RAM) at the base level, which means that their performance is the same. But there are some differences that need to be noted:
MacBook Air can be equipped with a 7-core or 8-core GPU depending on the model you buy, while iPad Pro is only equipped with an 8-core GPU.
MacBook Air can be configured with an 8GB or 16GB of RAM as needed, but the RAM in iPad Pro is related to the amount of storage you purchase.
iPad Pro has an additional core in its graphics processing unit (GPU) compared with the base-level MacBook Air. According to benchmark tests, iPad Pro is better than MacBook Air in terms of graphics processing capabilities, but they perform similarly in general computing tasks.
GPU vs Graphics Card vs Video Card: What's the Difference?
In addition to the differences above, there are other differences between the iPad Pro and MacBook Air. The picture below shows you that: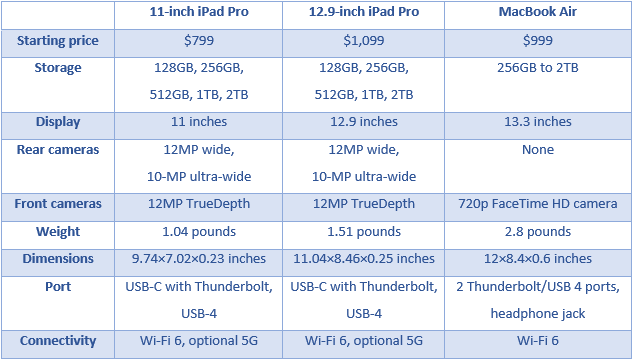 To be honest, for those who prefer entertainment, iPad Pro is the first choice. Of course, you can also handle some office tasks with the iPad Pro. However, for those who need to develop programs, computers are irreplaceable. Therefore, if you rely on a keyboard for most of your work, you are more likely to need a MacBook Air.
MacBook Air 2019 SSD Is Slower Than 2018 Model
That's all about the MacBook Air vs iPad Pro. In fact, the decision of whether to buy the iPad Pro M1 or MacBook Air M1 comes down to personal preference. Do you have any questions about this topic? Please leave them in the comment zone and we will try to answer them as soon as possible.