Do you want to get an
Internet Explorer download
? This post from
MiniTool Partition Wizard
shows you how to download the IE 11 browser and how to find the IE app in Windows 10. You can try this guide.
About Internet Explorer
Internet Explorer, the so-called IE browser, is a series of graphical web browsers developed by Microsoft and included in the Microsoft Windows line of operating systems, starting in 1995.
Internet Explorer was once the most widely used web browser, but its usage share has since declined with the launch of Firefox (2004) and Google Chrome (2008). Eventually, in 2015, Microsoft replaced Internet Explorer with Microsoft Edge. Internet Explorer 11 is the last release of the browser.
In addition, Microsoft announced that full support for Internet Explorer would be discontinued on June 15, 2022. After that, the alternative will be Microsoft Edge with IE mode for legacy sites. Here is the guide on how to enable the Internet Explorer mode on Microsoft Edge:
Open the Microsoft Edge and click the three-dot button in the top-right corner of the Edge browser.
Go to Settings > Default browser and find Internet Explorer compatibility. Under it, click on the dropdown menu for Allow sites to be reloaded in Internet Explorer mode. Then, select Allow.
Restart the browser and open a website.
Click the three-dot button and choose Reload in Internet Explorer mode.
How to Turn on and Use Windows 11/10 Edge IE Compatibility Mode?
How to Get Internet Explorer for Windows 10
Starting from Windows 10, Microsoft has replaced Internet Explorer with Microsoft Edge, but it doesn't delete Internet Explorer thoroughly from Windows 10. It is Windows 11 that removes IE radically.
Therefore, you can use Internet Explorer for Windows 10 still. Here is the guide:
Type "internet explorer" in the Windows Search bar and you will find the IE app in the result list.
Right-click the app and click Pin to Start or Pin to taskbar. Then, you can open the app more easily. In addition, you can continue to set IE as your default browser.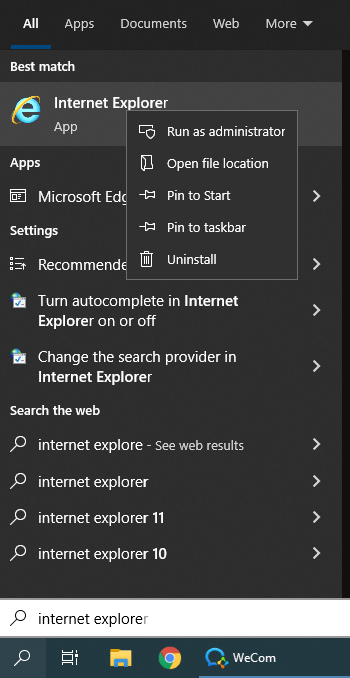 Here's How to Enable or Use Internet Explorer in Windows 11?
Internet Explorer 11 Download
Internet Explorer 11 is featured in Windows 8.1 and it is the last version of the IE browser. If you want to try Internet Explorer 11, you can get this Internet Explorer download from Microsoft. Here are the 2 main Internet Explorer 11 downloads:
After getting the Internet Explorer download, you can install the browser and try it.
Internet Explorer Mac
Do you want to try Internet Explorer on Mac devices? If so, here are 2 ways to help you do that.
Use Safari to simulate Internet Explorer. But please note that on Big Sur, Catalina, or Monterey, Safari can only simulate Edge.
Install a virtual machine and launch IE for Mac.
If you take the second method, please refer to this post: Step-by-Step Guide on Installing Windows on Mac. Then, you can download Internet Explorer 11 and try it on Windows.
If you take the first method, here are the steps:
In Safari, go to Preferences > Advanced and then check "Show Develop menu in menu bar". In this way, you can turn on developer tools.
Go to the Develop menu in Safari's menu bar, navigate to User Agent, and select any of the Internet Explorer versions. The website you're on will be automatically refreshed to reflect the browser of your choice.