HpseuHostLauncher.exe is a process associated with HP devices. Many people are not sure whether the HpseuHostLauncher.exe is safe or not. Well, this post from MiniTool Partition Wizard tells you relevant information, and then you can decide whether to disable it according to your needs.
What Is HpseuHostLauncher.exe on Windows 10?
Generally, the .exe file extension on a filename indicates an executable file. So, what is Hpseuhostlauncher.exe? It appears to be a part or service process of HP program that is installed on your computer. If you have any HP hardware (such as a printer) connected on your computer, you may find the HpseuHostLauncher in the C:SYSTEM.SAVutilHpseuHostLauncher.exe.
Is the HpseuHostLauncher.exe a virus? As we mentioned, HpseuHostLauncher.exe is associated with HP devices, so it is most likely not a virus. The picture below is the available information on HpseuHostLauncher.exe:

In addition, HpseuHostLauncher.exe has a valid digital signature.

Note: A digital signature is a mathematical technique used to verify the authenticity and integrity of messages, software, or digital documents. It is designed to solve the problem of tampering and impersonation in digital communication. Digital signatures can also provide evidence of the origin, identity, and status of electronic documents, transactions, or digital messages.
Most importantly, none of the 73 antivirus programs at VirusTotal (it is an online service that uses antivirus engines and website scanners to analyze files and URLs to detect viruses, Trojan horses, and other types of malicious content.) detected the HpseuHostLauncher.exe file.
Tip: Hackers can be very cunning. Sometimes they disguise malware as a normal file and give it a similar name to deceive users. If you are still worried that this file may be malicious, you can use reliable antivirus software to scan it to ensure safety.
Windows 11 Virus & Malware: Examples/Detection/Removal/Prevention
Is the HpseuHostLauncher.exe Necessary on Startup?
Even if the HpseuHostLauncher.exe is not a virus, many people are still considering if it is necessary on startup.
In fact, if you're using HP devices, you might need the HpseuHostLauncher.exe running on your computer. Some HP computers use this application to optimize performance, so you should keep it running.
However, if you just use an HP printer or any other external device, you can disable this application. Disabling it will not affect your operating system but affect this printer.
How to Disable the HpseuHostLauncher.exe on Startup?
In fact, HpseuHostLauncher.exe is not necessary for the Windows operating system and causes relatively few problems. But if you are still worried about this file, you can disable it on startup using the Task Manager. How to do that? Here is a complete guide:
Step 1: Press Ctrl + Shift + Esc to open Task Manager, and then choose the Startup tab.
Step 2: Now you should find the HpseuHostLauncher or any HP software. Then, right-click it and choose Disable from the menu.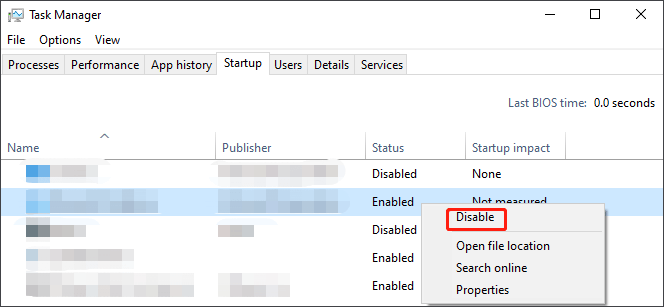 After disabling the application from the Startup, you can close the Task Manager. Then, the HpseuHostLauncher will not start with your PC anymore. Besides, if you have any issues after disabling this application, you can also go back and enable it in the Startup.
That's all about what the HpseuHostLauncher.exe is. If you have any questions about this topic, please leave them in the comment zone and we will try our best to answer them.