Lost of users are confused about how to use PS4 controller on PC. If you are also struggling to figure it out, probably this post can help you. In today's article, you will learn a full guide from MiniTool about how to use PS4 controller on PC.
What You Need to Prepare
In order to use PS4 controller on PC smoothly, you are required to install additional software called DS4Windows and make minor adjustments. In this way, your Windows PC will think that you are connecting an Xbox 360 controller.
Before you do, you need to prepare:
DualShock 4 Controller
Micro USB cable
Bluetooth USB dongle (for using PS4 controller on PC wirelessly)
Now, let's see how to use PS4 controller on PC with DS4Windows.
Use PS4 Controller on PC with DS4Windows
Then you can follow the guide to configure PS4 controller on PC.
Step 1. Download DS4Windows from here, and then extract the downloaded zip file.
Tip: To extract DS4Windows file smoothly, you can use a file archiver utility for Windows like WinRAR
Step 2. Open DS4Windows.exe file and save it to the target location.
Step 3. Once you open the destination folder, you will see 2 files.
DS4Updater.exe: This is a program that can be used to keep the DS4Windows updated with the latest drivers. If you encounter errors later, you can run this file.
DS4Windows.exe: Just click this file to begin the setup procedure that will enable PS4 controller to work on with your PC.
Step 4. When you launch DS4Windows for the first time, you will be asked where you want to save your settings and profiles. Here we recommend you save them to the default selection of the Appdata folder.
Step 5. If you use PS4controller on Windows 10/8/8.1 PC, click Install the DS4 Driver in the pop-up window. If you use Windows 7 PC or below, you need to click Install 360 Driver instead.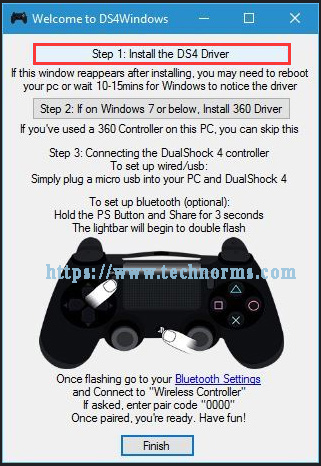 After finishing all the above steps, you can follow the 2 ways to connect your PS4 controller to PC via a USB cable or via Bluetooth.
You just need to plug the USB cable into both the PS4 controller and your PC, and then you will be ready to play PC games with the PS4 controller. In addition, if you want to play PC games with the PS4 controller wirelessly, you can use Bluetooth.
Note: Make sure your PC has a built-in Bluetooth receiver. If not, probably you need to prepare a Bluetooth USB dongle.
How to Connect the PS4 Controller to Your PC Wirelessly
Here's a quick guide to connecting the PS4 controller via Bluetooth.
Step 1. Press and hold the central PS4 button and Share button for 3 seconds until the light bar begins to flash.
Step 2. Then open up the Bluetooth settings on your PC. In Windows 10, click the Speech bubble icon in the Taskbar at the bottom right corner.
Step 3. In the pop-up Action Center window, click Bluetooth and then select Wireless Controller.
Step 4. After that, you may be asked to enter a pairing code. Type in 0000, the PS4 controller will be connected to your PC wirelessly.
Right now, the full guide about how to use PS4 controller on PC is told to you. Have a try now!