Do you know how to overclock CPU AMD? If not, you can read this post, in which MiniTool Partition Wizard shows you how to perform AMD overclocking via AMD Ryzen Mater. After that, you can set the overclocking parameters in BIOS.
A Brief Introduction to CPU Overclocking
Chip manufacturers usually limit the maximum output to improve reliability, although this may come at a cost to everyday speed. To get maximum performance from PC's processor, some people will overclock CPUs.
Nowadays, CPU overclocking is easy to operate, but it is still risky. Before you perform CPU overclocking, please read the following precautions about CPU overclocking:
Not all CPUs can be overclocked. For example, among Intel CPUs, only models with K suffix, such as i7-9700K, can support overclocking, and other CPUs' frequency has been locked. As for AMD CPUs, all Ryzen CPUs can support overclocking.
Not all motherboards (chipsets) support overclocking. In Intel motherboard chipsets, overclocking is supported only by motherboard models starting with Z, such as Z370 and Z390. In AMD motherboard chipsets, motherboard chipsets beginning with X and B support overclocking, such as X470 and B450.
CPU overclocking reauirea good heat dissipation and sufficient power supply, because after the CPU is overclocked, the temperature of the motherboard and CPU will increase, and the power consumption will also increase significantly.
Improper CPU overclocking may lead to serious consequences, such as affecting hardware service life, causing CPU damage, causing CPU not to reach the highest frequency or even run stably at the default factory frequency, etc.
CPU failures caused by overclocking are not within the scope of after-sales.
How to Overclock GPU NVIDIA/AMD to Boost Gaming
How to Overclock CPU AMD
AMD CPU overclocking can be realized by using AMD Ryzen Master, which is a tool developed by AMD for the Ryzen processors. With this tool, you can:
Check the current running status of the Ryzen CPU.
Modify Ryzen CPU's operating frequency and voltage without restarting computer.
Enable and disable CPU core (requires restart).
View and modify the operating frequency and voltage of the memory (requires restart).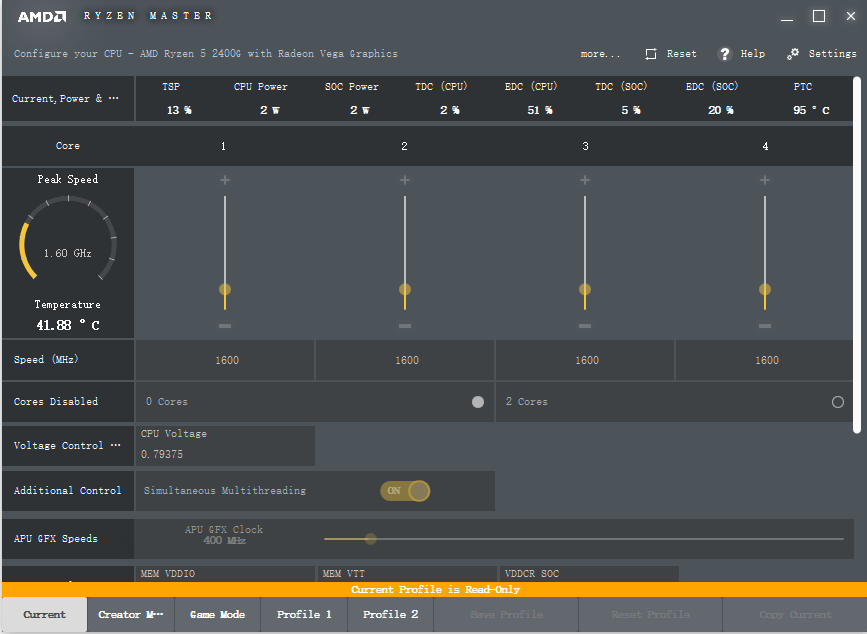 Tip: This tool can only run on the Ryzen host machines. If you want to overclock other CPUs, you should consider other overclocking software.
Step by Step Guide: How to Overclock RAM
Theoretically, the AMD Ryzen Mater's overclocking effect is the same as the BIOS overclocking effect. But if the software does not launch after restarting, the overclocking data will be lost. Some people may think this is an advantage, because after overclocking fails, they can restart the machine directly without removing the battery.
If you want to perform AMD overclocking, actually, I recommend you to adjust the parameters in the software first, and then set the adjusted parameters in the BIOS.
Here is the tutorial on how to overclock CPU AMD:
Step 1: Download AMD Ryzen Mater from AMD official website and then install it.
Step 2: On AMD Ryzen Mater, click profile tab to adjust parameters.
Set Control Mode as Manual.
Adjust CPU Core Section: turn red circle into green, which means Syncing core frequency; enter the desired frequency (multiplier) and the voltage.
Click Apply & Test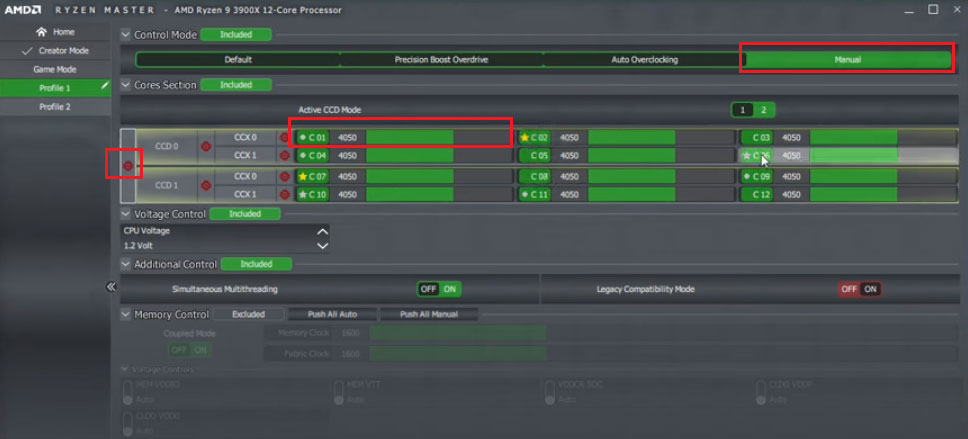 AMD Ryzen Mater will also conduct a stress test, but the stress is too small. Many people will use other tools, such as Aida64, to perform stress FPU test. If the computer operation stable, the overclocking is successful. You can write down the parameters and then set the same overclocking parameters in the BIOS.