Do you know how to cancel Duolingo Plus? If you have subscribed to this service before, you may want to know how to cancel it. Don't worry! This post from MiniTool Partition Wizard provides a full guide to teach you how to cancel it on different platforms.
What Is Duolingo Plus?
Duolingo is a game-style language learning tool that users can use to learn various languages quickly and in a fun way.
In this app, you need to choose which language you are speaking and then choose the language to learn. For example, if I am an English speaker, then I can see various different languages that I can use English to learn, just like the picture below.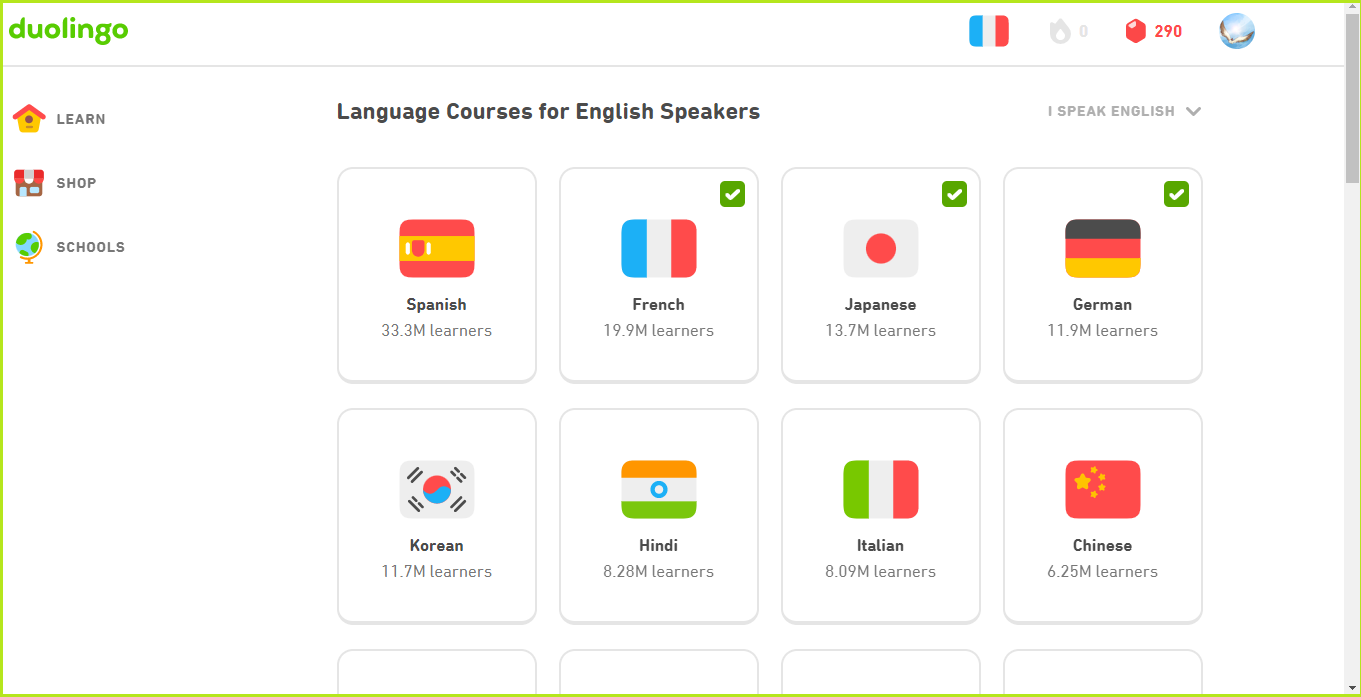 Duolingo Plus is a Duolingo subscription feature that offers ad-free lessons, offline access to lessons, unlimited mistakes, and the ability to track your progress. Now, it is renamed "Super Duolingo."
The cost of Duolingo Plus is $6.99 per month, and the Duolingo price for the Basic learning plan is free. There is also a 14-day free trial available. After that, they impose monthly charges. If you continue to subscribe Duolingo Plus for a whole year, the Duolingo Plus cost can be up to $83.88.
However, after a period of subscribing to Duolingo Plus, you may lose interest in its advanced features and want to know how to cancel it. Don't worry. Here is a detailed tutorial on how to cancel Duolingo subscription.
How to Cancel Duolingo Plus on Android?
If you are using an Android phone, you can cancel Duolingo Plus subscription easily via the Google Play Store. Here's the guide:
Launch the Google Play Store on your phone.
Then click the profile icon on the top right.
Select Payments and subscriptions from the drop-down menu.
Then, select the Subscriptions option.
Click Duolingo subscription from the list.
Tap on the Cancel subscription button at the bottom of the screen.
Select the reason why you need to cancel your subscription and click Continue.
Tap on Cancel subscription in the pop-up window.
Once done, you can successfully cancel the subscription.
How to Cancel Duolingo Plus on iOS?
The steps of canceling Duolingo Plus are a little different in the iOS system. To do that, you can follow the steps below:
Note:
Apple requires you to cancel at least 24 hours before your subscription/trial period ends. If you cancel on the last day of your subscription/trial, your subscription will renew automatically.
Open the Settings app on your iPhone.
Tap on your Apple ID, and then the Subscriptions option.
Next, tap on the Duolingo option.
Click Cancel Subscription on the new screen, and then confirm. (If you don't see the Cancel Subscription option but see an expiration notification in red text, the subscription has already been canceled.)
How to Cancel Duolingo Plus on the Web?
For Duolingo web version users, if you also think Duolingo Plus costs too much and want to know how to cancel Duolingo Plus, you can find the way to cancel the Duolingo Plus subscription here. Here's the tutorial:
Log in to your account on the Duolingo official website.
Click your username in the top-right corner.
Then select Settings from the drop-down menu.
Select Duolingo Plus.
Click on Cancel Subscription and confirm.
Bottom Line
After reading this post, you can know how to cancel Duolingo Plus successfully. At the same time, you can find out what the cost of Duolingo Plus will be if you subscribe for a year.
If you are interested in MiniTool Partition Wizard and want to know more about it, you can visit MiniTool Partition Wizard's official website by clicking the hyperlink. MiniTool Partition Wizard is an all-in-one partition manager and can be used for data recovery and disk diagnosis.