For Honor is an action video game available on various platforms. Unfortunately, some users reported that they encountered For Honor not launching while playing the game on Windows PC. To solve the problem, MiniTool Partition Wizard puts together some solutions in this post.
For Honor is an action video game developed by Ubisoft and it was released in 2017. Users can play the game on various platforms, including Microsoft Windows, PlayStation 4, and Xbox One. In the game, players can choose the roles of historical forms of soldiers and warriors, and they need to control their roles from a third-person perspective.
As an action game, it attracts a lot of players. However, some of them reported that they got the For Honor not launching problem while playing it, which is annoying.
Reasons for this problem could be various, but you don't need to be upset. In the following contents, some recommended solutions are listed and you can try them one by one to fix the issue.
Solution 1: Check For Honor System Requirements
When you encountered For Honor not opening, the first thing you can do is to make sure your PC meets the For Honor system requirements.
If your PC doesn't meet the requirements, you will get a variety of issues while playing the game, such as For Honor not launching. To solve the problem, you might need to upgrade your hardware.
Here are the minimum For Honor system requirements, according to Ubisoft:
OS: Windows 7/8.1/10 (64-bit versions only)
Processor: Intel Core i3-550, AMD Phenom II X4 955 or equivalent
Video Card: NVIDIA GeForce GTX660/GTX750ti/GTX950/GTX1050 with 2 GB VRAM or more, AMD Radeon HD6970/HD7870/R9 270/R9 370/RX460 with 2 GB VRAM or more
System RAM: 4GB
Resolution: 720p @ 30FPS
Video Preset: Low
VSync: Off
For the recommended requirements, you can visit the Ubisoft support page. If your PC meets the system requirements, please move on to the next solution.
Solution 2: Run the Game as Administrator
If your For Honor won't launch, you can try running your Ubisoft game launcher as administrator and then launch the game from the launcher.
Step 1: Right-click the Ubisoft Connect client shortcut on the desktop and select Properties.
Tip:
If you don't have a shortcut, you need to open
File Explorer
 and navigate to the installation folder of Ubisoft Connect. By default, it's in
C:\Program Files (x86)\Ubisoft\Ubisoft Game Launcher\
.Then right-click the executable file of Ubisoft Connect and select
Properties
.
Step 2: Go to the Compatibility tab and check Run this program as an administrator.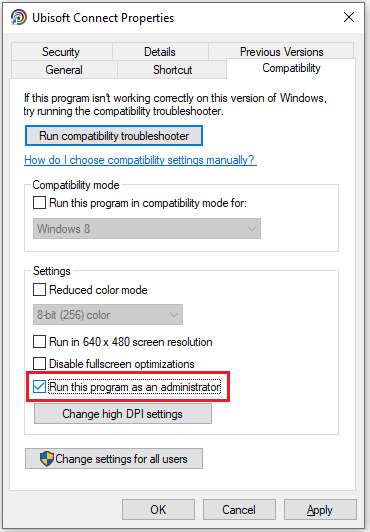 Step 3: Click Apply and OK to save the changes.
Step 4: Run Ubisoft Connect and launch your game For Honor.
Solution 3: Clear Temporary Files
Another way to solve the problem that For Honor won't launch is to clear the temporary files. On Windows 10, you can:
Step 1: Press Win + R to invoke the Run window quickly.
Step 2: Type %TEMP% in the box and click OK.
Step 3: Delete all the files and folders in the Temp folder. You can select all items by pressing Ctrl + A.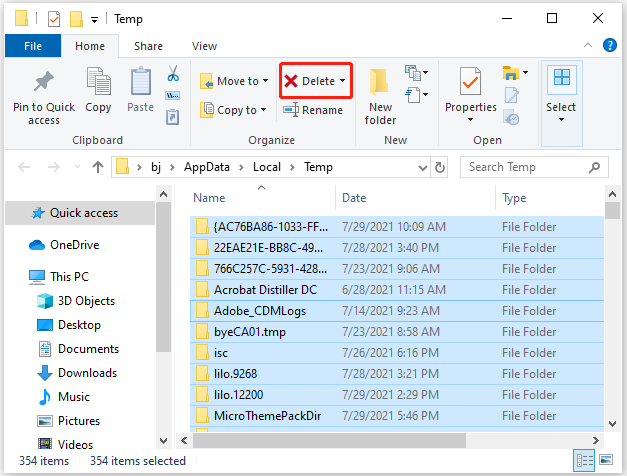 Then, you can launch For Honor and check whether it works properly. If the problem "For Honor not opening" still exists, you should continue with the next solution.
Solution 4: Update Device Drivers
An outdated or corrupted device driver could also lead to For Honor not launching. To troubleshoot the problem, you should make sure your device drivers are up-to-date, especially the drivers for your graphics card, sound card, and processor.
If you have no idea about how to update a device driver, this post might help: How to Update Device Drivers Windows 10.
In addition, you should also make sure you have installed all the available Windows updates. You just need to press Win + I and go to Update & Security > Windows Update to check for that.
Solution 5: Perform a Clean Boot
You should also check for software conflicts when you encounter For Honor not launching. If you got the error after installing a certain program, try uninstalling it and check if it helps. If you are not sure whether you have a program that is conflicted with the game, you can perform a clean boot to figure it out.
You just need to go to System Configuration and disable all the unnecessary services and programs. Then restart your computer and check if your game can work. If the problem disappears, you can go to System Configuration to enable those services one by one until you find the problematic one.