Some players have encountered the error code Val 39 when they try to play Valorant on PC. What is error code Val 39, what causes this error code, and how to fix error code Val 39? Well, this post from MiniTool Partition Wizard will tell you all.
About Valorant Error Code Val 39
A lot of players are complaining about the error code Val 39, so what is the error code Val 39? This means that the game's servers are currently down, most likely for maintenance. In other words, the error code Val 39 is a connectivity issue error that causes disconnection issues for several players.
So, what causes Valorant error code Val 39? When you experience this error code, you will see a message that states the game client has faced an error to connect to the platform. So, the cause of the error code may be that the server is under maintenance or a server issue.
How to Fix Error Code VAL 39 on Valorant?
How to fix Val 39 error code? There are two methods below, and you can try them one by one. Scroll down for details.
Method 1: Run Valorant as an Administrator
To get rid of the error code Val 39, the first thing that you should do is to run Valorant as an administrator. Running the game with administrator privileges can prevent multiple services on the system from interfering with the game process so that you can have a smooth experience. Here is how to do that:
Step 1: Locate the Valorant folder, find the VALORANT.exe file, and then right-click it to choose Properties.
Step 2: Under the Compatibility tab, check the Run this program as an administrator option. Then, click the Apply button and click OK.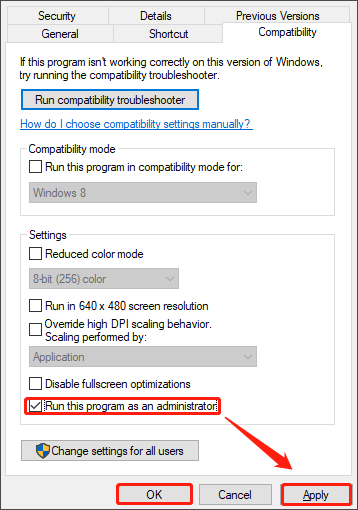 After that, it is time to check if the Valorant error code Val 39 disappears. If not, please go to the next method.
Method 2: Perform a Clean Boot
In addition, Valorant error code Val 39 may be caused by the interference of some programs or games on your system. In this case, you can try to disable antivirus software on your computer to solve the problem. However, the error code may not always be caused by the antivirus software. So, I recommend you perform a clean boot.
Performing a clean boot is an effective way to identify software conflicts caused by non-Microsoft applications. Follow the steps below to do that:
Step 1: Press the Win + R keys on the keyboard to open the Run window on the computer.
Step 2: Type msconfig in the search box and press the Enter key to open System Configuration.
Step 3: Under the General tab, choose Selective startup and untick Load startup items.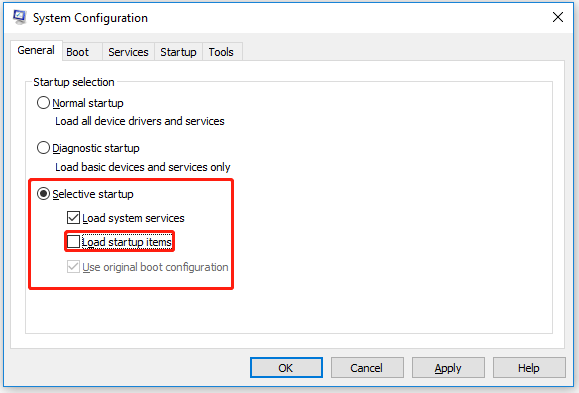 Step 4: Go to the Services tab. Tick the Hide all Microsoft services option, and click the Disable all button.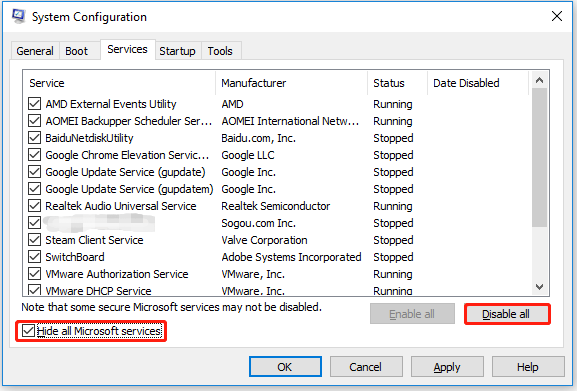 Step 5: Under the Startup tab, choose Open Task Manager.
Step 6: In Task Manager, choose the Startup tab and right-click each of the startup items and choose Disable. Then, exit Task Manager.
Step 7: Back to System Configuration, click OK under the Startup tab. Then, you need to restart your computer.
Step 8: Now, your computer will be in a clean boot environment. Now you can check if Valorant error code Val 39 is fixed.
Step 9: If the error code still exists, you can be sure that your computer doesn't have a software conflict. If not, you can go to the next step to troubleshoot possible issues.
Step 10: Follow Steps 1-6 to enable the top half of all non-Microsoft services. Then, restart your computer to check if you can receive the error code.
After that, if the Valorant error code Val 39 still appears, you can be sure that the problem is in the second half. If not, repeat your actions and narrow down to find the conflicting software.
That's all about what error code Val 39 is and how to fix the error code on Valorant. Do you have any questions about this topic? Please leave them in the comment zone and we will try to answer them as soon as possible.