Summary :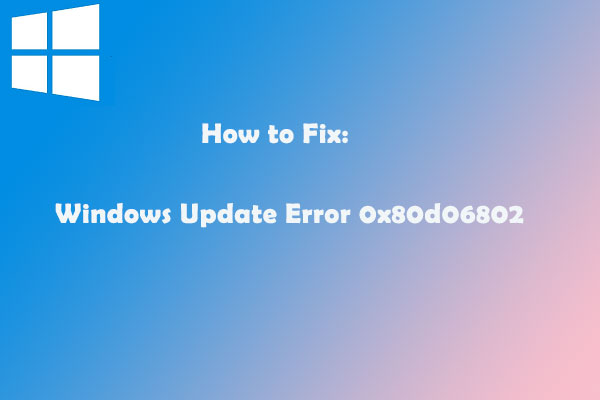 Are you bothered by the error message "feature update to Windows 10, version 1809 - error 0x80d06802" which prevents you from installing some Windows updates? Don't worry. MiniTool Software offers some solutions to this problem and you are free to have a try.
Microsoft keeps release updates which contains new features and fixes to bugs. However, some users report that they failed to install Windows updates due to error code 0x80d06802. The detailed message are as follows.
There were problems installing some updates, but we'll try again later. If you keep seeing this and wat to search the web or contact support for information, this may help:
Feature update to Windows 10, version 1809 - Error 0x80d06802
According to the reports from users, this error usually happens when they try to install some specific updates, like KB4493440, KB4013429, and KB4493437. How to fix the problem and install these updates successfully? Please follow the solutions below.
Solution 1: Run Window Update Troubleshooter
The easiest way to remove error code 0x80d06802 is to run the built-in Windows Update troubleshooter. With this utility, Windows will check and fix the related errors automatically. The steps are listed and you can have a try.
Step 1: Press Win + I to open Settings.
Step 2: In Settings app, select Update & Security category.
Step 3: In the left pane, choose Troubleshoot. In the right pane, scroll down and select Windows Update under Get up and running section. Then click Run the troubleshooter.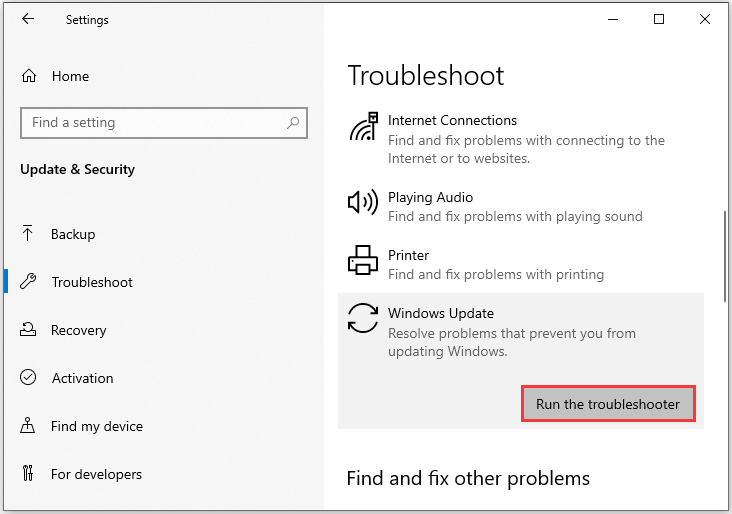 Step 4: Wait patiently while Windows is detecting problems. Then follow the onscreen instructions to finish the process.
Once it's finished, you can check for updates again and the message "feature update to Windows 10, version 1809 - error 0x80d06802" should disappear.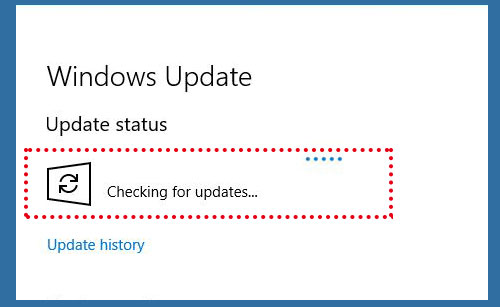 Windows update stuck on checking for updates forever? This post shows you some useful solutions with pictures.
Solution 2: Reregister DLL Files
Another way to fix the problem is to reregister a few Windows Update DLL files, including mssip32, initpki.dll, and mssip32.dll.
Tip: If you're not familiar with Command Prompt, please be careful when your type the commands or try other solutions.
Step 1: Press Win + R to invoke Run window. Then type cmd in the box and click OK to open Command Prompt.
Step 2: Input the following commands one by one and press Enter after each:
regsvr32 mssip32.dll
regsvr32 initpki.dll
regsvr32 wintrust.dll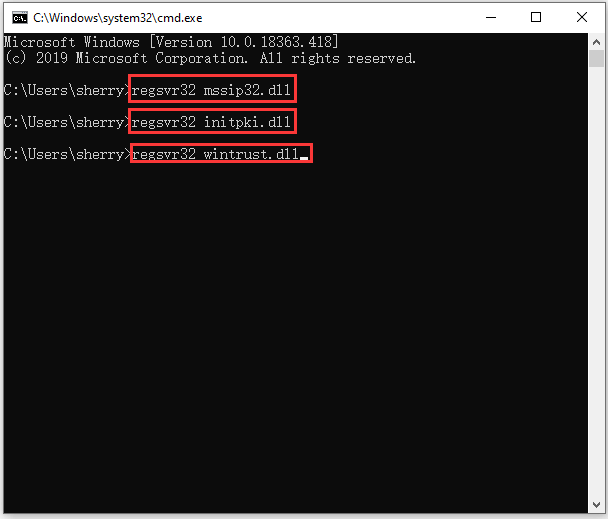 Step 3: Exit Command Prompt and restart your computer.
When the computer restarts, you should go to Windows Update and check if error 0x80d06802 has been solved. If you still see the error, move on to the next solution.
Solution 3: Reset Windows Update
It's a common fix to reset Windows Update to remove various update error messages. Here is how to do it.
Step 1: Press Win + S to open Search and input cmd in the search box. Then right-click Command Prompt and select Run as administrator.
Step 2: Execute the following commands one by one:
net stop wuauserv
net stop cryptSvc
net stop bits
ren C:\Windows\SoftwareDistribution\ SoftwareDistribution.old
ren C:\Windows\System32\catroot2 Catroot2.old
net start wuauserv
net start cryptSvc
net start bits
Step 4: Close Command Prompt and reboot the system.
Solution 4: Download the Updates from the Official Website
If all solutions above fail to help you fix Windows update error 0x80d06802, you can download the required updates from Microsoft Update Catalog and then install them manually.
You just need to open the Microsoft Update Catalog with your browser, search for the update number (for example, KB4493440), download the update according to your Windows version, and then install it by following the onscreen instructions.