Have you come across the error ERR_NETWORK_CHANGED on Chrome? This error means you cannot load a web page smoothly. It is a great inconvenience. In today's article, you will learn 5 troubleshooting methods from MiniTool to fix the error.
When you are searching for something on Google Chrome as usual, an error message pops up "Unable to access the network ERR_NETWORK_CHANGED". You may also encounter the error "your connection was interrupted a network change was detected ERR_NETWORK_CHANGED".
It is annoying that Google, Facebook, YouTube and other types of websites are affected by this error. What causes this error? There are a variety of possible causes that can lead to ERR_NETWORK_CHANGED. So, we recommend you try all the following methods.
Method 1. Reset Your Internet Connection
Sometimes, a bad net connection can cause ERR_NETWORK_CHANGED. As for this case, you need to check the wire of the Internet connection (Ethernet). If it's OK, unplug the cable and reconnect it to the respective port.
If you are using a wireless Internet connection, you can try disconnecting and reconnecting it back. If this method fails to resolve the ERR_NETWORK_CHANGED in Chrome, just move on to the following methods.
Method 2. Change DNS Settings and Reset the TCP/IP Protocol
Here is a full guide to resolve the vexing error by changing DNS settings and resetting TCP/IP protocol. 
Step 1. Press Win + R keys to open the Run box and type cmd in it. Then press Ctrl + Shift + Enter keys to open an elevated command prompt that makes you run as administrator.
Step 2. In the elevated command prompt, type the following commands and press Enter after each one.
ipconfig /release
ipconfig /flushdns
ipconfig /renew
Step 3. Exit and reopen the elevated command prompt. Then type the following commands and hit Enter after each one.
ipconfig /flushdns
nbtstat –r
netsh int ip reset
netsh winsock reset
Step 4. Reboot your computers to execute these changes. After that, RR_NETWORK_CHANGED in Chrome should be fixed
Method 3. Reinstall Your Network Adapter
Some users reported that the error can be resolved simply by reinstalling a network adapter. You can have a try.
Step 1. Right-click the Start button and select Device Manager from the list of options.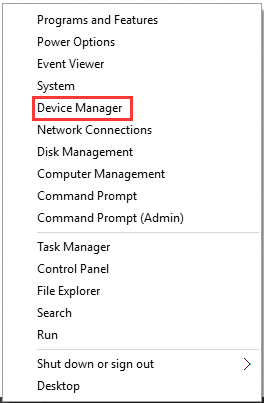 Step 2. In the pop-up window, expand the Network adapters category. Then right-click on your network adapter software and select Uninstall.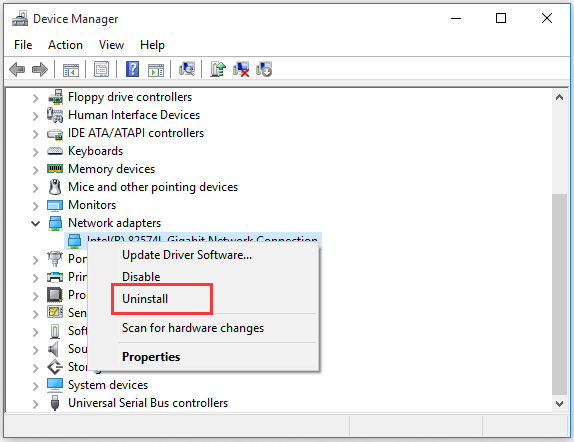 Step 3. After the uninstallation completes, restart your PC and try reconnecting to your network. If you are not able to connect to your network, it means the network adapter is not automatically installed.
Step 4. Visit your manufacturer's website and download the driver from it. Then reinstall the driver and restart your PC. 
Reinstalling the network adapter should get rid of the error a network change was detected ERR_NETWORK_CHANGED. If it doesn't, please move on to the next 2 methods.
Method 4. Clear Browsing Data in Google Chrome
This method has been confirmed useful to resolve the ERR_NETWORK_CHANGED in Chrome. It is very simple to clear browsing data in Google Chrome. Here's a quick guide.
Step 1. Open your Google Chrome and press Ctrl + H keys to open its history records.
Step 2. Then click Clear browsing data from the left panel. Select the Beginning of time next to the Obliterate the following items from.
Step 3. Check the following boxes.
Step 4. Then click the Clear browsing data option and wait for it to complete.
Browsing history
Download history
Cookies and other sire and plugin data
Cached images and files
Autofill form data
Passwords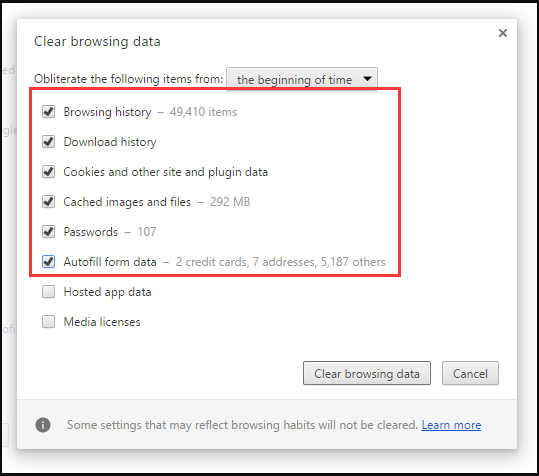 Step 4. Close your browser and restart your computer. Now you can reopen Chrome and check if ERR_NETWORK_CHANGED is resolved or not.
Method 5. Disable Proxy
If all the above methods fail to work with you, you can try disabling Proxy.
Step 1. Press Win + R keys to open the Run box, and then type inetcpl.cpl and hit Enter.
Step 2. Inside the Internet Properties window, go to the Connection tab and click LAN settings.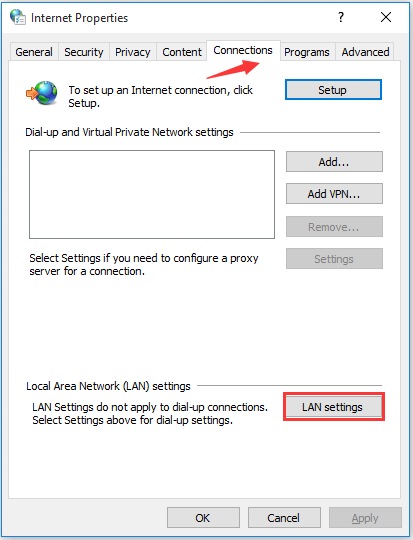 Step 3. Uncheck the box Use a Proxy Server for your LAN and check the Automatically detect settings box. Then click OK to save the change and reboot your PC.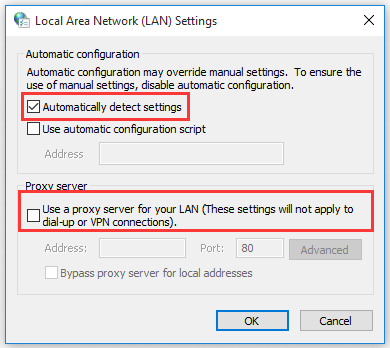 Right now, 5 troubleshooting methods for ERR_NETWORK_CHANGED are told to you. Have a try now!