If you are a game lover, it is annoying to encounter problems during gameplay. A lot of users report their Dota 2 keeps crashing. The error could happen due to various reasons, and it might waste you some time to solve it. Don't worry. MiniTool Partition Wizard puts together some fixes and you can try them one by one to fix the problem.
Dota 2 is a multiplayer online battle arena video game developed and published by Valve. Players in the game are divided into two teams and each team consists of five players. Both teams occupy and defend their own separate base on the map. They need to fight with another team and try to destroy their ancient.
The game is available on various platforms, including Microsoft Windows, Linux, and OS X, which is free-to-play and attracts millions of players. However, some users complain that the game keeps crashing during gameplay on Windows PC. If you are bothered by the same problem, you can try the following solutions.
Tip: Some common errors could be fixed by a simple restart. If your Dota 2 keeps crashing or stops responding, you should try restarting your PC before you troubleshoot the problem with the following solutions.
Solution 1: Run Dota 2 as an Administrator
Windows users are able to get Dota 2 on Steam, one of the most popular game platforms. Sometimes the Dota 2 crash on startup or during gameplay would happen because your Steam lacks administrative privileges. To fix the error, you can try running Steam as administrator and then launch Dota 2 from Steam.
You just need to completely close the game and exit Steam. Then right-click the shortcut for Steam and select Run as administrator.
Solution 2: Run Dota 2 in Compatibility Mode
Some Windows updates might be incompatible with Dota 2, which leads to Dota 2 freezing or crash on startup eventually. In this case, you can run the game in compatibility mode to solve the problem. And you need to:
Step 1: Right-click the Steam shortcut and select Properties.
Step 2: Switch to the Compatibility tab.
Step 3: Check Run this program in compatibility mode for under the Compatibility mode section. Then select a previous version of Windows compared with your current version, usually Windows 7 or Windows 8.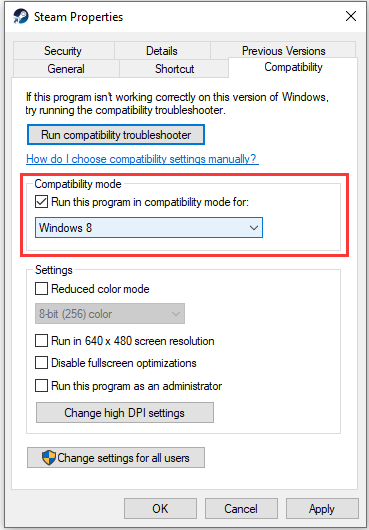 Step 4: Click Apply and OK to save the changes.
Then you can launch Steam and run Dota 2.
Solution 3: Update Your Graphics Card Driver
Dota 2 crash or freezing could also happen when the graphics card driver is outdated or corrupted. Therefore, you can try installing the latest graphics card driver software and check if it helps. Here are the detailed steps.
Step 1: Right-click the Start button and select Device Manager.
Step 2: Expand the category of Display adapter and double-click your graphics card adapter. Then select Update driver.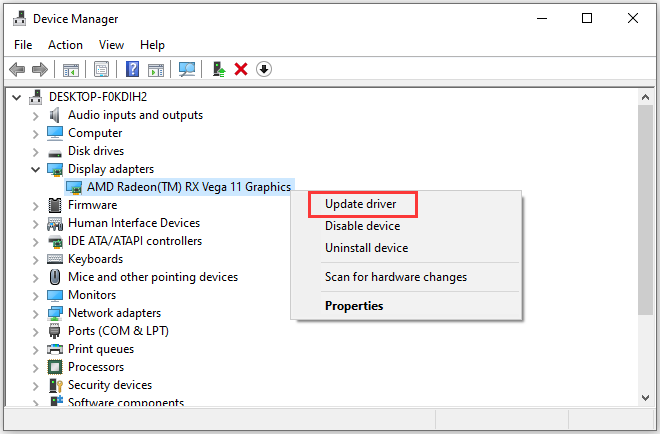 Step 3: In the pop-up window, click Search automatically for updated driver software. Then follow the onscreen instructions to finish the operation.
After installing the latest driver for your graphics card, you need to restart your computer and check if Dota 2 works properly. You can also update the driver with a reliable third-party application.
Solution 4: Repair Corrupted Game Files
Another common reason for the problem that Dota 2 keeps crashing is that there are damaged or missing game files in the game. Fortunately, Steam provides a feature that helps you verify and repair game files. Now, let's have a try.
Step 1: In Steam, go to the LIBRARY to view your game list.
Step 2: Right-click Dota 2 and select Properties.
Step 3: In the pop-up window, select the LOCAL FILES tab and click the button Verify integrity of game files.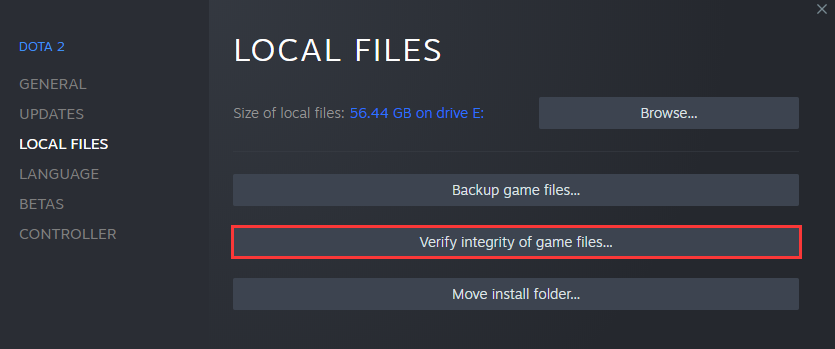 Solution 5: Adjust Virtual Memory
Virtual memory is used for temporary file storage when the RAM on your PC is running out of space. If your virtual memory is not large enough, you will encounter various problems when performing intensive tasks, such as Dota 2 crash. To solve the problem, you need to adjust your virtual memory.
Microsoft recommends users set the virtual memory to be a minimum of 1.5 times and a maximum of 3 times the size of their physical RAM. You can click here to get the tutorial on how to increase virtual memory.
Solution 6: Reinstall Dota 2
If all the solutions you can find fail to solve Dota 2 crash, you might need to reinstall Dota 2. You can uninstall it via Control Panel or Steam. Then navigate to the location where you install Dota 2 and delete the folder Dota 2 beta. After that, you can download and reinstall Dota 2 in Steam.