Many DJI Mini 2 owners are looking for the best SD card because a good SD card for your DJI Mini 2 can help you get high-quality videos and photos. But what are the requirements of an ideal DJI Mini 2 SD card? How to choose the best SD card? This post from MiniTool Partition Wizard tells you how to do that.
What Is DJI Mini 2?
DJI (Da-Jiang Innovations) Mini 2 is the latest and best-selling mini drone which was released at the end of 2020 and attracted the interest of enthusiasts everywhere. The DJI Mini 2 is the successor of the DJI Mavic Mini. It is a powerful drone for beginners with impressive performance, amazing images, etc.
Where Is the SD Card Slot of DJI Mini 2?
One of the most exciting features of DJI Mini 2 is its reduced size. It is very portable and you can take it wherever you go. Due to this portable design, some new owners of the DJI Mini 2 encountered problems when locating the SD card slot.
In fact, the DJI Mini 2 drone has a micro SD card slot which is located on the back of the drone, under the battery bay door, next to the USB port. There should be a small picture of the SD card printed on the drone, indicating the slot. In addition to telling you where the slot is, the picture also shows which way the card should be inserted.
After finding the micro SD card slot, it should not be difficult to insert the card. The card will be pushed in with a slight click, telling you that it is securely in place. To remove the micro SD card after flying, you must push it again until you hear a click and release it.
Choose the DJI Mini 2 SD card
Maybe you have known that the DJI Mini 2 doesn't have any internal storage. So, you should choose the DJI Mini 2 SD card. Which SD card will work best for your Mini 2? Well, I can give you some answers.
Why Should You Choose the Best SD Card for DJI Mini 2?
In fact, DJI Mini 2 supports flight without a memory card. But all recordings and pictures will be stored on your phone or computer at a low resolution of 720p. If you don't want to be limited by 720p resolution, you should choose the best SD card for your Mini 2.
Besides, to avoid recording problems and ensure that frames are not dropped due to using a slow or inexpensive SD card, you should also choose an SD card that will be able to record 4K at 30fps.
What Is the Best Micro SD Card for the DJI Mini 2?
If the DJI Mini 2 is used for taking pictures, the micro SD card with 32G or 64G is enough. But if it is used for recording videos, I'll recommend you to use 128G or 256G. Most importantly, when choosing a memory card, you should not only pay attention to the reading speed, but also the writing speed. If the writing speed is relatively low, there may be freezes during video shooting.
The DJI Mini 2 supports up to 256GB micro SD card. It requires that the transfer speed is Class 10 or UHS-I Speed Grade 3 and above, and the writing speed is greater than 20MB/s. It is known that DJI Mini 2 works well with SD cards from notable brands, such as Samsung, SanDisk, and Lexar. Here are Some recommendations: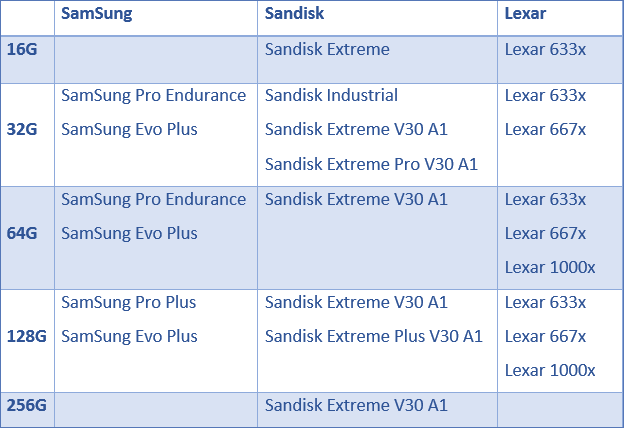 SanDisk Extreme VS Extreme Pro VS Extreme Plus: Which Is Best?
That's all about the best micro SD card for DJI Mini 2. You can choose one of the cards listed above, and thus you can fly your Mini 2 drone and record high-quality videos and pictures. If you have any questions about this topic, please leave them in the comment zone. We will try our best to answer them for you.