Summary :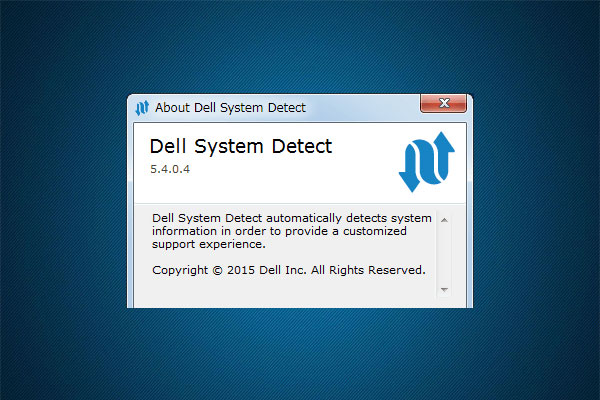 Dell System Detect, now renamed Dell SupportAssist, is a pre-installed program in Dell PC. It can detect product information, detect and install drivers, and run diagnostics. But whether should you keep it? In this post, MiniTool Partition Wizard will tell you the answer.
What Is Dell System Detect?
Dell is one of the best PC brands in the world. But just like other PC vendors, this company also likes to pre-install some software in computers. Dell System Detect is such a program.
Dell System Detect, now renamed Dell SupportAssist, is an application that runs on your Windows-based PC or tablet to help you detect product, drivers, and run diagnostics.
When you click Detect Product, the application runs on your system and detects the Service Tag of your Dell computer. In this way, Dell can get your PC's product information, such as your original system configuration and warranty end date, to provide a product-specific support experience.
When you click Detect Drivers (System Analysis), Dell will look at which drivers are installed on your system and compare it with the latest available drivers. In this way, you can know whether the installed drivers are out of date. If the drivers are outdated, this program can update them.
As for the last feature "run diagnostics", it can detect and solve common hardware and software problems.
Full Guide to Fix the "Dell SupportAssist Not Working" Issue
Should I Keep or Remove Dell System Detect?
For some experienced users, they may think the features of Dell System Detect are not attractive and they can complete these jobs with Windows built-in tools. Removing Dell System Detect can make the computer less bloated.
In addition, some people worry that this software may collect their data and transfer that to Dell. The last but not least, some malwares may be disguised as Dell System Detect to attack the computer.
How to Update Device Drivers Windows 10 (2 Ways)
For these reasons, some people may want to uninstall this program. If you also want to remove this program, please refer to the following guide:
Press the "Windows + R" keys to open the Run dialog box.
In the Run dialog box, type "cpl" and then press the Enter key.
In the Programs and Features window, select Dell SupportAssist from the list of applications.
Click the Uninstall button on top.
Follow the on-screen instructions to complete the uninstallation process.
After completing the above steps, I recommend you to check in the C drive to see whether this software is really removed. Its location is under this subfolder: C:\Users\USERNAME\AppData\Local\Apps\2.0.
But if you think this program is useful, you can also keep it, because this software doesn't take too much space. If you uninstalled Dell System Detect before and you want to get it back now, you can download and install this program again.
If so, you should make sure your OS is Windows 8 or higher, and the Microsoft .NET Framework version is 2.5 or higher. Then, you can visit Dell SupportAssist page and start to download and install it.
[2020] 5 Basic Troubleshooting Steps To Fix Problems On Your PC
Bottom Line
Now, you can know what Dell System Detect is and then you can decide whether to keep it according to your situation. Besides, do you have other ideas about Dell System Detect? Please leave a comment below.