Summary :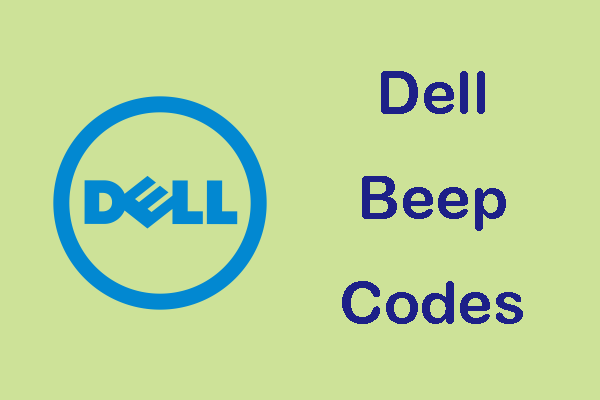 Does your Dell PC beep? What does the beep code mean? In this post, MiniTool Partition Wizard tells you what Dell beep codes mean and what to do when these beep codes appear.
About Dell Beep Codes
There is a PC Speaker built in motherboard on most PCs. Hence, even if the display can't provide visual error description due to the faulty graphics card or the RAM that is not installed correctly, the computer buzzer that only relies on ROM and CPU can still operate normally and report the error that occurs during the boot process.
It can represent a specific error code through the permutation and combination of "beep" sounds, and the meaning of the code is based on different BIOS manufacturers.
Computer Won't Post? Follow These Methods to Easily Fix It!
As for Dell, in most Dell PC models, it has 8 main Dell beep codes (beep code 1 to 8). Dell beep codes are composed of a set of beeps and the PC will repeats the set of beeps endlessly until you power off the PC. Beep code 1 means the set of beeps is 1 beep; beep code 2 means the set of beeps is 2 beeps; beep code 3 means the set of beeps is 3 beeps; and so on.
Please note that the delay between each beep is 300ms; the delay between each set of beeps is 3 sec; and the beep sound lasts 300ms.
Beep Code 1: Motherboard, covers BIOS corruption or ROM error.
Beep Code 2: No Memory (RAM) detected.
Beep Code 3: Chipset Error (North and South bridge error), Time-Of-Day Clock test failure, Gate A20 failure, Super I/O chip failure, Keyboard controller failure.
Beep Code 4: Memory (RAM) Failure.
Beep Code 5: CMOS battery failure.
Beep Code 6: Video card/chip failure.
Beep Code 7: Central Processing Unit (CPU) Failure.
Beep Code 8: LCD Failure.
If you want to know more about Dell deep codes, please refer to Beep Codes on a Dell Notebook PC and Beep Codes on a Dell Desktop PC.
What to Do When Dell Beep Codes Appear?
As you can see, the beep codes are usually related to motherboard, CPU, GPU, and RAM. In general, these errors are hard to fix, because most users are lacking in professional skills.
How to Test Motherboard for Faults? Much Info Is Introduced!
When beep codes appear, Dell recommend you to run a tool called Dell SupportAssist Enhanced Pre-Boot System Assessment (SupportAssist ePSA), Dell Enhanced Pre-Boot System Assessment (ePSA), or Dell Pre-Boot System Assessment (PSA) Diagnostics. This tool is a suite of self-diagnostics that is built into Notebooks, Desktops, Servers, and Windows-based Tablets.
Running this tool may tell you more information about the error, helping you solve the error more quickly. To run this tool, you just need to tap the F12 key at the Dell splash screen on start-up and then choose Diagnostics from the menu.
If your computer can boot into the operating system and access the Internet, you can run online SupportAssist test, which can test high-end functions that are related to computer components.
Tip:
Tip: If the Dell beep code is related to RAM, you should first make sure the good connection between RAM and the motherboard. Then, if you can boot into the operating system, you can try
running Windows Memory Diagnostic Tool
.