Summary :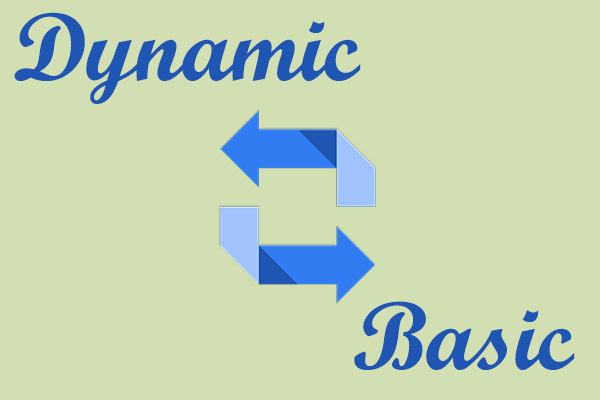 How to convert basic disk to dynamic? In this article, you will find the easiest way to convert to dynamic as well as the most reliable way to revert, that is to use a professional dynamic disk manager.
The concept of dynamic disk was put forward when Windows 2000 was released and this style of disk is superior to basic disk in these aspects:
Dynamic disk offers a larger We can create different types of volumes and the volume location is not limited by a single dynamic disk.
Dynamic disk has relatively higher security. Mirrored volume and Raid-5 volume offers fault
Dynamic disk provides higher performance on read-write speed. We can create striped volumes so as to enjoy two times speed than that of partitions on a basic disk.
It is due to these advantages that dynamic disk style is used in most Servers. So how can we convert to dynamic disk? Windows offers the way!
How to Convert Basic Disk to Dynamic Disk in Windows
By using Windows Disk Management utility, we are able to convert basic disk to dynamic disk without much effort. Here is the approach in Windows Server 2003 (the same goes for other operating systems):
Step 1. Press Win + R keys to bring up the Run box. Then input diskmgmt.msc and press OK to load Disk Management utility.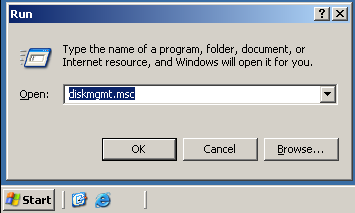 Step 2. Now select the disk you want to convert and choose Convert to Dynamic Disk...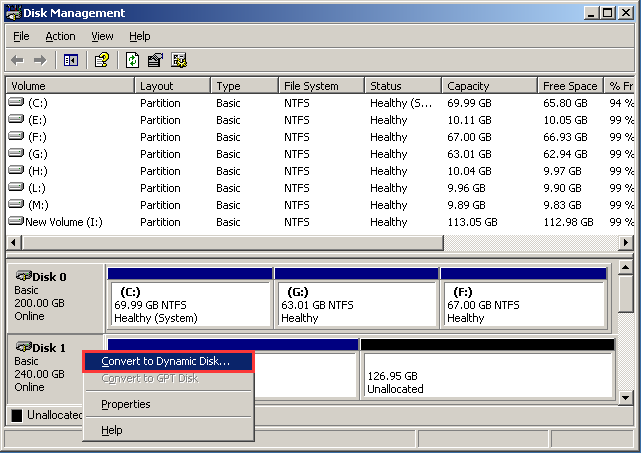 Step 3. Next, in the pop-up window, confirm it is the disk you want to convert that has been chosen and click OK.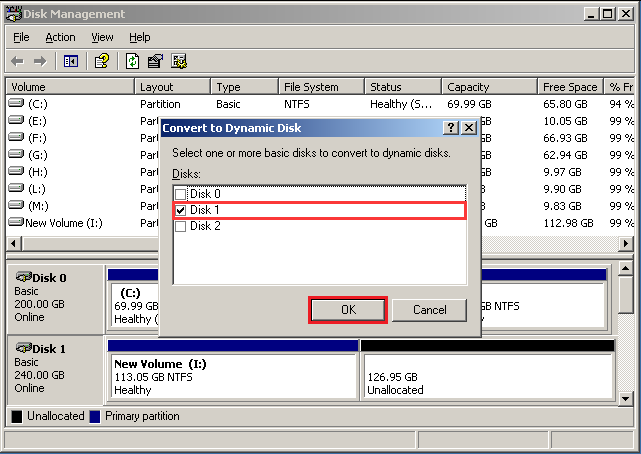 Step 4. Click Convert to confirm.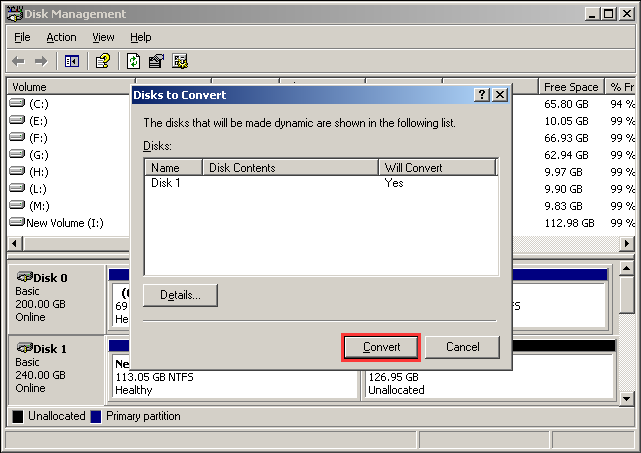 Kindly remind: You will receive 2 messages then. Please confirm whether you like to continue.
The first one says after the conversion, you will only be able to start installed operating system from the current dynamic volume. Please double-check if you have installed more than one operating system that needs to boot sometime on the same disk.

The second one tells file systems on the target disk will be dismounted.

Step 5. Returning to the disk management interface, you can see the selected disk has been converted to dynamic disk.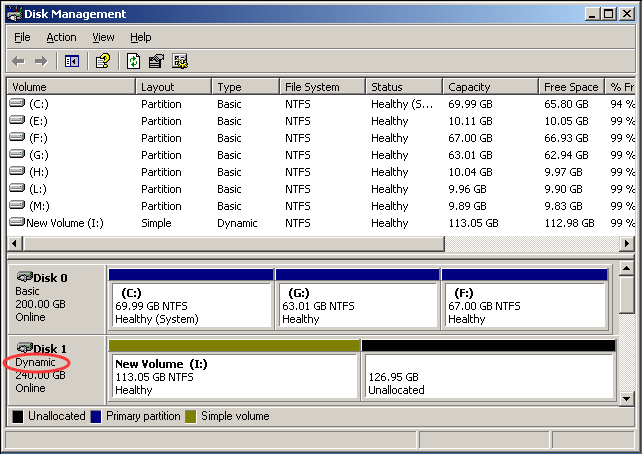 The whole process to convert basic disk to dynamic disk is simple. As a matter of fact, dynamic disks can arouse better disk performance.  But if you only have one disk on computer, you can only create simple volumes which have no difference from partitions on basic disk. In this case, there is no need to convert to dynamic disk.
Yet for common users, dynamic disk management is unfamiliar. And from time to time, they want to convert dynamic disk to basic disk. Then how to do this?
Quickly Convert Dynamic Disk to Basic Disk
When hard disk becomes dynamic and there is a need to convert dynamic disk to basic disk, you may wonder why the option Convert to Basic Disk in Disk Management is grayed out.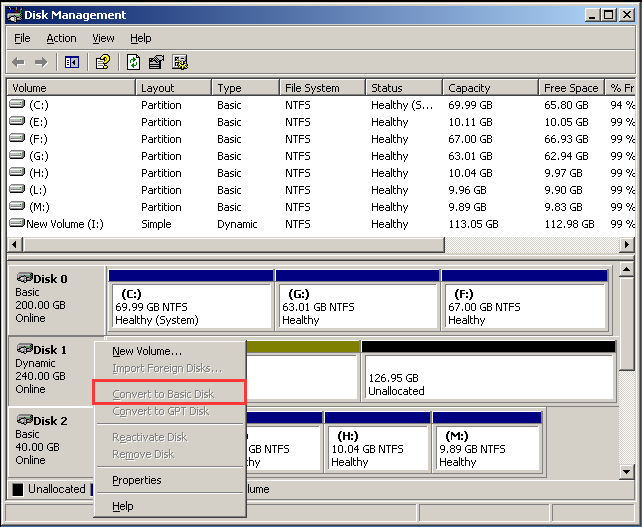 In fact, Disk Management is able to help convert dynamic disk to basic disk on condition that there is no dynamic volume at all on the disk, which means all volumes have to be removed.
Although this is a way of doing it, you are faced with data loss without volume backup. Do we have a better way to do this conversion?
Here is the deal.
If the dynamic disk only contains simple and mirrored volume, you can use MiniTool Partition Wizard to make the conversion.  
MiniTool Partition Wizard is a reliable dynamic disk manager which is capable of creating/resizing/formatting dynamic volumes as well as converting dynamic disk to basic disk. With this partition manager, you do not need to delete any volume for dynamic disk conversion.
Note that this conversion is a paid feature in MiniTool Partition Wizard, so you need to buy a license to activate this feature.
For Windows 10/8/7 users, get the Pro Edition.
For Windows Server users, buy the Server Edition.
Lets' see how to use the dynamic disk manager MiniTool Partition Wizard to convert dynamic disk to basic disk. 
Step 1. In the main interface, select any dynamic disk and the option Convert Dynamic Disk to Basic will appear in the left panel or context menu.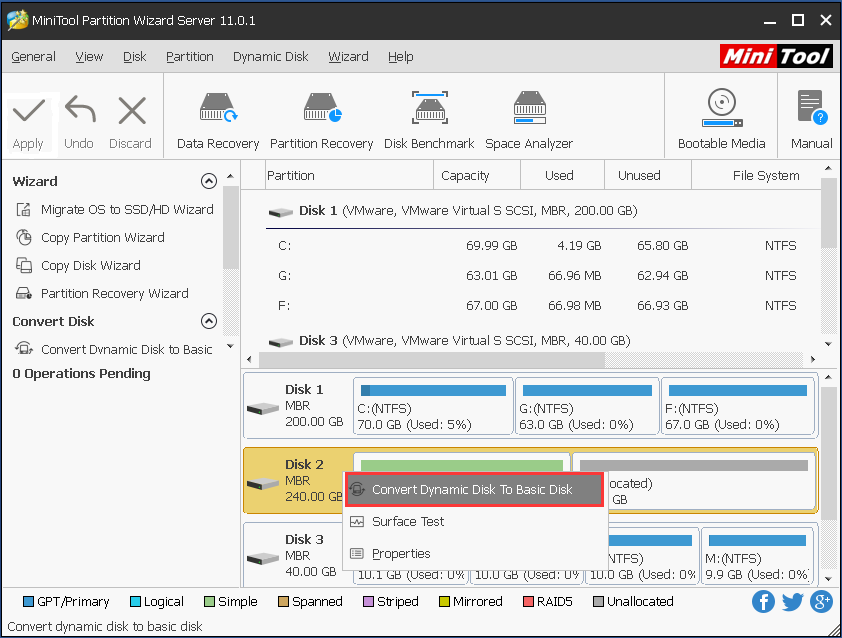 Step 2. MiniTool Partition Wizard will tell that all operations on the dynamic disk should be carried out one by one. Click OK to continue.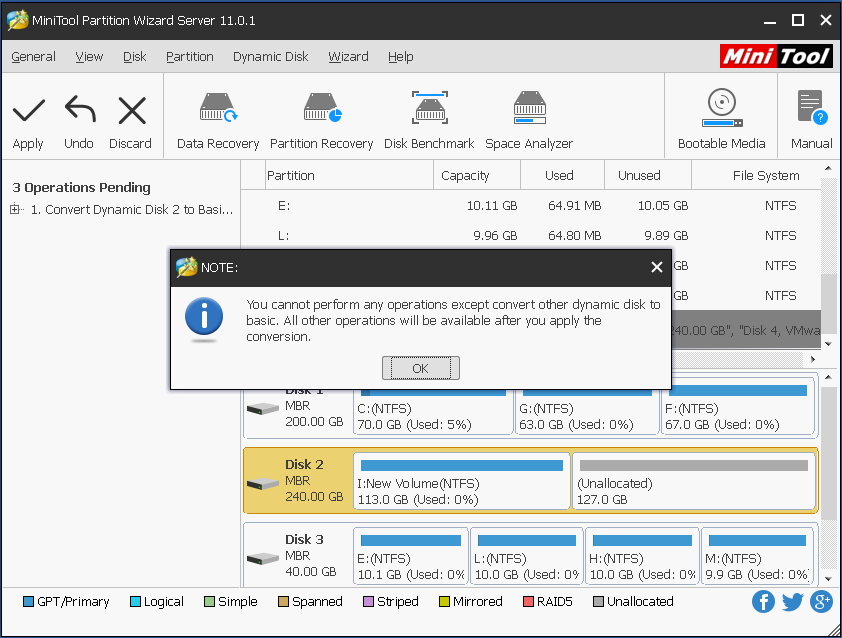 Step 3. Now click Apply.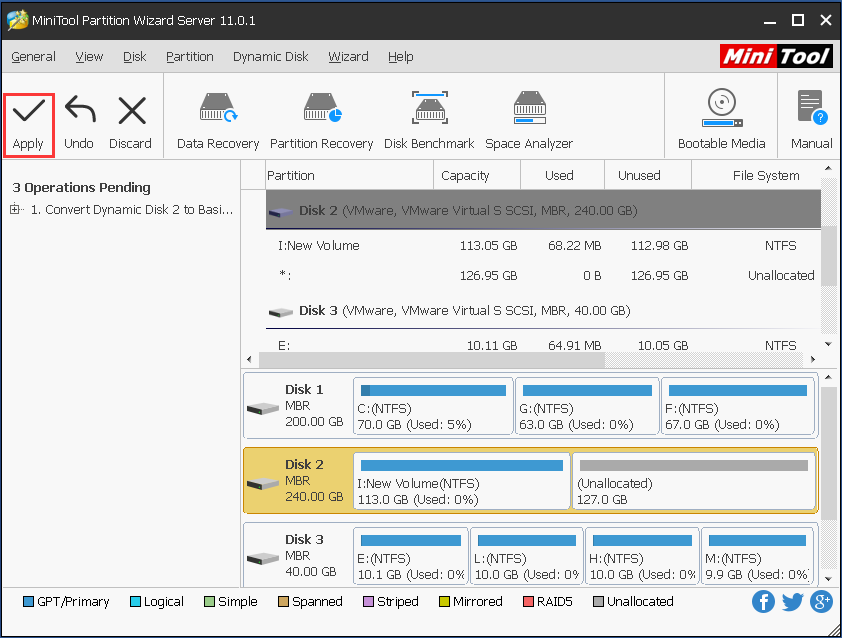 Step 4. Now the dynamic disk manager asks us to confirm the conversion. Please click OK button. If there are operating system/applications running on the related dynamic, we will be prompted to restart the computer, and all operations will be finished the restarting process.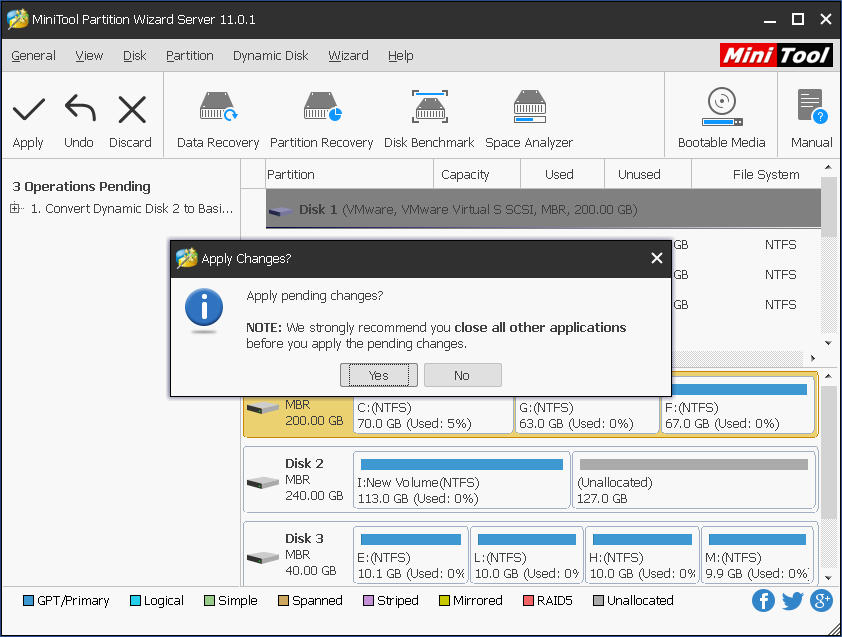 When the computer is restarted, the dynamic disk is converted to basic disk successfully. In the entire process, data files will not be damaged or lost, neither will the operating system used to be on the dynamic disk.
Now It Is Your Turn
 "This is really an easy way to convert dynamic disk to basic disk. Get this dynamic disk manager to have a try!"Click to tweet
Reading here, you know the way to convert to dynamic disk and the way to revert.  Now it your turn to have a try on Disk Management and the dynamic disk manager MiniTool Partition Wizard. For any questions, you can leave us comments below.