Game crashing is a common issue and some players of Civilization VI are also reporting the problem. To solve Civ 6 crashing issue, MiniTool Partition Wizard explores and lists some solutions in this guide.
Sid Meier's Civilization VI, also known as Civilization VI or Civ 6 for short, is a turn-based strategy 4X video game. It is available on multiple platforms, including Microsoft Windows, macOS, Linux, iOS, Nintendo Switch, PlayStation 4, Xbox One, and Android.
Civilization VI has attracted a large number of players since its release. However, some Windows 10 users complain that Civ 6 keeps crashing at startup or during gameplay. If you are experiencing the same issue on your Windows PC, don't panic. The following are some possible solutions, and you can try them one by one until you fix the problem effectively.
Let's start our troubleshooting.
Fix 1: Run the Game in Compatibility Mode
At first, you can try launching the game in the compatibility mode. You can follow the steps below.
Step 1: Right-click the desktop icon or the executable file of the game and choose Properties.
Step 2: Switch to the Compatibility tab and check Run this program in compatibility mode for. Then, choose a Windows version from the drop-down list.
Note: You can also check Run this program as an administrator to grant the game with administrative privileges.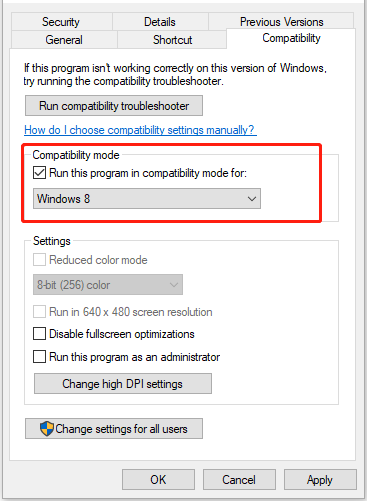 Step 3: Click Apply and OK button to save changes.
After that, restart Civilization VI to check if the crashing issue is resolved.
Fix 2: Install the Latest Game Patch and Windows Update
As you know, the game developers regularly release some game patches that contains some new features or bug fixes for some known issues. So, if you are running an old or outdates version of the game, installing the latest patch might be helpful.
Besides, some users also suggest installing available Windows updates, and you can also have a try. Just go to Windows Settings > Update & Security > Windows Update and click Check for updates button in the right pane. Then, install any available updates for your Windows according to the onscreen instructions.
Fix 3: Use Medium or Low Settings for The Game
To get better gaming experiences, many players would like to set the in-game settings to high level. However, the computer specs might be unable to afford the high settings, which may also lead to Civilization VI crashing issue.
Therefore, if your Civ 6 keeps crashing, you can go to set the graphics settings of the game to low or medium level, such Performance Impact, Memory Impact, and so on.
Fix 4: Update Graphics Card Driver
If your graphics card driver is outdated for corrupted, you might also receive the Civ 6 crashing issue at startup or during the gameplay. To solve the problem in this case, you need to update your graphics card driver to the latest version. Here's a simple guide for you.
Step 1: Right-click the Start button and choose Device Manger from the pop-up menu.
Step 2: Expand Display adapters category, right-click your graphics card driver, and choose Update driver option.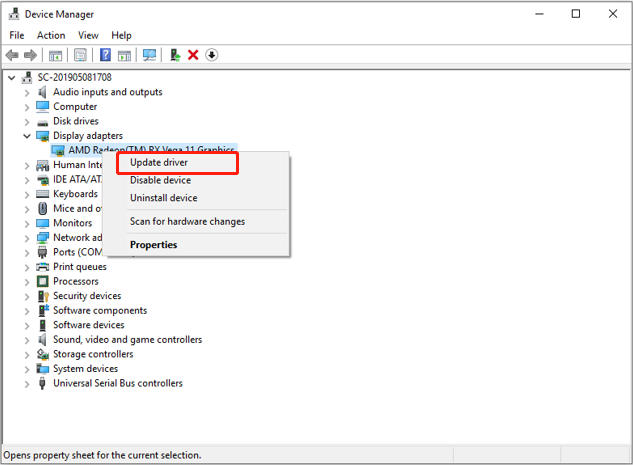 Step 3: Click Search automatically for updated driver software option to continue.
If there are any available updates, install all of them according to the given instructions. Once it's done, restart your computer and launch your Civilization VI to check if the crashing issue has been resolved.
Fix 5: Add an Exclusion for The Game in Your Antivirus
What's more, the Civ 6 crashing issue might have something to do with your antivirus application. The antivirus can protect your system from various threats, but it may interfere with the normal functioning of your installed program.
If Civilization Vi keeps crashing on your PC and you are using any antivirus, you can try adding an exclusion for the game. If you are using Windows Defender antivirus, you should also add an exception for the game to prevent the utility to scan for game data. After that, launch the game again, and you should be able to play the game without any problems.
Fix 6: Reinstall the Game
If all the above methods fail to fix Civ 6 crashing issue for you, perhaps there are some problems with the installation data of your game and you need to reinstall it.
Just completely uninstall the game from your computer and download the latest version of the game from the official website. Then, install the game properly according to the onscreen guide. With the fresh copy of Civilization VI, you should be able to play the game smoothly without the crashing issue.