Have you heard of Chrome Cleanup Tool? Is Chrome Cleanup Tool safe to use and how to use it? In this article from MiniTool Partition Wizard, you will get the answers and more detailed information about Chrome Cleanup Tool.
What Is Chrome Cleanup Tool?
Chrome Cleanup Tool is a security utility designed by Google. It is used to scan the computer for problematic programs that might interfere with the proper functioning of Google Chrome, including malware, glitches, and adware extensions.
With Chrome Cleanup Tool, you can easily remove any suspicious items that cause problems in your Chrome and improve your web browsing experience. So, it is also known as the Google Chrome Software Removal Tool.
Chrome Cleanup Tool supports various operating system (including Windows XP and prior versions) and multiple languages, and it still can be downloaded free from the website and installed on the computer.

However, the standalone software is not maintained by Google anymore, and it might fail to work even if you've installed it properly. Instead, the newer editions of Google Chrome have been equipped with the feature of Chrome Cleanup Tool. And when you get the following error message while trying to run the tool, you might have to switch the built-in feature.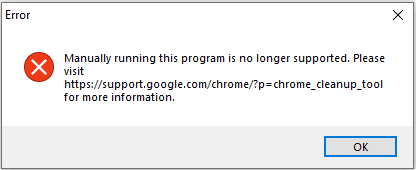 See also: How to Clean up Your Computer? Top 8 Methods for You
Is Chrome Cleanup Tool Safe?
Chrome Cleanup Tool is a legitimate program written by Google and it is trustworthy. So, you can download, install and use this utility without worries. But keep in mind that you need to obtain the program from the official website. Otherwise, you might get a wrong program that might be accompanied with viruses.
As mentioned before, if you are using Google Chrome of newer edition, your Chrome might be featured with Chrome Cleanup Tool. In this case, it is definitely safe to use this built-in feature.
Generally speaking, Chrome Cleanup Tool is safe and you can use it to keep your Google Chrome safe. You might use this tool to remove malicious programs in following situations:
Massive advertisements pop up when you are browsing.
Certain web pages appear unexpectedly.
The search engine or homepage redirects to services or sites you don't recognize.
Your Google Chrome is running slow in general.
How to Use Chrome Cleanup Tool on Computer
To use the Chrome Cleanup Tool software, you just need to download it from the official website, install it on your computer and launch it with the administrator privilege.
It will automatically scan your computer for unwanted programs or other malicious items. If there are any problematic programs detected, it will alert you and you can remove them according to your needs.
To use the built-in feature of Chrome Cleanup Tool in your Google Chrome, you can follow the steps below.
Step 1: Open your Google Chrome.
Step 2: Click the vertical three-bot button in the upper right corner of the page to open Chrome menu. Then click Settings.
Step 3: In the left pane, expand the Advanced settings and click Reset and clean up. In the right pane, click Clean up computer under Reset and clean up section.

Step 4: Click the Find button next to Find harmful software to activate the built-in Chrome Cleanup Tool.

Then, this tool will start checking for harmful software on your computer. The process might take a period of time and you need to wait patiently until it completes. If there are no malicious items, you will receive a message No harmful software found. If it has found certain harmful software, you can choose to remove them if needed.