Can you use keyboard and mouse on PS5 to play your favorite video games? How to use the keyboard and mouse on the PS5 console? You can figure it out in this post from this post provided by MiniTool Partition Wizard.
PS5, short for PlayStation 5, is a popular video game console. With PS5, you can play a huge number of games, such as FIFA 22, Fortnite, Elden Ring, Spider-Man, Call of Duty series, etc.
When you buy a PS5 console, you will get a PS5 DualSense Controller along with the console. The specific controller is designed with many features that can provide users with the best gaming experience, such as haptic feedback, adaptive triggers, a built-in microphone, motion controls, etc.
The PS5 controller is wonderful, but may not be the best choice for users who are not used to playing games with it.
Can You Use Keyboard and Mouse on PS5?
The PS5 controller does provide an immersive gaming experience, but it is difficult to type messages or numbers with the controller. To make it easier, you may wonder if you can use keyboard and mouse on PS5.
Well, you can use the PS5 keyboard and mouse sometimes. It depends on whether the game you are playing supports the keyboard or mouse devices. The actions in certain games are designed to be performed only with PS5 controllers.
What games can you use keyboard and mouse on PS5 to play? Till now, there are a few games supporting PS5 keyboard and mouse, including:
Assassin's Creed Valhalla
Call of Duty: Black Ops Cold War
Call Of Duty: Modern Warfare
Call of Duty: Warzone
DayZ
DC Universe Online
Final Fantasy XIV
Fortnite
Neverwinter
Overwatch
Planet Coaster
The Elder Scrolls Online
They Are Billions
Warframe
How to Use a Keyboard and Mouse on PS5
If your favorite game supports a PS5 keyboard and mouse, you should not miss the following tutorial. Let's see how to use a keyboard and mouse on the PS5 console.
Tips:
If you are considering getting a new keyboard, you can click here to find the best ones.
If you are using a wired keyboard or mouse, you just need to plug the cables for these devices into the USB ports.
There are four USB ports on the PS5 console: two on the front (USB-C Superspeed, and USB-A Hi-Speed), and the other two on the back (USB-A Superspeed).
You can plug the keyboard cable into one of the back ports and the mouse cable into one of the front ports. If you try to plug both at the back, you may receive an error message "too many USB devices connected".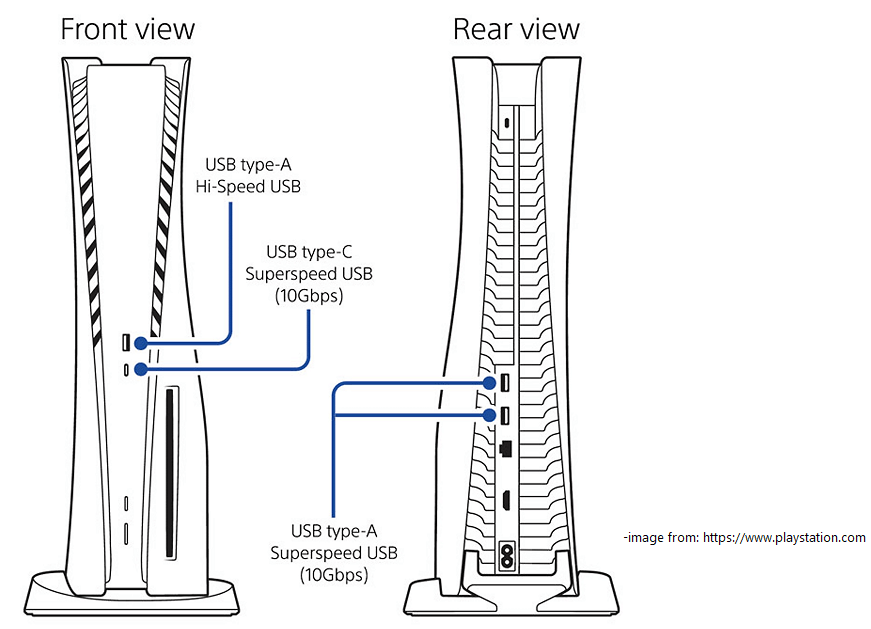 After connecting the PS5 keyboard and mouse, you will receive a pop-up window in the top right corner of the display showing the USB device is connected. You won't see your keyboard on the PS5 screen, but you can use the arrow keys on your keyboard to move around the home screen now.
Press the PS button on your PS5 controller and select Accessories. Then you will see the connected USB mouse and keyboard. Select one of them and you can change settings for the keyboard and mouse devices according to your preferences.
If you don't like cables on the table, you can use a wireless PS5 keyboard and mouse. Some can be connected via Bluetooth, and some need to be connected via a wireless USB adapter.
To connect the Bluetooth keyboard and mouse to your PS5 console, you need to:
Step 1: Activate the pairing mode on your keyboard and mouse.
Step 2: Use your controller to navigate to Settings > Accessories > General > Bluetooth Accessories on PS5.
Step 3: Select your keyboard and mouse from the list of available Bluetooth devices.
After the pairing, you can enjoy the keyboard and mouse on your PS5 console.