World of Warcraft is a popular online game. Some players reported that they encountered error code BLZ51901016 while trying to log into their accounts on this game. To solve the problem, MiniTool Partition Wizard puts together some solutions in this post.
WoW, short for World of Warcraft, is a multiplayer online role-playing game developed and released by Blizzard Entertainment. It is available on Microsoft Windows and macOS. Since its release in 2004, a lot of game lovers have been attracted by this game.
Unfortunately, some Windows users received an error message while trying to log into their WoW accounts: You have been disconnected (BLZ51901016).
Why does WoW error BLZ51901016 happen? The reasons could be various, but you don't need to worry. In the following contents, some possible solutions are listed and you can try them one by one when you encounter the same issue.
Solution 1: Make Sure Your PC Meets WoW System Requirements
To make sure WoW can run properly on your computer, your computer has to meet to minimum system requirements of this game. If you want to enjoy a high performance during the game, your computer needs to meet the recommended system requirements.
Our previous post World of Warcraft System Requirements has discussed the system requirements of WoW Shadowlands and Classic. You can check whether your computer meets them.
You might also be interested in: How to Check PC Full Specs Windows 10 in 5 Ways.
Solution 2: Reset Your User Interface in WoW
You should also make sure your game files and add-ons are not corrupted when you receive WoW error BLZ51901016. And you can reset the WoW user interface. It can help you solve various display and interface issues.
Here are the steps.
Step 1: Close WoW completely.
Tip: If you have any add-on managers, please uninstall them to make sure they don't re-add removed add-ons later.
Step 2: Open File Explorer and navigate to the installation folder of WoW. If you don't know where it is, you can right-click the WoW desktop shortcut and select Open file location.
Step 3: Open the folder for your game version, and it might be "_retail_", "_classic_era_", or "_classic_".
Step 4: Rename the Cache folder to CacheOld, Interface to InterfaceOld, and WTF to WTFOld.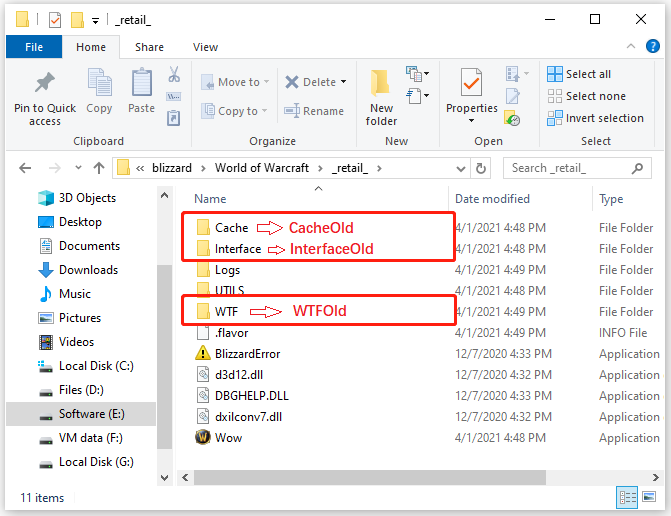 Step 5: Launch WoW to check if it works properly now.
If the message "you have been disconnected BLZ51901016" pops up again, move on to the next solution.
Solution 3: Check Your Internet Connection
To solve the WoW BLZ51901016 error, you should also make sure your Internet connection works properly.
If your network runs slowly, it is a good way to power cycle your network devices such as the modem or router. For more detailed steps, you can refer to our previous post: How to Restart a Router and Modem Properly.
If you are using a wireless network connection, you can try the following methods to optimize your network:
Try connecting to the network device via a wired connection, which is more stable and faster.
Close other programs that use the same network, like other games or downloading tasks.
Do not use satellite, mobile phone, or WiMax internet connection, which are unstable and might lead to connection issues on Blizzard games.
Solution 4: Update Outdated Drivers
An outdated or corrupted driver could also lead to WoW error BLZ51901016, as it could cause compatibility issues. If you don't update your device drivers regularly, you should check them right now, especially the network driver and the graphics card driver.
There are many ways to update device drivers on Windows. For example, you can update drivers in Device Manager or via Windows Update. Alternatively, you can also use a professional third-party driver update program.
Hope this post can help you get rid of the error "you have been disconnected BLZ51901016".