Blizzard Battle.net is a wonderful platform for game lovers as there are a lot of games available. Some users report that the game launcher won't open on Windows PC. In this post, MiniTool Partition Wizard offers 5 solutions to Battle.net not opening issue.
Blizzard Battle.net is an Internet-based online game, social networking service, and digital distribution platform developed by Blizzard Entertainment. The games developed by Blizzard Entertainment are released on the platform and players can connect with friends and fellow gamers with this game launcher, which makes it popular among game lovers.
However, some users report that they are unable to launch the client on Windows PC. Reasons for this problem could be various, and here are some possible solutions. You can have a try if you are bothered by the same issue.
Solution 1: Run the Launcher as Administrator
An easy way to solve Blizzard Battle.net not opening issue is to run the client in compatibility mode with administrative permissions. Here are the detailed steps.
Step 1: Right-click the shortcut for Blizzard Battle.net game launcher on desktop and select Properties.
Step 2: In the pop-up window, select Compatibility tab.
Step 3: Under Compatibility mode, check Run this program in compatibility mode for and select Windows 8 from the drop-down menu.
Step 4: Under Settings section, check Run this program as an administrator.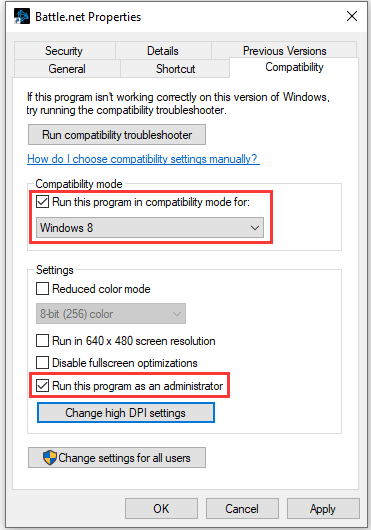 Step 5: Click Apply and OK to save the changes.
Then you can double-click the shortcut to launch Blizzard Battle.net launcher and check if the problem has been solved. If you encounter Battle.net crashing on startup again, you should move on to the next solution.
Solution 2: Clear Battle.net Cache
Delete the cache folder for Battle.net launcher could help reset certain settings used by the client. If you are bothered by Battle.net launcher not opening even when you run it as administrator, you should try this method.
Step 1: Press Ctrl + Shift + Esc to open Task Manager.
Step 2: Under Processes tab, end the processes related to Blizzard Battle.net, such as some games, Agent.exe, Blizzard Update Agent.exe, and Blizzard Battle.net. Then Exit Task Manager.
Step 3: Press Win + R to open File Explorer. Then navigate to C:ProgramData.
Step 4: Delete the folder named Battle.net. When you launch Battle.net the next time, the folder will be created automatically again.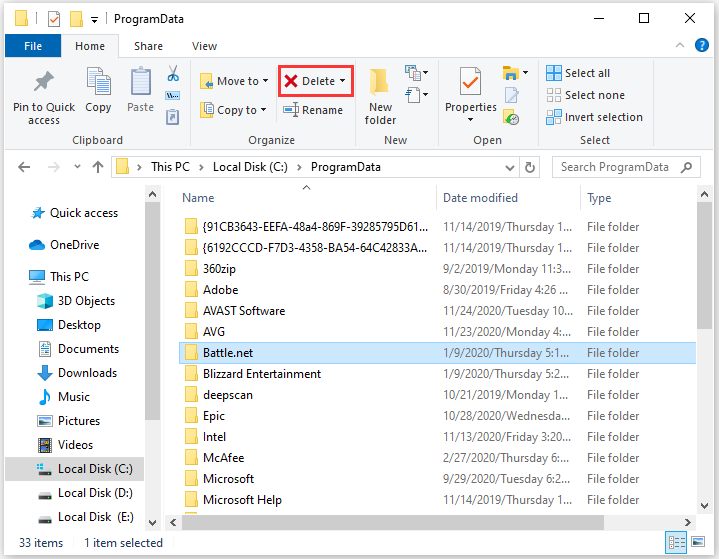 After that, you can open Blizzard Battle.net and check if it works properly.
Solution 3: Disable Your Antivirus Program Temporarily
There are some cases where the Blizzard Battle.net not opening issue is caused by antivirus and firewall program, as these programs might prevent Blizzard Battle.net from reaching the dedicated servers and updates.
To solve the problem in this case, you need to try disabling your antivirus problem or creating an exception for the Battle.net folder in the program. Besides, you might also need to allow the game launcher through Windows Firewall.
Tip:
Other applications could also interfere with Battle.net launcher. To figure out the problematic one, you can perform a
clean boot
.
Solution 4: Enable the Secondary Logon Service
You can also try enabling the Secondary Logon service to fix Blizzard Battle.net not opening issue.
Step 1: Press Win + R to invoke Run window. Then type services.msc in the box and click OK to open Services window.
Step 2: Right-click the service named Secondary Logon and select Properties.
Step 3: Select Automatic for the Startup type. Then click Start.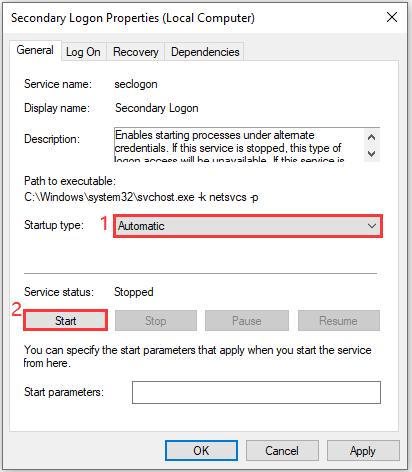 Step 4: Click Apply and OK to save the settings.
Then you can restart your PC and try opening Blizzard Battle.net again.
Solution 5: Reinstall the Client
If all the solutions above failed to solve the Battle.net launcher not opening issue, you might need to reinstall the client.
You can refer to the following post to uninstall your Blizzard Battle.net: How to Uninstall Programs in Windows 10. Then delete the Battle.net folder in C:ProgramData. After uninstalling the client, you can visit the official website to download and install the client again.