Have you encountered the Windows update failed-download error-0xca00a009 when you updating Windows 11 or upgrading to Windows 11? This post from MiniTool Partition Wizard offers 5 methods to solve this problem.
Windows 11 Update Error 0xca00a009
Windows 11 has been released for months and Microsoft has released many updates for Windows 11 users. However, some people report that they have encountered download error 0xca00a009 when updating Windows 11.
In addition, some people also report that this error will occur when they get the Windows 11 installation update.

This error means that the Windows update failed. Then, why does this error happen? Possible reasons are as follows:
Disabled Windows update service.
Corrupted updates file in the SoftwareDistribution folder.
Corrupted Windows system files.
Conflicting Group policies.
To fix these problems, you can refer to the following methods.
7 Solutions to Fix Windows 10 Won't Update. #6 Is Fantastic
Fix 1. Restart Windows Update Service
Have you ever disabled the Windows update service? If so, please restart it. In addition, some third-party software may also disable this service. Please follow the steps below to make sure it's on:
Press Windows + R key to open the Run box.
In the Run box, type "services.msc" and press Enter.
In the Services window, scroll down to find Windows Update, right-click it, and choose Properties.
Find Startup type, expand the drop-down menu next to it and choose Automatic.
Click the Apply button and then the OK button.
Then, you can try updating Windows 11 again.
Fix 2. Run Windows Update Troubleshooter
This tool can deal with common Windows Update glitches. Please follow the steps below to run it:
Open the Run box, type "control", and then press Enter.
In the Search box, type "Troubleshoot" and press Enter.
Click Troubleshooting.
Under System and Security, click Fix problems with Windows Update.
Click Next.
Once problems are detected, click Apply this fix.
After the fix is done, restart the PC and update Windows again.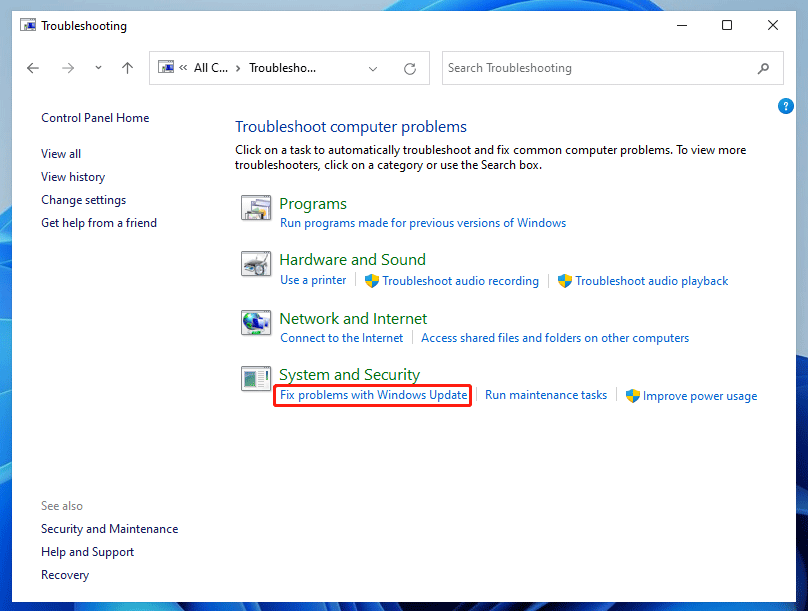 [7 Fixes] Windows 11 Not Showing up in Windows Update
Fix 3. Delete Files in the SoftwareDistribution Folder
SoftwareDistribution folder stores update files. If the update files become corrupt and cause the Windows 11 update error 0xca00a009, you can delete them and then update Windows again. Here is the guide:
Open Windows File Explorer and go to C:\Windows\SoftwareDistribution.
Press Ctrl + A to select all files inside this folder and then delete them.
Fix 4. Repair System Files
In the Search box, type "cmd".
Right-click on Command Prompt and choose Run as administrator.
In the cmd tool, type "sfc /scan" and press Enter.
If the SFC tool find corrupted files but it's unable to repair them. You can then try the DISM tool. In the cmd tool, run the following commands one by one:
DISM /Online /Cleanup-Image /CheckHealth
DISM /Online /Cleanup-Image /ScanHealth
DISM /Online /Cleanup-Image /RestoreHealth
DISM /Online /Cleanup-Image /RestoreHealth /Source:repairSource\install.wim
Fix 5. Update Group Policy
If you have upgraded to Windows 11, the group policies on Windows 10 may conflict with Windows 11. Updating it may be a good choice.
Press Ctrl + Shift + Esc to open Task Manager. Click More details to get the complete interface.
Click File > Run new task.
In the Create new task window, check the box before Create this task with administrative privileges.
Type "C:\Windows\System32\cmd.exe –update" in the box, and then click the OK
The Command Prompt will open. In the window, type "gpupdate /force" and press Enter.
Wait until the update process completes. Then, you can try updating Windows again.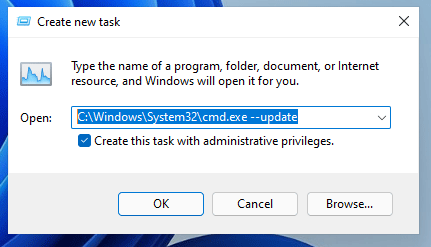 How to Upgrade Windows 10 to Windows 11? See a Detailed Guide!