The error code 0xc1900401 is a common error that occurs when updating Windows. What causes the Windows update error 0xc1900401? How to fix it? If you are looking for solutions to this issue, you can read this post of MiniTool Partition Wizard.
What Causes the 0xc1900401 Error?
The Windows update error 0xc1900401 can prevent you from getting the latest features and security patches for your system. There are multiple reasons why you may encounter this issue. Here, we summarize several possible causes, such as:
Corrupted system files
A poor internet connection
Unnecessary external devices connected to your PC
Disabled Windows update services
Third-party antivirus program
Corrupted Windows update cache or database
How to fix the 0xc1900401 error? Depending on the cause of the issue, you may need to try different ways to fix it. Here are some of the most effective methods that you can try.
Way 1. Check Your Internet Connection
A poor internet connection can cause various problems while downloading and installing Windows updates. Thus, you should make sure that you have a stable and strong internet connection. You can try to switch to a wired connection instead of a wireless one or use a different network if possible.
Way 2. Remove Unnecessary External Devices
Sometimes, external devices (e.g., USB drives, printers, scanners) can interfere with the Windows update process and cause errors. You can try disconnecting any unnecessary devices from your PC before updating. You can also check if there are any driver updates available for your devices and install them.
Way 3. Run SFC and DISM
To get rid of the error code 0xc1900401, you can run SFC and DISM to repair corrupted system files.
Step 1. Press Win + R to open the Run box. Then type cmd and press Ctrl + Shift + Enter to run Command Prompt as administrator.
Step 2. In the pop-up window, type sfc /scannow and press Enter.
Step 3. Once the process ends, check if the issue is fixed. If not, continue running DISM. Type the following command and press Enter.
DISM /Online /Cleanup-Image /RestoreHealth
Step 4. Once done, reboot your system and check if the issue disappears.
If you encounter issues such as SFC scannow not working, DISM getting stuck, etc. while running SFC and DISM, you can click the following button to download and install MiniTool Partition Wizard to check file system errors and bad sectors. You can refer to this guide.
Way 4. Run the Windows Update Troubleshooter
You can try running the Windows Update troubleshooter to fix the 0xc1900401 error.
Step 1. Go to Settings > Update & Security > Troubleshoot > Additional troubleshooters.
Step 2. Then select Windows Update and click on Run the troubleshooter.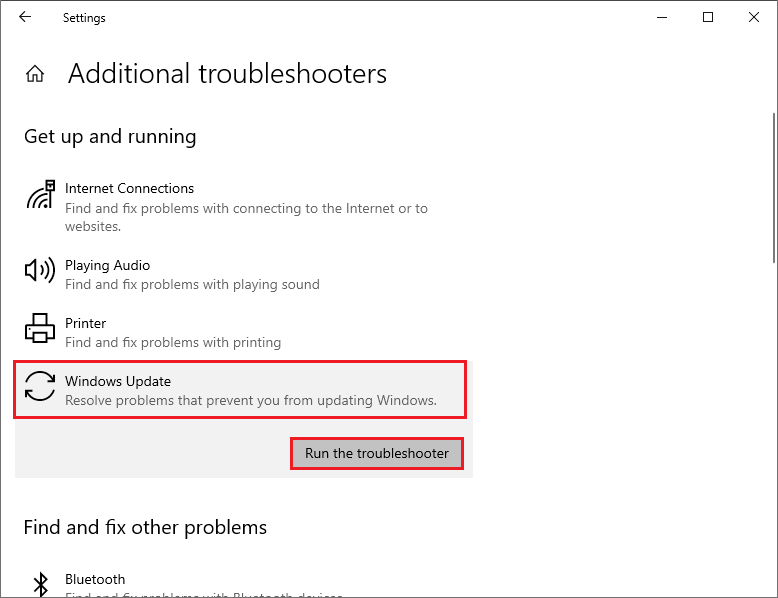 Step 3. Then follow the on-screen instructions and let the tool scan and fix any problems. Once done, restart your computer.
Way 5. Enable Windows Update Service
If the Windows update service is disabled for some reason, you will not be able to update your Windows and get 0xc1900401 error. Here's how to enable it:
Step 1. In the Run box, type services.msc and press Enter.
Step 2. In the prompted window, locate the Windows Update service and double-click it.
Step 3. Then make sure that the Startup type is set to Automatic. If the Service status is Stopped, click Start.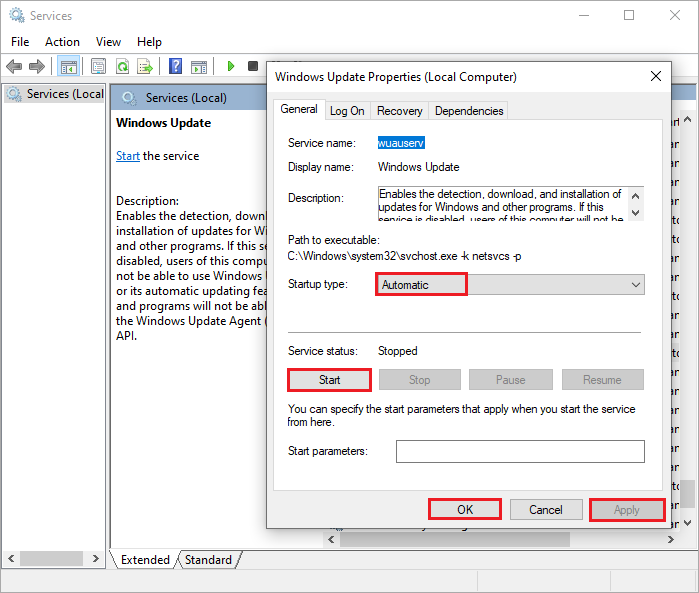 Step 4. Once done, click Apply > OK to save the changes. Then repeat the same steps for Windows Update Medic Service.
Step 5. Once done, reboot your PC and try to update again.
Way 6. Delete SoftwareDistribution Folder
SoftwareDistribution folder is a temporary folder that stores the downloaded files for Windows updates. Sometimes, this folder can get corrupted or contain incomplete files that can cause errors while updating. To delete this folder and clear the Windows update cache, you can follow this guide.
Way 7. Manually Download and Install the Update
If none of the above methods work, you can try manually downloading and installing the update from Microsoft Update Catalog or using Media Creation Tool to upgrade your current Windows version to the latest one. You can follow this guide: [Tutorial] How to Download & Install Windows 10 Updates Manually.
In addition to the above methods, if there is insufficient storage space on your disk, you can try freeing up disk space to fix the error code 0xc1900401.
Conclusion
This post has introduced 7 useful ways to fix Windows update error 0xc1900401. We hope that you can update your Windows 10/11 PC successfully with the help of this post. If you have any suggestions or nice fixes, feel free to leave a comment below.