Summary :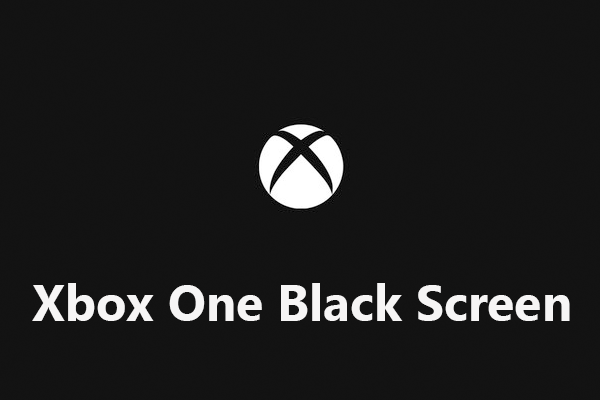 Have you ever encountered the Xbox One black screen issue? Xbox One blank screen issue prevents you from accessing menus, games and almost everything. How to fix it? This post from MiniTool will show you the answers.
It would be very frustrating when you come across the Xbox One black screen issue, as large portions of the dashboard are completely unusable. At this time, the most important thing is to find an effective fixes to get rid of the issue as soon as possible.
In this post, I summarized top 5 solutions to fix your Xbox One black screen issue. Let's have a look one by one.
Solution 1. Hard Reset
The simplest way to fix Xbox One black screen error is try a hard reset. You can follow the steps below to hard reset Xbox One.
Step 1. Hold the Xbox One Power button on the front of the console for 10 seconds to turn off the console.
Step 2. Press the Power button on the console again to turn it on. And the dashboard will work once it loads.
This solution can help you Xbox One black screen but it's temporary. If you still encounter the Xbox One black screen issue, you can try the following solutions to fix the issue.
Solution 2. Set the Console to Offline Mode
Sometimes, connecting to Xbox Live after rebooting in offline mode will fix the black screen of death. And this has fixed the problems for some users. If you want to have a try, follow the steps below to set the console to offline mode and reconnect to Xbox Live.
Step 1. Disconnect from Xbox Live via the Wi-Fi settings.
Step 2.The dashboard should reappear with full functionality.
Step 3. Then restart your Xbox One console when the console is in offline mode.
Step 4. Reconnect to Xbox Live after rebooting.
After rebooting and reconnecting to Xbox Live, the Xbox One black screen issue could be fixed. If this cannot help you, try the next method.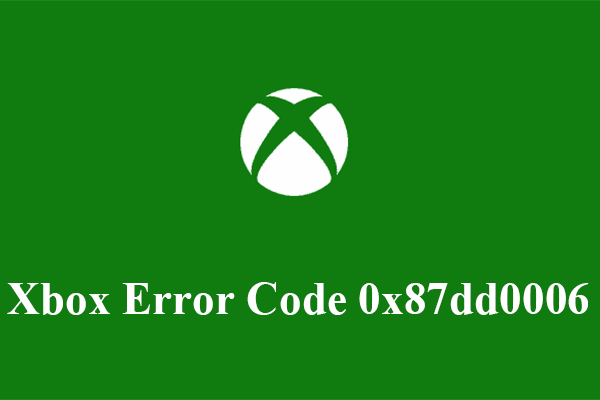 This article will show you how to fix the Xbox error 0x87dd0006. You may meet this error when you sign in your Xbox account. Check out this post for fixes.
Solution 3. Switch off Allow 24Hz
You may come across Xbox One blank screen when watching a Blu-ray Disc. If this is the case, check if the Video output is set to Allow 24Hz. If it is, turn off the Allow 24Hz.
Step 1. Press the Xbox button on your wireless controller.
Step 2. Click All settings.
Step 3. Choose Display & sound.
Step 4. Choose Video options.
Step 5. Choose Enable 24Hz to turn off this setting.
After disabling 24Hz, the Xbox One blank screen error should be fixed. If not, try the next method.
Solution 4. Switch Tabs
Switch tabs and then quickly switch back to reload the dashboard is said be an effective method toward Xbox One black screen error. So you can try this: press the Home button, immediately switch to another tab with the left or right shoulder buttons, and then return to the dashboard.
Solution 5. Visit the Xbox Store
Some users also reported that visiting the Xbox Store from the guide can fix Xbox One black screen issue. To do this, you can press the guide button first and then go to the store. Immediately press the A button on a banner ad and then you can go back to the home screen.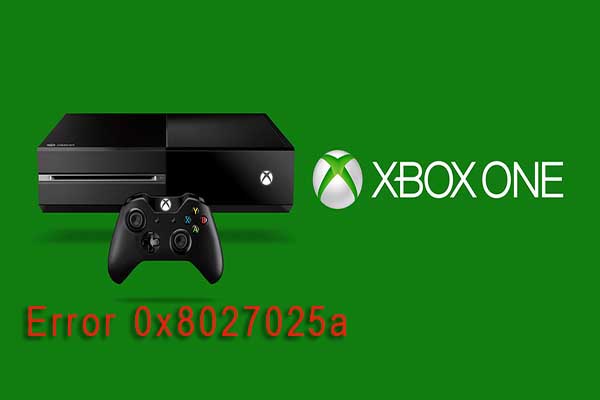 Xbox error code 0x8027025a occurs when trying to sign in or start an Xbox One app. This post will introduce several effective methods to fix error 0x8027025a.
Conclusion
After reading this post, have you fixed the Xbox One black screen error? Which method works for you? If you have better solutions toward Xbox One OR Xbox One X black screen error, please don't hesitate to share it with us.