You may encounter the Windows update error 0xc1900208 when upgrading Windows 10. What causes the error code 0xc1900208? How to fix it? You can find the answers in this post from MiniTool.
Some users reported that they encountered error code 0xc1900208 when upgrading to Windows 10. And they wondered how to fix the error. And why does this error occur?
The major cause for the error 0xc1900208 is software incompatibility issue. What does this mean? That is to say, if there is a piece of incompatible software installed on your computer, the Windows upgrade process could be blocked. Thus you may encounter the error code 0xc1900208 when trying to update Windows 10.
How to fix Windows Update error 0xc1900208? The following will show you three effective methods.
Solution 1. Uninstall Incompatible Software
As I mentioned before, the major reason for error 0xc1900208 is software compatibility issues. So the best way to get rid of error 0xc1900208 is to uninstall incompatible software. if you don't know how to find out the incompatible software and uninstall it, please keep on reading.
Step 1. Open the Windows File Explorer, copy and paste C:\Windows\Panther in the address bar and then hit Enter.
Step 2. In the Panther folder, search for the Compat*.xml file with the latest time stamp and open it with a text editor of your choice.
Step 3. In the file, you'll find the name of the incompatible app there. Note down the incompatible app.
Step 4. Press Windows + R keys on the keyboard to bring up the Run dialog box, and then type appwiz.cpl and hit Enter.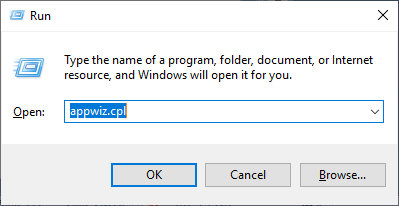 Step 5. In the programs window, find the incompatible app from the apps list. Then double click on the incompatible software and choose Uninstall to uninstall the software.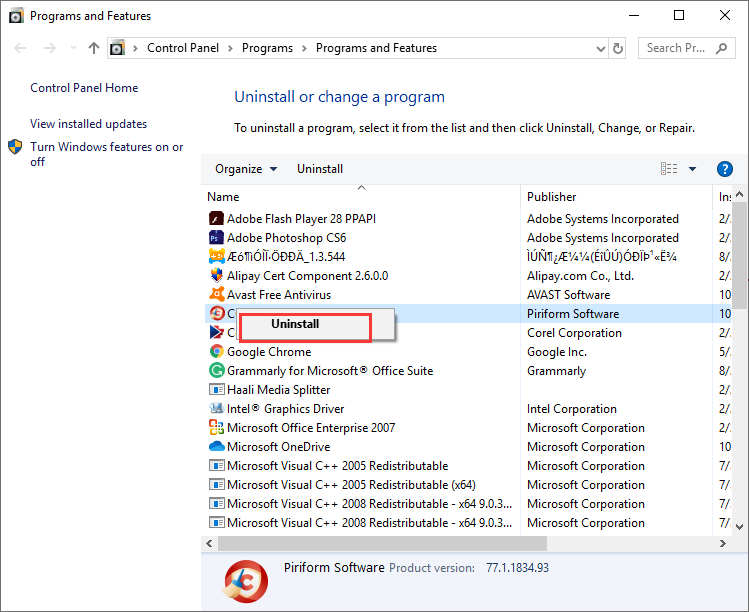 Step 6. Reboot your computer and check if the Windows update error 0xc1900208 has been solved.
Solution 2. Reset Windows Update Components
If you still encounter the 0xc1900208 Windows update error after uninstalling the incompatible software, you can try the following commands to reset Windows update component, which can fix many Windows update issues.
Here are detailed steps.
Step 1. Type cmd in the Windows Cortana search box. Right click the best match to choose Run as Administrator.
Step 2. Type the following commands and hit Enter after each one.
net stop wuauserv
net stop cryptSvc
net stop bits
net stop msiserver
Ren C:\Windows\SoftwareDistribution SoftwareDistribution.old
Ren C:\Windows\System32\catroot2 Catroot2.old
net start wuauserv
net start cryptSvc
net start bits
net start msiserver
Step 3. After resetting Windows update components, you can restart your PC and try updating Windows again.
Solution 3. Upgrade Windows 10 with Windows Media Creation Tool
Windows Media Creation Tool is a Windows upgrade tool which can upgrade your PC to the latest Windows 10 version. If the above fixes cannot help, try upgrading Windows 10 with Windows 10 Media Creation Tool. The tool can be downloaded from the Microsoft's official website.
You just need to follow the steps below to upgrade Windows 10, if you don't know how to use the tool.
Step 1. Download Windows 10 Media Creation Tool from Microsoft's official website.
Step 2. Run the Media Creation Tool. Accept the license terms and wait patiently for Media Creation Tool to get a few things ready.
Step 3. On the What do you want to do page, choose Upgrade this PC now, and then click Next.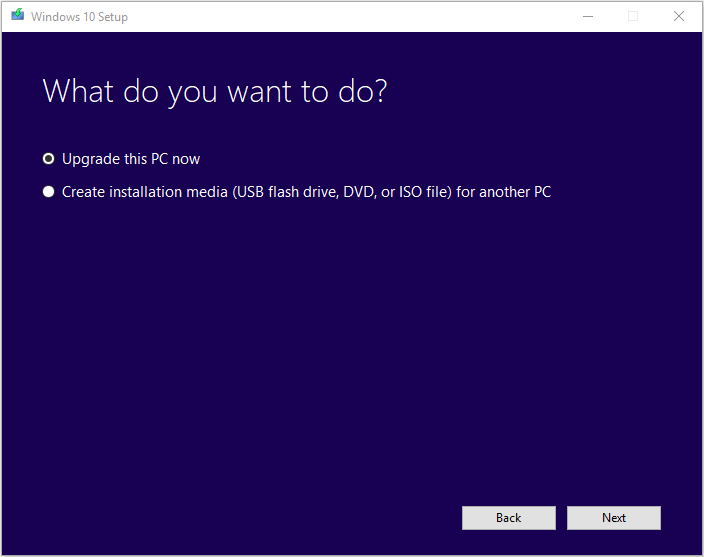 Step 4. Wait patiently when the Media Creation Tool downloading some files for updates.
Step 5. On Ready to install page, choose Change what to keep.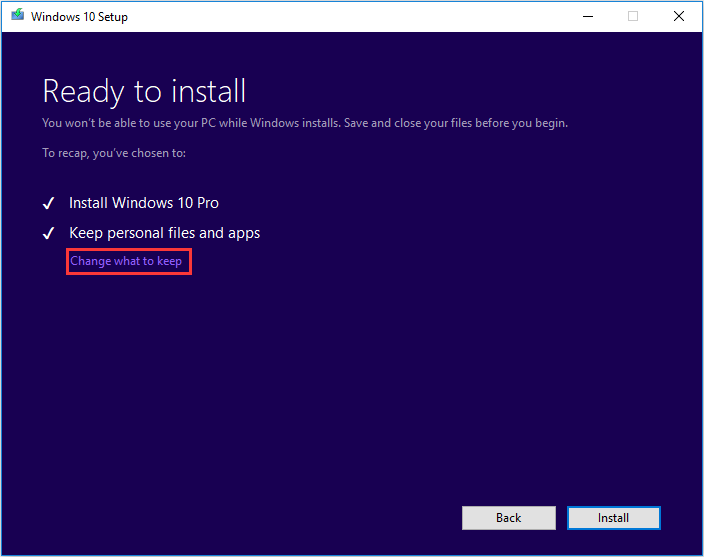 Step 6. Choose Keep personal files and apps and click Next.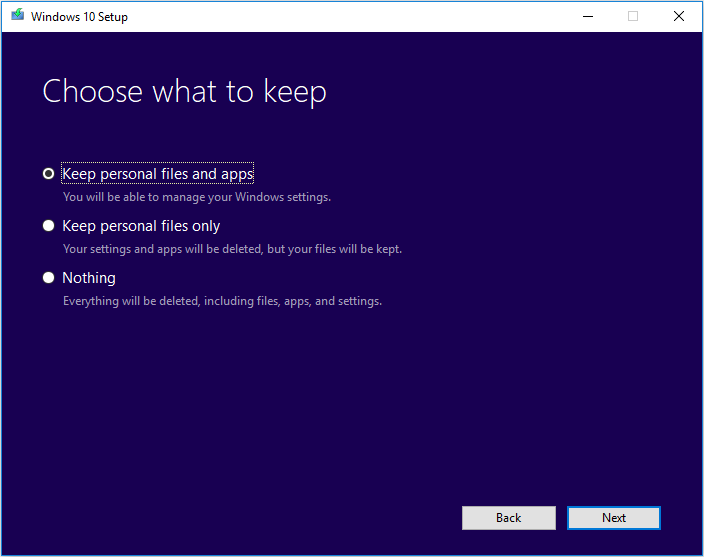 Step 7. Click Install and let it to complete the setup.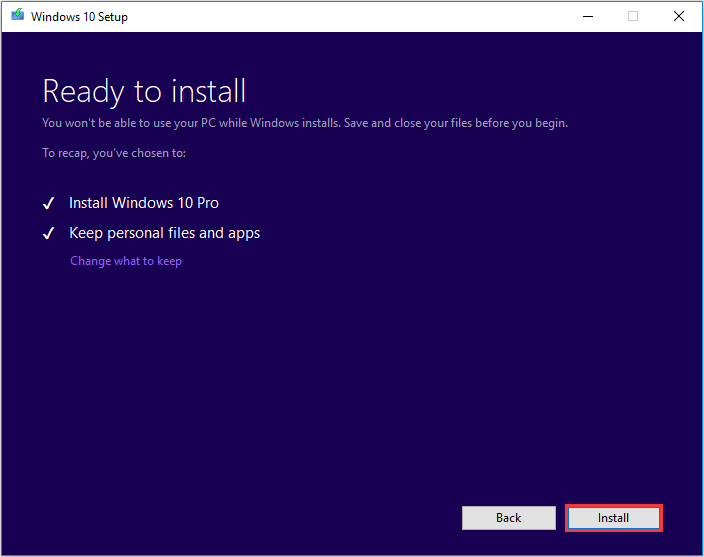 Conclusion
After reading this post, have you fixed Windows update error 0xc1900208? Which method works for you? If you have better solutions, please don't hesitate to share it with us. We are glad to have you share your opinion with us.