Viber is an excellent instant messaging app. It is available on many platforms, including Windows computers. However, many of its users have been complaining that Viber not opening or responding on their systems. In this article from MiniTool Partition Wizard, we will see how to solve the problem easily.
Viber is a popular instant messaging application that is available on multiple platforms, but many people report that Viber is not opening on Windows 10/11.
Viber may not open on your computer for various reasons. In most cases, application data or cache corruption, then any application will fail to launch on your system. The lack of certain privileges can prevent you from using the software.
If Viber keeps crashing when trying to open it, there may be a problem with your cache, so you need to reset the app. Your firewall and antivirus software can also interfere with the software and prevent it from accessing the Internet.
Well, how to fix the Viber not opening or responding issue in Windows 10/11? Please keep reading.
Way 1: Run Viber with Administrator Privileges
Sometimes Viber won't open on your system due to a lack of permissions. In this case, you can try running Viber as an administrator. To do so, here is the guide.
Step 1: Right-click on the Viber shortcut and select Properties.
Step 2: Go to the Compatibility tab. Then check Run this program as an administrator.
Step 3: Click on Apply > OK.
After that, re-open the app and see if it can normally work.
Way 2: Run Windows Store Apps Troubleshooter
If granting Viber the required permissions doesn't work for you, try running the Windows Store Apps Troubleshooter. The steps are as follows:
Step 1: Press the Win + I key to open Windows Settings.
Step 2: Click on Update & Security > Troubleshoot.
Step 3: Click Windows Store Apps in the right panel and click Run the troubleshooter.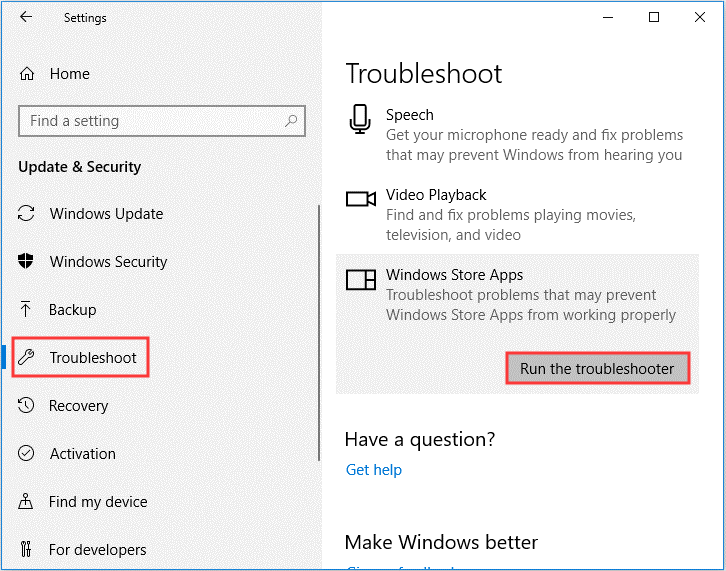 For Windows 11, you need to navigate to Settings > System > Troubleshooter > Other troubleshooters. Then click Run placed next to Windows Store Apps.
Step 4: Wait for the Windows Troubleshooter to detect and solve problems automatically.
After that, restart your computer and check if the Viber not opening or responding issue persists.
Way 3: Rese Viber
You can try resetting Viber to get rid of the Viber not opening or responding issue. To do so, here is the guide.
Step 1: Open Windows Settings. Then go to Apps > Apps & Features.
Step 2: Click Viber and select Advanced Options.
Step 3: Click on the Reset button.
Way 4: Allow Viber Through the Firewall
Your antivirus software or built-in Windows security features may be preventing Viber from launching on your system. If you have the app, we have to allow the app through Windows Firewall, or just whitelist it in your antivirus settings and you're good to go.
Way 5: Reinstall Viber
If the above methods did not work, then you should try to reinstall Viber. So, all you have to do is uninstall the app and then reinstall it.
Bottom Line
That's all about how to fix the Viber not opening or responding issue. We hope this simple guide can help you solve this problem.  If you have other methods, you can share them with us in the following comment zone. If you have some questions about this article, please contact us and we will answer them as soon as possible.